Best Friends working with shelters in Texas impacted by crisis
The disaster in Texas is hitting close to home for Best Friends, and for me personally, because it's impacting so many of our friends and staff doing great work for the animals there. Since our time in Houston in the wake of Hurricane Harvey, we've gotten to know so many incredible people working and volunteering in shelters across the state, and we work closely with many of them to help save more pets' lives there.
Our Best Friends team on the ground and in other locations have been making lots of phone calls and sending emails this week to every single shelter in Texas, more than 150 of them, as well as shelters and rescue groups in other locations who raised their hands to help, to find out what they needed.
We began working directly with 60 shelters and immediately started providing heat lamps, food, cat litter, as well as cash so that animals in rural shelters, who are often housed outside, could move to indoor boarding facilities. There were also some pets and their people who needed shelter, and we helped out there, too.
As this devastating event continues, we're continuing to provide direct assistance of food and supplies to communities in Vernon, Wharton, Harlingen, Ingleside, Junction, Houston, Abilene and more.
But as the situation changes, and the weather warms, needs will change as well. Most of the requests we're getting now are for the transport of dogs and cats out of the area so that local shelters can support pets who have been displaced because of the weather, so that's what we're doing. We've started transporting dogs and cats from Texas shelters to shelters and rescue groups in Vancouver, Los Angeles, Atlanta, Sonoma, Arkansas and our sanctuary in Kanab, Utah, and I'm sure this list will grow.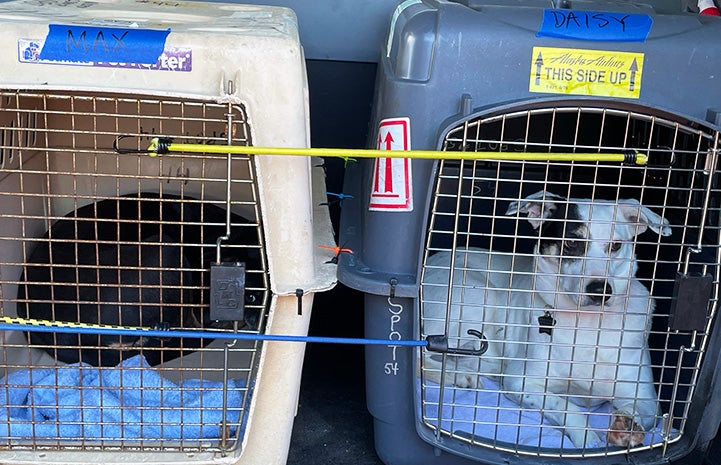 Plus, I can only imagine the number of shelters that will have damaged pipes and other needs once everything thaws out, and we'll be there to help then, too.
But what's really amazing about this is that we weren't asked to do more. Only a few years ago, this would've been very different. There's so much progress being made in Texas, and in the animal welfare movement in general.
Five years ago, no one knew how many shelters existed in Texas, let alone where they all were. Not only is our data helping us to better connect with shelters most in need, but it is also showing us that our shelter partners and the communities that they serve are making huge strides with saving the lives of more dogs and cats — thousands more lives each year.
But this week, and right now, the numbers that we especially care about are those 150-plus Texas shelters, and our 3,308 network partners around the country who are always so quick to show up in times of need. When we put a call out this week to our partners asking who could take dogs and cats being transported from Texas, more than 50 responded almost instantaneously.
There is true heart and courage in those numbers. And it's the connectedness of our always-growing network of rescue and shelter partners that will get us through these tough times. And that connectedness will get us to the finish line of achieving no-kill nationwide by 2025.
My heart is in Texas right now and with every person and every pet who has been affected by this crisis. We continue to stand strong with all the shelters down there, and with everyone who is showing up during the hard times, both now and along this sometimes-challenging, always-inspiring road to 2025.