Can't stop, won't stop: Cat Adoption Team saves more than 800 cats — and counting!
Cat Adoption Team (CAT) is led by Karen Green, a longtime dear friend, special leader and former Best Friends staff member with ties across our organization. Karen started her career in animal welfare at Best Friends Animal Society in 1996 about a year after I logged on as employee #17. During her nearly 10 years at Best Friends, Karen had roles that included managing the animal help office and serving as assistant director of the national No More Homeless Pets program.
Karen is not just a fantastic person, she also has "show biz" level charisma, she is a dynamic speaker, and she's very, very funny. The stories I could tell of growing up together at Best Friends! But, then again, so could she. Hint: Think ABBA and show tunes. There was many an evening in the small, isolated southern Utah town of Kanab when we had to source our own entertainment. I'll let your imagination fill in the rest of the picture.
A lifesaving partnership with Cat Adoption Team is born
Best Friends' collaboration with CAT is more than a partnership; it's a friendship based on lifesaving.
It was the winter of 2015, and winter is the slowest part of the year for cat rescuers in Portland. Kitten season wouldn't come until May, and the CAT facility was down to just two cats. Demand for adoption doesn't dip down in the winter to match the local, out-of-season supply, and the CAT team knew there were cats in need in other parts of the country. So, Karen reached out to Best Friends to help us save more lives.
How could a community be in need of cats?
Portland has been a leader in trap-neuter-return (TNR) for years, with CAT in the forefront, resulting in fewer unwanted kittens each year, and therefore fewer strays entering the shelters. In addition, the city has a strong base of hipsters (i.e., adopters) especially interested in taking home young cats. This is all great news for cats in the area and, as the local supply can't keep up with the demand, it's good news for cats all over the West. In 2018, for example, roughly half of the cats accepted by CAT came from out of state!
Highly adoptable cats from Best Friends' Cat World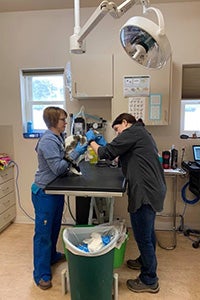 CAT has a number of transfer partners, including municipal shelters. Those shelters often send cats whom they haven't had for very long, and therefore they don't know too much about the cats' personalities. The cats who come from Best Friends, on the other hand, often have detailed histories that come with them. They come with notes like "walks on leash," "loves to cuddle" or "catnip fiend." Most important of all, they have a history of living with other cats. They don't move from shelter to shelter, either. They go straight from our sanctuary to the CAT adoption facility. All those things combine to make it faster and easier to find homes for Cat World graduates. They settle in quickly and are off to their new families in a snap.
Not just for kittens anymore
For several years, Cat World has sent transports to Oregon on a monthly basis. Those transports were almost exclusively young, healthy, friendly cats. The cut-off age was one year, as young cats are the most highly adoptable population.
That all changed in 2019. You see, filling a transport van completely full of cats under a year old can be a challenge. Not because they take up more space, but because we don't get that many of them, and here (like elsewhere), they are the first to go to new homes. However, the Sanctuary has plenty of highly adoptable adult cats as well. On our most recent transport, we sent 38 cats (34 went to CAT and four hitched rides to new forever homes in Oregon). Twenty-two of the 34 meowers who went to CAT are more than a year old, which is very cool! When CAT said they could take more adults, we prioritized cats who are extremely friendly but have been getting overlooked at the Sanctuary.
Some of our favorite feline adoption stories
Several of the cats transported to CAT in 2019 were longtime residents, such as Princess Esmé. Her special diet (specifically, a raw diet) seemed to be a barrier to her finding a home. In Portland, on the other hand, the raw thing is cool and trendy — and Princess Esmé was adopted in just four days. When her longtime sanctuary caregiver heard the news, she fell to the floor, crying happy tears.
Diana was accepted to the Sanctuary as a cat who tested positive for feline leukemia (FeLV). Her beautiful black coat, piercing green eyes and sweet disposition never quite overcame the adoption barrier of being FeLV-positive. After spending a few years in our special FeLV building, Casa de CalMar, her health was looking so suspiciously good that her caregivers had her retested. In rare cases, cats can beat the virus — and that's just what Diana did. She tested negative and was moved into an office at the Sanctuary, and then went on to Oregon to CAT. There, she was adopted in less than a week.
Cornmuffin, a cat who's positive for feline immunodeficiency virus (FIV), was brought to the Sanctuary in July 2017, and he quickly blended in with the crowd. He blended in so well, in fact, that he was lovingly referred to as the "ghost of Quincy lobby." He slipped by unnoticed by visitors, volunteers and, most important, potential adopters. Being so laid-back may have been a detriment for Cornmuffin at the Sanctuary, but not for his new family up in Oregon!
In these last five years of working together, the transports between Best Friends and CAT have resulted in 845 adoptions: 611 kittens and 234 adults.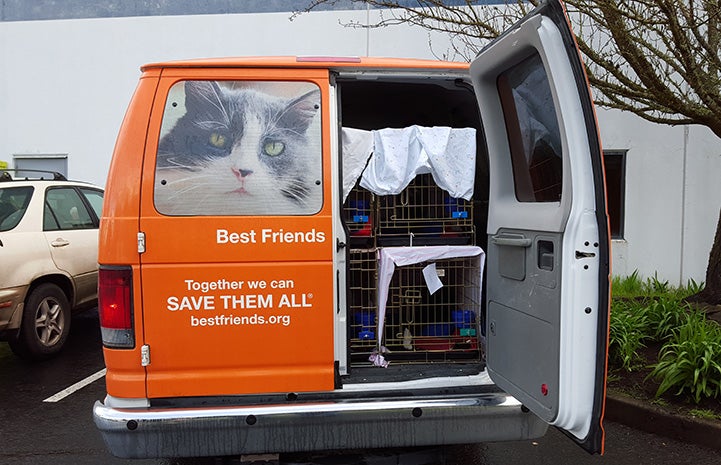 Animal transports are a two-way street
While it's super important to put our cats in the best position to find forever homes, there's another really important reason to work with partners like CAT.
When Best Friends' Cat World is filled to capacity, we are unable to accept other cats in even greater need. Sadly, cats and dogs who are less than ready for prime time are still at risk in many shelters. On the trip back to the Sanctuary after transporting the 38 cats, our transport team stopped by South Utah Valley Animal Shelter (SUVAS) to pick up 22 of their cats to bring to the Sanctuary for care and special placement. One has a broken pelvis, one has FIV and the rest are older or have upper respiratory infections. Now it's their turn for the special care that the Sanctuary does best.
If not for the great relationship that we have with Karen Green and the team at CAT in Portland, we would not have had "room at the inn" for the cats from SUVAS who desperately needed our help.
Here's to even more lifesaving transports in 2020 and beyond. Together, we will Save Them All!