No-kill 2025 halftime report
When I planted a metaphoric stake in the ground at the 2016 Best Friends National Conference to lead the way to ending the killing in shelters nationwide by 2025, a lot of people thought I was crazy. I knew, though, that if we as an organization and a movement didn't make ourselves accountable for achieving our mission, animals would continue to be killed in our nation's shelters, as they have been for the last 150 years.
I called it our movement's moon shot and used JFK's historic 1962 speech at Rice Stadium in Houston to drive home the point. We would need to put our work into hyper-drive, push beyond our familiar areas of operation and kick down the illusory boundaries of what we believe to be possible. We would have to innovate new ways to save more lives more quickly. That, after all, has been the essential DNA of the no-kill movement from its founding in the early 1980s — refusing to accept the long-accepted idea that killing animals in shelters was a necessary evil and fighting to build a new reality with new expectations that prioritized the lives of pets in shelters.
Push. Kick. Fight. Hmm? Did I give something away there? Perhaps, but while at times it has felt like a struggle, the key to lifesaving success is and always has been collaboration. I knew that it would require the concerted effort of like-minded organizations and individuals from across the U.S. to reach every shelter in every community with the lifesaving work of the no-kill movement. Together, we could Save Them All.
So, here we are at roughly the midpoint on the timeline from when I made that speech at our conference. And as we head to the close of the strangest year that I can remember, it's time for an accounting of what has been achieved and what remains to be done on the road to 2025.
First things first: You can't solve a problem if you can't identify it. Believe it or not, in 2016 there was no comprehensive national data on animal shelters. We didn't know how many animals were being killed, or where or why. We didn't even know how many shelters existed in the country.
The fix was obvious, but certainly not easy. Job number one was to compile national data, so Best Friends staff and volunteers contacted literally every county in the nation to acquire shelter statistics. This drive to collect shelter-by-shelter data evolved into the first-of-its-kind shelter data visualization tool, the pet lifesaving dashboard, which provides anyone with access to it with information about what's happening in their local animal shelters.
This dataset has made it possible to target states, regions, counties and communities with programs and support specific to each and has enabled the public to engage locally with facts rather than rumors or spin.
For Best Friends, it has meant an exponential leap in making our own resources and those of our partners go further and therefore be more effective — more bang for the buck. Game changer! We learned, for example, that just five states account for a full 50% of the killing in shelters and that just 2% of all shelters account for 41% of the lifesaving gap. Those five states included Texas at number one and, surprise, California at number two. They have since swapped ranking, but both remain primary targets for our work.
More important, our dataset brought to light where programs were needed and what kind were crucial for saving lives. For example, cats and dogs were being killed in great numbers in shelters in Southern California and in areas along the Rio Grande in Texas. In many communities in those states, the shelters themselves were throwbacks to the 1970s. (More on our approach to these issues in part two.)
Right now, I want to help you visualize the scope and scale of the animal shelter work that Best Friends and our partners have engaged in since November 2016, so take a look at the map below. Lots of dots and lots of lives saved!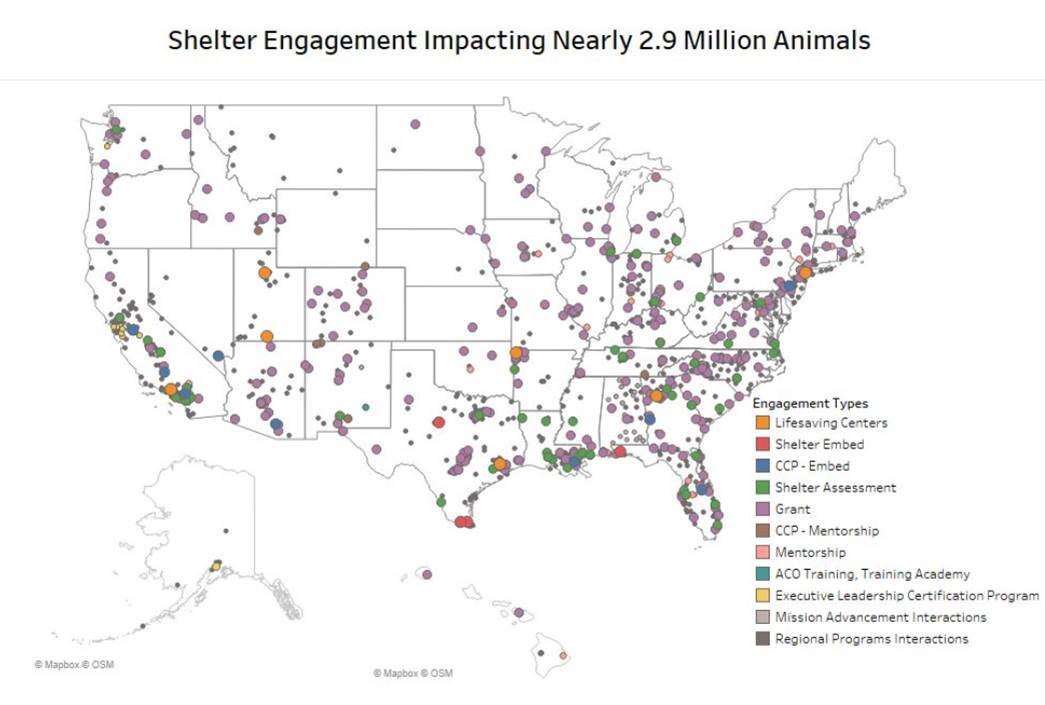 Since planting that stake in 2016, we have worked with hundreds of shelters and organizations across the country each year, positively impacting more than 2.9 million dogs and cats. In the last four years, there has been a two-thirds reduction in the number of animals being killed in this country's shelters — from 1.5 million in 2016 to an estimated 500,000 or less in 2020.
Take a second to absorb that: Since 2016, the number of dogs and cats killed in U.S. shelters has been reduced by two-thirds!
That kind of progress doesn't just happen. Every one of those lives saved represents compassion, commitment and work. I tip my hat to everyone on the front lines, every adopter, every donor supporting local shelters or rescue groups, and every foundation, business and corporate sponsor that has embraced our cause. Thanks to you, we are saving them all.
In part two of the halftime report, we'll look into some of our signature programs and their lifesaving impact. Stay tuned.