Remembering Hurricane Katrina
As I sat down to write this blog post for the 15th anniversary of Hurricane Katrina, her younger sister, Laura, was taking aim at the coast of Texas and Louisiana and revving up to be a Category 4 storm. That would mean winds approaching 150 miles per hour. For a tense 24 hours, it looked like Laura was going to out-muscle her older sister. Everyone was prepared for the worst and on the animal front, homeless pets were being evacuated from shelters across the region to make room for those potentially displaced by Laura.
Working with Good Mews Animal Foundation in Atlanta and our partners at the Jefferson Parish shelter in Louisiana, our Atlanta team helped coordinate the evacuation of 60 cats from Jefferson Parish earlier this week. In Houston, our team cleared the decks and loaded pets in crates compliments of the Petco Foundation, while our Arkansas team shuttled airline crates donated by the Walmart Foundation to Houston on a long drive from Bentonville, Arkansas, in the event that dogs and cats from the impact zone will need relocation.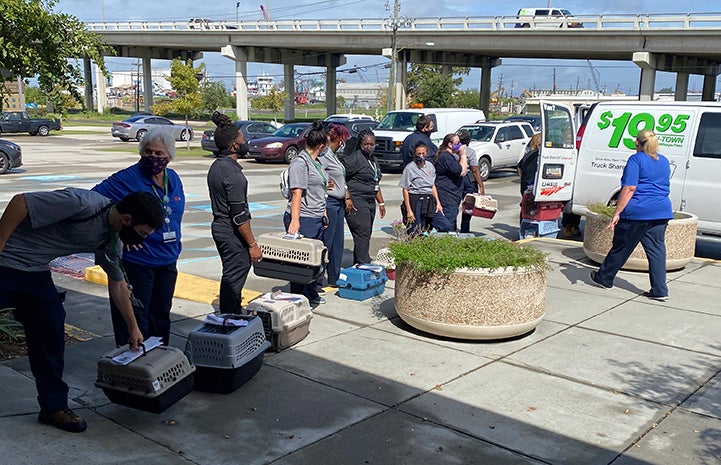 As of first light, while the strength of Laura's winds was as expected, the storm surge and rain-related flooding have been less than feared. That's good news, but it's too early to celebrate as we await a complete damage assessment and the effects on animals and people across Laura's path. We will keep you posted.
It is the peak of hurricane season, but I didn't need Laura to remind me that late August marks 15 years since Hurricane Katrina devastated New Orleans, along with most of south Louisiana, Mississippi and a chunk of Alabama.
Katrina was a well-documented tragedy, killing over 1,800 people and tens of thousands of animals, as the power of the storm was compounded by the failure of multiple levees, resulting in citywide flooding in New Orleans with the complete devastation of the Ninth Ward, New Orleans East and St. Bernard Parish.
The ravages of the storm evoked a nationwide public response, with volunteers converging from every state and Canada, lining up with human and animal charities or just slapping an animal rescue sign on their SUV and taking to the streets. I can guarantee that there will be many Katrina Zoom reunions this weekend — the sharing of "war stories" and the comparing of paw print and hurricane symbol tattoos!
Katrina also marked the emergence of Best Friends onto the national scene as a transformative force in animal welfare. I am really proud of the impact that we've had on the way families with pets and animal victims of disasters are related to.
For us, it was an "all hands on deck" emergency. Literally, the resources of the entire organization were re-prioritized to rescuing pets, caring for them and reuniting displaced pets with their displaced people. Ever the disrupter, Best Friends rejected the existing convention that outside agencies were supposed to leave when local animal control caught its breath and said, "OK, we got this" (even if they clearly didn't). So, when state officials declared at the end of September that the Katrina emergency was over, other national organizations obediently wrapped up their operations and left the disaster zone.
Best Friends stayed and became the rallying point for hundreds of volunteers who knew firsthand that there were still thousands of animals in and around New Orleans who were alone and in need. Best Friends stayed long after others left because there were animals to save and to serve. The last of our staff returned home in May 2006.
As important as all our rescue and reuniting work was, our work on the PETS Act, sponsored by California Congressman Tom Lantos, was even more critical. Along with other national organizations, we helped to formulate the act, which authorizes FEMA to provide rescue, care, shelter and essential needs for individuals with household pets and service animals, and to the household pets and animals themselves following a major disaster or emergency.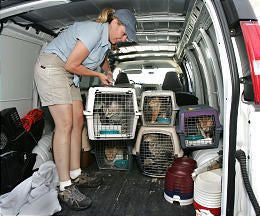 When Katrina hit, I was based in Salt Lake City as executive director of our statewide no-kill coalition, No More Homeless Pets in Utah. Such was the spirit of the times that members of the Salt Lake community were eager to do whatever they could to help with the sad situation in New Orleans. Eventually, some of the New Orleans diaspora were welcomed as residents of Salt Lake City, but the first relief relocation was a transport of 65 cats who I picked up in Louisiana and drove to Utah two weeks after Katrina hit.
We had a Best Friends Super Adoption scheduled for Saturday, September 17, and it was a no-brainer to use the event to help the animal victims of Katrina in whatever way we could. We had already helped to clear some Texas shelters to make room for Katrina animals, but this would be No More Homeless Pets in Utah's first foray into the disaster zone. Of course, Best Friends had been on the ground in New Orleans since September 3 and was already running an emergency shelter in Tylertown, Mississippi.
My drive down to Louisiana and back to Utah in a rented van was a nonstop, life-changing experience during which I bonded with Emmylou Harris, listening to her Red Dirt Girl album for most of the trip, with some Audio Slave thrown into the mix, all while trying to process the devastation I had just encountered. The damage was almost beyond comprehension, and the urgency and energy of the on-the-ground rescuers was humbling and inspiring.
The cats arrived in Salt Lake safe and sound, and after a few days' observation and rest at a local vet's office, they were indeed the stars of the show at the super adoption.
Disasters change things, and the bigger the disaster, the bigger the change. The big ones like Katrina constitute a "before" and "after" marker in the timeline of our collective memory. The work of Best Friends in keeping with our no-kill ethic in the aftermath of Katrina helped to reset the bar for how animals in disasters are cared for, including ensuring that they are not shuffled off to already crowded shelters only to be killed after a limited holding period.
The same applied during Hurricane Harvey — in fact, it applies to our work every day. For dogs and cats facing an uncertain life-or-death future in a shelter, it doesn't matter if they are there due to a death in the family, the loss of a job by their person or a Category 4 hurricane that ripped their community apart. To them, each is a disaster of equal consequence, and their only chance at life is to get out of the shelter and into a home as quickly as possible.
That is what we do every day, and we and our partners across the country will continue to do that until there are no more homeless pets.
Together, we will Save Them All.