Saving lives at the Best Friends Animal Clinic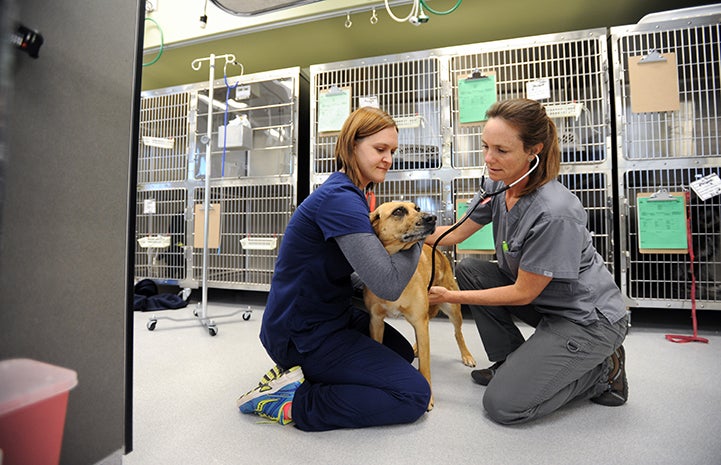 Beyond the spacious lobby and spotless examination rooms of the Best Friends Animal Clinic, few people have the chance to see all the lifesaving work that happens there — or to meet all the dedicated and talented people doing that work. Those people, the 38 members of the Best Friends medical team, are saving and improving the quality of animals' lives every day.
Though it goes without saying, I'll say it anyway: This crucial work has an incredible impact here at the Sanctuary. And, as the Sanctuary is stepping up to help other areas of the country in support of Best Friends' nationwide no-kill 2025 goal, so too is the clinic.
It's difficult to imagine the scope of the work that takes place here without taking a deep dive. One of the most important roles of the clinic, of course, is to provide excellent medical care for the approximately 1,600 animals who call the Sanctuary home on any given day. Every animal who arrives at the Sanctuary has a vet exam to assess current health and to identify any injuries or illnesses for which treatment is needed right away. Every animal also gets routine, diagnostic and emergency medical care for as long as they are here and, since many arrive with special medical needs, our team always has their hands full.
Some animals arrive at the Sanctuary needing emergency surgery, as was the case with a dachshund named Shorty, who was transferred to the Best Friends Animal Clinic from another veterinary hospital. He was fighting for his life after being badly injured by a much larger dog. Best Friends vets flushed out his wounds and worked hard to repair the damage to his body. Shorty needed lots of pain medication and care to stay comfortable during his first few days in recovery, but he did recover beautifully and was adopted quickly.
Four precious puppies — Fly, Swim, Hike and Jump — are also among the many lives the veterinary team has saved recently. At three weeks old, the puppies arrived at the Sanctuary from a shelter in south Texas. It's an area of the country where distemper, a highly contagious and deadly virus, is endemic. Sadly, the puppies' mother fell ill, and then the puppies did, too. While the disease can be mild and treatable in adult dogs, it can be fatal for young puppies because their immune systems haven't fully developed yet. Although distemper has no cure, prompt, round-the-clock supportive care (including fluids to maintain hydration, medications to ease gastrointestinal symptoms and antibiotics to treat secondary infections) can be lifesaving. From the moment the puppies and their mother arrived at Best Friends, the veterinary team was there for them. Recovered and healthy, three of the pups have already been adopted, and the fourth pup and his mother will soon follow.
Another important role the clinic plays is supporting Best Friends' local community cat program. Our medical director, Dr. Erin Katribe, says providing spay and neuter services is the biggest piece of that, but the clinic also provides additional medical care for community cats. The extent of that medical care depends on what is necessary and reasonable for the individual cat, since many of them are not socialized to humans and being around people is stressful for them. "We balance the medical care with the cat's mental health and what each particular cat can handle," Dr. Erin says.
Supporting the local community cat program also means providing veterinary support for the Best Friends kitten nursery in Kanab, Utah, where 250 kittens and 10 mothers were saved in calendar year 2018. That includes kittens like Xenia, a Siamese mix who arrived in terrible shape, severely underweight and wounded. Thanks to the efforts of the kitten nursery staff and volunteers and the veterinary team, Xenia recovered from her injuries and found a loving home.
In addition, as a service to the community, the clinic offers discounted spay and neuter surgeries and vaccinations for residents of Kanab and the surrounding area. During a recent public vaccine clinic, 20 cats and 98 dogs were vaccinated.
A dental extravaganza in January was also a huge success. Veterinary dentistry is essential for maintaining health, but there's often a backlog of animals needing dentals at the Sanctuary. By teaming up with animal dentistry experts who've helped Best Friends in the past, 53 Sanctuary and employee animals got dentals in just two-and-a-half days. To make events like these possible, the veterinary team must work together like a well-oiled machine.
This spirit of collaboration — a hallmark of the veterinary team's day-to-day operations —extends beyond the Sanctuary, too. The clinic works with Snip Trip, a Best Friends program that serves people and pets from nearby Navajo Nation, where lack of access to veterinary care is an obstacle. The clinic provides spay and neuter surgeries, vaccines, deworming and other basic care through the program and is looking for ways to ramp up outreach support for this underserved community.
Vets and vet techs are also deploying to places like Edinburg, Texas, to lend their skills and expertise. With Best Friends' help, the Palm Valley Animal Center (PVAC) — previously one of the most under-resourced shelters in the country — has been making a herculean effort to raise their save rate and move toward no-kill. In just one year, they've gone from a 33.7 percent save rate (2017) to 54.2 percent (2018). In 2018, PVAC took in 28,791 dogs and cats. The shelter has only one veterinarian on staff, so the clinic is committed to sending people to PVAC monthly to support that veterinarian and the lifesaving efforts there.
To help the nation reach no-kill by 2025, the Best Friends clinic's main challenge is finding ways to help more animals with greater needs, both here at home and in communities like Edinburg. Medical operations manager Norman Retes says, "The demands for the team, for achieving no-kill by 2025, continue to evolve. There will be more animals with special needs and behavior challenges, and we'll need to rise to meet that demand."

I have no doubt that our veterinary team will meet this challenge in the most outstanding way possible.
"The Best Friends medical team comprises incredibly talented and exceptional human beings who really rally under a common purpose," Norman says. "We are all different individuals, but everyone is aligned with Best Friends' mission and with advocating for those who have no voice. I have the privilege of working with some of the best doctors and techs in the industry, but they aren't just vets or vet techs; they are also great people."
For all the animals whose lives they have saved, and for all those they will save in the future, they are superheroes, too.
I'm excited to tell you that our clinic is one of the clinics featured on a new live event series called Animal ER Live. The show, which premiered March 30, airs on Nat Geo Wild on Saturday and Sunday nights at 9 p.m., ET/PT, and runs for four weeks. Check your local listings.
Animal ER Live will trail teams of emergency veterinarians and specialists as they work tirelessly through the night to save the lives of pets from coast to coast. The series follows seven clinics in all corners of the country and features a wide range of touching cases in emergency rooms and waiting rooms, and also accompanies on-call vets to homes and farms to treat animals who are too sick or too big to travel.
Together, we will Save Them All.