South Texas animal shelter demonstrates what's possible in the drive to achieve no-kill nationwide by 2025
In just two short years, Palm Valley Animal Society (PVAS) has been transformed from a depressing relic from another era (only 34% of the nearly 30,000 dogs and cats entering the shelter were getting out alive) to an example of no-kill success amid enormous challenges. The latest stunning news: PVAS achieved a 90% save rate for January 2020!
In previous blogs, I have described the then-named Palm Valley Animal Center (PVAC) as one of the most under-resourced animal shelters in the country. However, thanks to the vision of their board, the sheer grit and determination of their staff and Best Friends' revolutionary shelter embed program, "the little shelter that could" has grabbed the spotlight and has shown what's possible when lives are on the line.
What Best Friends saw when we got to south Texas
Eighteen months ago, I toured PVAC shortly after we placed embedded staff in their operations to help them with the dizzying array of animals they were handling every single day. In a community of 750,000, they were taking in 30,000 animals a year — a number that rivals many other large metropolitan communities in the country. And they were operating on a budget of just $4 million .It's a shoestring budget in comparison to that of Los Angeles Animal Services, which had a budget of approximately $24.5 million for the same fiscal year.
Walking through the struggling shelter was like stepping back in time to a shelter from the 1960s. As I walked by the line of animals, my T-shirt was grabbed from behind. I turned around to see a young, sweet tortie cat reaching through the cage to grab my back with her paw. She had the most dazzling green eyes and unusual facial markings. She knew what was likely just around the corner for her. I did, too.
But I also knew that PVAC was headed in a new direction, and it involved a lot more than just an eventual name change from Palm Valley Animal Center to Palm Valley Animal Society!
Helping to save more pets' lives in the Rio Grande Valley 
Enter Mike Bricker, a Best Friends Animal Society staff member embedded in Palm Valley as acting executive director and operations manager in July of 2018. We'd had great success embedding staff into shelter operations at the shelter staff level, thanks to Maddie's® Shelter Embed Project in the Rio Grande Valley, with generous funding from Maddie's Fund® (#ThanksToMaddie). But this was the first time we had placed one of our staff in the leadership role of a major shelter operation. Talk about being up for a challenge! In just under two years, Mike and the PVAS team turned the save rate on its head, bringing 2019 to a close with a save rate of nearly 70%  — double the previous year!
Mike identified six areas of need and implemented committees to tackle these specific areas. When he asked for help, nearly all the PVAS staff volunteered to participate. How's that for teamwork and dedication?! One of the committees with the most significant impact on lives saved focuses solely on returning pets to their people, which has resulted in a growing number of reunions — a 60% increase since its inception! An adoption committee (with 500 adoptions in January), and a transfer/transport committee are two more examples of the targeted changes that Mike Bricker and his team attribute to this drastic turnaround in lifesaving at PVAS. And somehow, the PVAS team magically found extra hours in the month of January to convert an old animal control building into a new maternity center for nursing moms, helping the most vulnerable population while opening up crucial space for lifesaving at PVAS.
It's been a bumpy road, with challenges like managing contagious diseases endemic to the region and the inherent problems associated with an antiquated facility. The Palm Valley team has faced many challenges, and will face many more, to solidify these lifesaving gains. But the payoff for all their hard work and creativity is, of course, that 90% save rate last month for all dogs and cats entering the PVAS system.
As always, any game-changing news is a culmination of the collective tireless work of multiple people and organizations. Dr. Erin Katribe, the Best Friends medical director,  stepped in to help PVAS with veterinary assistance in January, and Michelle Logan, director of national shelter embed programming for Best Friends, has been a tremendous source of support for Mike Bricker and his team. A big thanks to Petco Foundation for helping with significant financial contributions in both 2018 and 2019, and to Animal Balance, for helping with 150 spay and neuter surgeries each month. And last but certainly not least, that 90% save rate would not be possible without the hard work of each and every team member on the ground at Palm Valley Animal Society.
South Texas has a bright future for shelter pets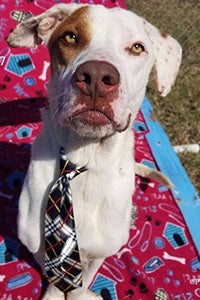 In the words of Mike Bricker: "Our work has only just begun, but together we have proven that it is possible. The ultimate underdog story has reached a new chapter."
Speaking of underdogs, the story of a handsome dog named Ty, who found himself at PVAS in August of 2019, is the embodiment of a difficult beginning with a happy ending. Ty struggled on the adoption floor and was often overlooked by adopters because he showed behavior issues, the same issues that sadly placed his life at risk. On January 23, PVAS staff worked on one final spotlight to show the public how truly amazing Ty is. After all, what he really needed was to be out of his kennel. That's when he met the young lady who would fall in love with him and take him home after he'd spent 121 days at the shelter.
Thanks to the rock-star team at PVAS, there are many more stories like Ty's.
Oh, and that sweet tortie who grabbed my shirt at the shelter 18 months ago? She is thriving in our home now, and we named her Maggie. She is hands-down the most athletic animal I've ever come into contact with. I sometimes get lost in just watching and marveling at her agility and grace, and she is a daily reminder of where Palm Valley Animal Society was, where they've come to and what their example promises for all the under-resourced shelters in the country on the road to 2025!
You can read more about Palm Valley and the lifesaving steps taken by Best Friends and our partners in earlier blogs here and here.
Here's to more stories of strength, resilience and hope, to lead us to a no-kill nation by 2025.
Together, we will Save Them All.