Targeting outdoor cats is misguided and likely to backfire
Image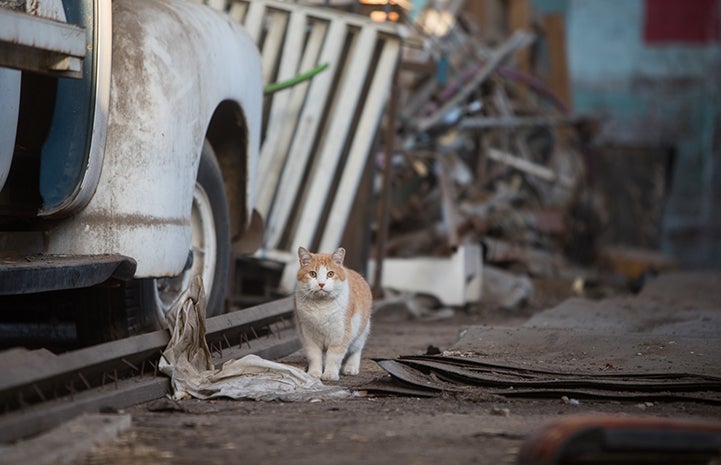 It was quite a shock to learn, earlier this month, that the Western Governors' Association (WGA) now includes "feral (or spay-neuter-release) cats" among its "top 50 invasive species in the West."

Who knew that your sterilized outdoor cat could be public enemy No. 13? It seems like a specious argument, based more on the whims of a few out-of-touch bureaucrats than on sound science.

Best Friends is the only national animal welfare organization with headquarters in the West, making our home in Utah for some 34 years. One would think that we would have a seat at the table when such topics are discussed, considering that we are experts in the humane reduction of free-roaming cat populations. Yet, to our knowledge, no animal welfare organizations were consulted. Nada.

Now, according to an Associated Press story, the WGA's invasive species list was released "in hopes of helping people recognize and eradicate the invaders before they spread." It's difficult to imagine that the WGA is truly calling on its 19 member states (Alaska, Arizona, California, Colorado, Hawaii, Idaho, Kansas, Montana, North Dakota, Nebraska, New Mexico, Nevada, Oklahoma, Oregon, South Dakota, Texas, Utah, Washington and Wyoming) and three U.S. territories (American Samoa, the Northern Mariana Islands and Guam) to kill these animals, particularly when decades of past eradication efforts have failed. Then again, it's difficult to interpret this announcement any other way.

What are the implications of the WGA including cats on their "most wanted" list? It's difficult to say for sure, but it's easy enough to make some educated guesses.

First of all, no laws have been changed. And any forthcoming policy recommendations are likely to meet with considerable opposition — largely from the general public. After all, national surveys show that seven in 10 Americans prefer trap-neuter-return (TNR) over the traditional approach for managing these cats (i.e., impoundment and, for cats deemed unadoptable, lethal injection).

Local shelters and the policy makers who oversee them are likely to push back as well, arguing that managing cats is largely the purview of local governments — and any changes to that arrangement might amount to unfunded mandates for already underfunded organizations.

And, because "feral (or spay-neuter-release) cats" cannot easily be distinguished from other cats found outdoors, the WGA's listing essentially targets all cats who spend any time outdoors. That includes barn cats ("working cats" used to deter rodents), stray and lost pets, indoor-outdoor cats, and the cats and kittens who begin life "on the street" before becoming beloved family pets.

There's an unmistakable irony to all of this, of course. Targeting "feral (or spay-neuter-release) cats" is likely to backfire — undermining the very programs that are essential to reducing community cat numbers. TNR just makes sense. It's an animal-friendly alternative for reducing community cat populations. It also protects public health and saves taxpayers money.

Cat eradication as a policy has been dismissed as ineffective and unfeasible by many policy makers who have adopted TNR as the most effective approach to reducing free-roaming cat populations. So, to see "spay-neuter-release" cats specifically called out by the WGA as the problem is a bit like saying flu vaccines are the cause of a bad flu season. It's not just inaccurate, it's downright irresponsible.

And because these programs are critical to achieving our goal to bring the nation to no-kill by 2025, a threat to their sustainability is a threat to the larger goal.

It's worth pointing out, too, that the very act of declaring this country's most popular companion animal an "invasive species" only deepens existing divisions between the conservation and animal welfare communities, when in fact, most of us want the same thing: fewer homeless cats on the landscape and an effective, sustainable, humane way to achieve that.

In short, it's difficult to see how WGA's list is a sound one.

As a national animal welfare organization committed to humanely reducing the population of community cats through TNR, Best Friends has already reached out to WGA, encouraging them to remove cats from their list of invasive species.

We've also created advocacy alerts for residents of the 19 WGA states interested in weighing in. Politics is not a spectator sport. Please take advantage of this opportunity to have your voice heard — and encourage others to do the same, by sharing this post via social media.