Paramount Pictures shines the spotlight on big dogs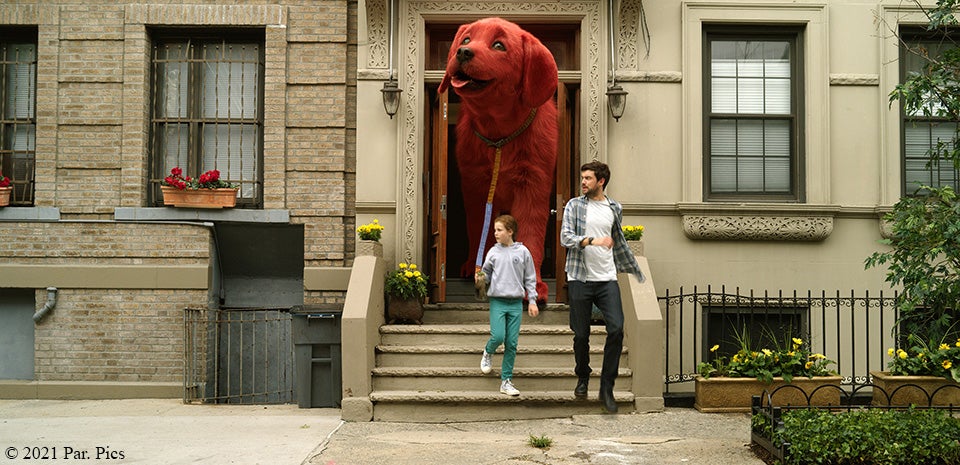 This fall, heroes don't get any bigger. Join Best Friends as we team up with Paramount Pictures and the new movie Clifford the Big Red Dog to help spread the word that big dogs are a BIG deal — in the best possible way. And to top it off, Paramount is making a $25,000 donation to the animals at Best Friends who, like Clifford, need a second chance.
The movie tells the story of a middle-schooler named Emily (Darby Camp) who is given a little red puppy by a magical animal rescuer (John Cleese). Fast-forward and we find Emily waking up with a giant and quite clumsy 10-foot-tall hound in her small New York City apartment. While her single mom (Sienna Guillory) is away on business, Emily, Clifford and her fun but impulsive Uncle Casey (Jack Whitehall) set out on a big-city adventure in the Big Apple. Based on the beloved Scholastic book character, this heartwarming tail, um tale, will teach audiences young and old how to love big.
Clifford the Big Red Dog comes to the big screen and streaming on Paramount + on November 10.
Clifford and the big dog effect
Did you know that dogs who weigh more than 40 pounds are at high risk of being killed in shelters? Some people believe that big dogs require too much attention or are hard to handle. Clifford the Big Red Dog sets the record straight.
Like Emily, Best Friends embraces the love, the size and all the unforgettable moments that come with having a big dog and being a "big dog person." We call that the #BigDogEffect.
Together, we can focus on the positives of big dogs and help others realize that being a "big dog person" has its perks. Here are some ways you can help big dogs:
Do you have a big dog?  Share how great your big dog life is on social media with #BigDogEffect.
Looking for an energetic playmate, a cuddle buddy and a reliable companion? Adopt or foster a big dog.
About Best Friends Animal Society
Best Friends Animal Society is a leading animal welfare organization working to end the killing of dogs and cats in America's shelters by 2025. Founded in 1984, Best Friends is a pioneer in the no-kill movement and has helped reduce the number of animals killed in shelters from an estimated 17 million per year to around 347,000. Best Friends runs lifesaving programs all across the country, as well as the nation's largest no-kill animal sanctuary. Working collaboratively with a network of more than 3,300 animal welfare and shelter partners, and community members nationwide, Best Friends is working to Save Them All. For more information, visit bestfriends.org.
Here's a sneak peek at Clifford the Big Red Dog, coming to the big screen and streaming on Paramount +, November 10.