Beth Wolfer
Planned Giving Officer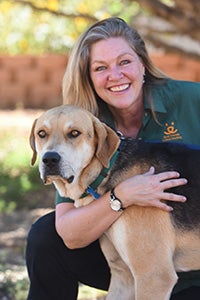 As a planned giving officer at Best Friends, Beth Wolfer says, "I get to have sacred conversations with donors who are thinking about how they can help the animals after they are gone by leaving a legacy gift." Beth also serves as co-chair of the Education and Accountability DEI Council and as a public speaking consultant for various departments at Best Friends.
Beth believes fiercely in the power of the animal-human bond and volunteers with her dog, Edgar, as both a board member and a certified therapy team for Intermountain Therapy Animals. She lives with her four four-legged boys, two dogs and two cats, and is a speaker coach for TEDxSaltLakeCity.
Q: Tell us where you live, what you do and how long you've been with Best Friends.
A: I'm in Salt Lake City, I'm on the planned giving team, and I've been with Best Friends for six and a half years.
Q: For the title of the council, why did you choose to include the word "accountability"?
A: We chose to include it because it signifies more than having great intentions. It means actually following through and helping people feel heard and then doing something with that.
Q: So, it's about having outcomes that are meaningful?
A: Absolutely. Yeah, because there's so much energy around this now. Where are we going to be in a year? What are we really going to do with it? There's an urgency about it.
Q: You had a conversation with our CEO four years ago about culture, a broad discussion that included talking about DEI. Can you recap that conversation?
A: I think what I was really talking about was how to create happy employees. It's more than simply providing ping-pong tables and beer on tap, like they do at some companies in Silicon Valley. It's more about establishing a culture in which people feel heard and doing something with that. And that's why I love that this DEI council is such a team effort. We have phenomenal people on our council. Yeah, I think it has to do with people finding meaning in what they do for work and feeling appreciated for it.