Christina Pham Linhoff
Regional Gift Advisor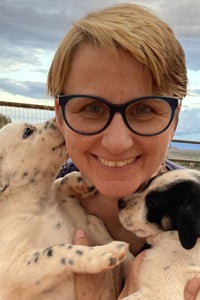 For Christina Pham Linhoff, it's the commitment to kindness that makes Best Friends so special. She's been working with supporters on the East Coast as a regional gift advisor for about the last decade. More recently, she has been putting her master's degree in human resource development to work as co-chair of the Living Our Values (LOV) Council and as an organization development strategist.
She shares her home with a black pit bull terrier named Blossom, two elderly cats named Ernie and Stella, two fish named Chomp and Nicki Menaj, two school-age daughters, and a very tolerant husband who didn't grow up as an animal person.
Q: Tell us where you live, what you do and how long you've been with Best Friends.
A: I live in Baltimore City (Charm City) in Maryland. I've been with Best Friends for eight years and I raise funds, so I'm a major gifts officer and regional gift advisor.
Q: Why is this diversity work so important to you?
A: I grew up in the Midwest and I had no clue how clueless I was until not that long ago. So, I've become politically active and more aware in my life and in my local community. And then when this opportunity came up at Best Friends, I felt like it was a way to sort of marry my volunteer life with what I'm doing at work. That was originally why I started to get involved.
Now I'm on the Culture Council, which is specifically focused on culture, and I'm so excited about that because the culture of Best Friends is probably the main reason I want to stay at Best Friends. My goal is to contribute to that in such a way that somebody who comes to Best Friends 10 years from now is sure that this is the best place in the whole world to work.
Q: Why do you think culture is important to an organization?
A: Basically, it's why we do what we do. I lived in Japan for a few years and that culture was very different. People did things that I thought were crazy, but it all had good reasons when you understood the culture. So, I think there's a ton of power in understanding the culture and using it intentionally.
Q: What is the one thing that you want to achieve in your role on the Culture Council?
A: I would love to create a space in which everyone's brilliance can really shine through. It's not like one and done. It's more like creating the opportunity — seeding the ground so that the environment is there for people to be their best selves.