Dawn Binion-Stewart
HR Generalist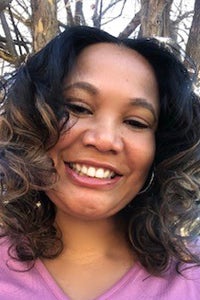 Dawn Binion-Stewart is a multifaceted HR generalist at Best Friends with successful background experience in the areas of employee relations, HR compliance, performance management, DEI, talent development, recruiting and hiring.
A strong believer in positivity, Dawn is adept at cultivating positive relationships and diminishing conflict. She is a proud parent to eight amazing babies: four incredibly kind-hearted human beings, three frisky tabby cats (Willow, Zion and Zoe) and one easily excitable Westie terrier (Simba).
Q: Tell us where you live, what you do and how long you've been with Best Friends.
A: I currently work in the employee relations department as a HR generalist. I reside in Los Angeles County around 10 miles from Disneyland. I am two weeks shy of my three-year anniversary, which I'm pretty excited about, so I've been with Best Friends almost three years.
Q: Why is being part of the diversity committee important to you?
A: I think there are various reasons. For me, it's both personal and professional. I have never experienced true DEI in my personal or professional life. It's very important for this to occur; everyone deserves to feel a true sense of belonging.
When DEI was pushed to the forefront here at Best Friends, I was a little hesitant to raise my hand. My thoughts centered around how personal this was for me and that the core of my job responsibilities centers around objectivity and equity. How would I be able to balance some of the emotional trauma that my loved ones and I have experienced and still do my job effectively? I realized, though, that people who have been truly impacted by a lack of DEI need their voices to be at the table if we are going to fix some of these things — so things can be seen from a different lens.
Q: When you think about DEI, how do you see the work that you're doing on this council impacting the boundaries beyond Best Friends?
A: Animals have such an important place in this world. It is a blessing to have animals in your life, and many times when you're dealing with a lot of issues, they help you get through. They support you and love you unconditionally. I think that people don't always realize that all communities love animals, and if we're going to achieve no-kill nationwide by 2025, we need everybody. I think we're going to be able to make a big impact by highlighting and recognizing diverse people's love of animals.