An extraordinary cat foster mom
Special pet foster mom specializes in fostering special-needs cats and preparing them to be adopted. This is the story of Mewford, an eyeless cat.
By Nicole Hamilton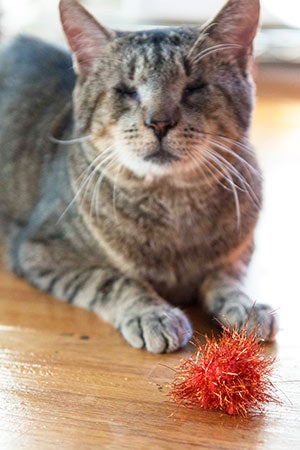 As soon as Mewford arrived at Best Friends in New York, it was clear he was a pretty special cat. He was laid-back and friendly with everyone he met, ready to play at the first sign that a toy was nearby, and he made it a point to purr often. That's because Mewford understands that joy isn't seen: It's felt. He knows this because he doesn't have eyes.
While no one knows the reason Mewford is missing his eyes, there's a good chance the senior cat, who made his way to Best Friends after he was surrendered to Animal Care Centers of NYC, was either born without eyes or lost them as a kitten due to an infection. But lack of sight certainly hasn't stopped Mewford from navigating his indoor world as easy as a cat who sees. He gets around just fine.
Still, the pet adoption and foster team knew it would be ideal for Mewford to live with a volunteer foster family while he waited for his new home. There, they could learn more about Mewford's personality and how he gets around ― invaluable information for potential adopters. And they had just the right foster mom in mind: Brigette Supernova.
"Brigette is an incredible foster mom," says Shannon Kirkman, adoptions and foster coordinator or Best Friends in New York. "She's knowledgeable, caring and generous with her love."
Learn about the new Best Friends Adoption Center in New York City
Fostering special needs cats
When Brigette, a photographer and editor, moved to New York City from Chicago about a year ago, she had already fostered more than 200 cats and kittens. She wanted to continue being a foster mom to help save the lives of cats in her new town, so after settling in, she reached out to Best Friends and joined the foster program.
Soon, Brigette began caring for some of Best Friends' most special needs cats (and taking gorgeous photos of them in the process). Her first foster was a cat named Olympia, a toothless guy with a personality too big to fit in a cat carrier or a cage. Whenever he had to be in a carrier at an adoption event, he'd let his feelings be known by hissing and scratching, which didn't go over well with potential adopters.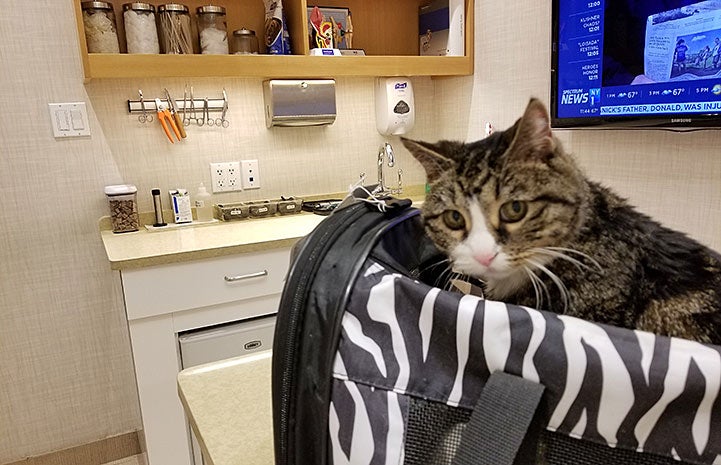 But as soon as he was free to roam in Brigette's home, he transformed from a frustrated cat to a love bug. And the longer Olympia stayed with Brigette, the more she saw what a kind, spirited cat he was and the more she wanted others to know this, too. She started attaching notes to his carrier that potential adopters could read when they met Olympia at adoption events. Brigette hoped her endorsement would inspire someone to give Olympia a chance. It did.
Olympia was adopted and today lives happily in a loving home. It means that Brigette has room to help more special cats, including Mewford, the next one in line to enjoy life with her for a while.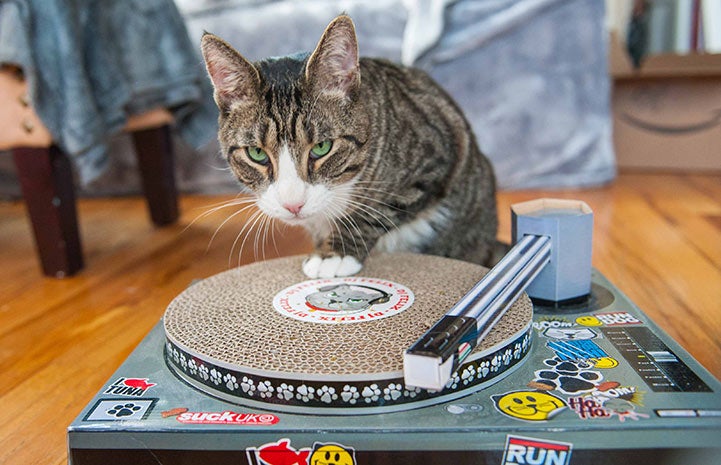 Helping a blind cat find a home
"He's just the sweetest, most adorable cat," says Brigette. "And he's totally chill. There's really no better way to describe his personality."
To make sure Mewford felt comfortable in her large apartment, Brigette closed off rooms with gates, so he could find his way around. Once he got the lay of the land, he started to show his playful side. Despite being blind, Mewford loves to chase toys ― even the ones without sound. And he can climb up on the couch, especially when it's to cuddle with someone.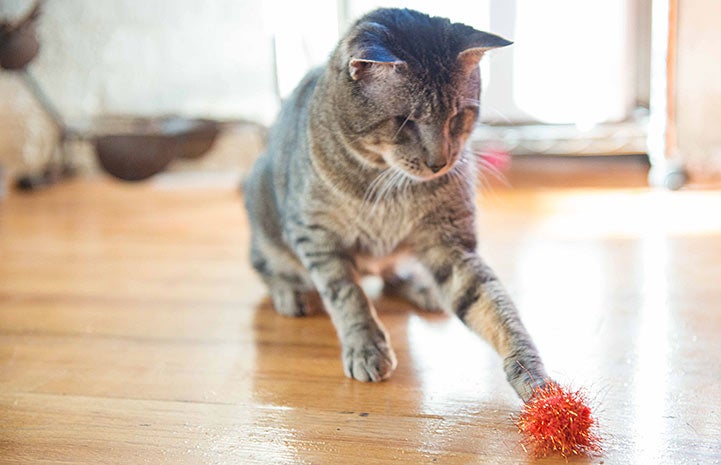 Brigette loved the way Mewford would lift an ear in her direction, twitch his nose when she talked to him, and how sweet he was with Robin, a second foster cat in her home. Robin has kidney disease and is losing her sight, and Mewford helped her cope.
Occasionally Robin and Mewford would bump into each other, and this would often startle and upset Robin, who is not used to being unable to see. When that happened, Mewford would lie down and let Robin step over him. "It's like he was showing her that it was OK," says Brigette. "He was a perfect gentleman with Robin. So patient."
Like she did with Olympia, Brigette penned a letter about Mewford to adopters that accompanied him to adoption events, including the Best Friends Super Adoption in June, where Mewford met a family who fell in love with his laid-back personality. That day was bittersweet for Brigette, because Mewford found his home.
"Sure, it hurts a little to say goodbye," she says. "But knowing Mewford is happy with a family who loves him is why I foster."
Volunteer or foster an animal in your city

Why fostering a cat is an honor
Today, Brigette is still caring for Robin and she'll be by her side for as long as Robin is at her home ― even if that means providing hospice care. Because she has kidney disease, Robin needs extra medical care and attention, and while some may see this as a burden, Brigette thinks otherwise.
"To me, it's an honor to care for her at this stage of her life," says Brigette, who sees fostering as an essential component to helping homeless pets get adopted. "Fostering is where pets can heal peacefully from injuries or when they are sick, and learn the social skills they need to find homes. It's a huge part of the process, and so rewarding."
While Brigette is busy at the moment keeping a watchful eye on Robin, her world may soon get a whole lot more adorable. She's ready to foster kittens.
"Our work simply would not be possible without foster volunteers like Brigette," says Shannon. "Her passion and compassion for the super-special kitties in our program has truly saved lives."
Help Save Them All. Join Best Friends.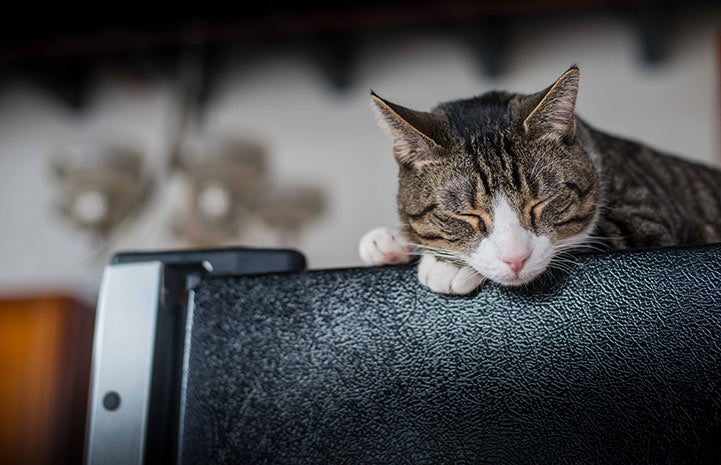 Photos by Robert Stoetzel and Brigette Supernova