For the love of animals
Every day is Valentine's Day when couples volunteer to help homeless pets.
By Denise LeBeau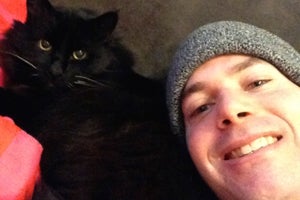 Burrito, a beautiful ebony cat, was begging for food from park rangers in the foothills of Stanford, California. He was underweight, covered in ticks and suffering from an upper respiratory infection. A local group rescued him and sent out word that he needed a home. When local volunteer Kelly McGonigal heard about his plight, she jumped into action.
At the time, Kelly and her fiancé, Brian Kidd, both students at Stanford University, broke their campus housing contract so they could get a pet-friendly apartment in order to take in the poor cat. It was the first time the two had helped an animal together, but it certainly wasn't the last.
Love heals
In fact, animals have always been at the core of Brian and Kelly's relationship, and they wouldn't have it any other way. When they met in college, she was a lifelong animal lover and a dedicated volunteer, while he loved the great outdoors and nature conservation.
"When we met, Brian had never had pets. I let him know that any life with me was going to involve pets," says Kelly. Brian was already thinking about helping animals. He was interested in preserving wildlife habitats and helping wildlife better co-exist with humans.
As time passed, Kelly and Brian got closer and closer, with animals ever-present. The first time Kelly met Brian's parents was on a visit to a San Diego animal rehabilitation center.
But it was Burrito who helped Kelly realize that Brian didn't only care about wild animals, and that meant a lot to her. The two had to give Burrito medicine regularly for the first few weeks and the veterinarian taught them how to wrap him up in a towel, using a "cat burrito" technique. "He was so cute in his towel we named him Burrito," says Kelly.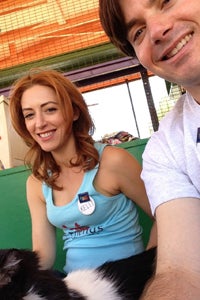 Bonding over Best Friends
When Kelly found out about Best Friends, she felt it had something for both her and Brian. "I fell in love with Best Friends because of the commitment specifically to rescuing abused and abandoned animals," says Kelly. "I thought Brian would appreciate the location, the canyons and the inclusion of wildlife, so I got him invested in the Sanctuary by sponsoring animals in his name."
Then, after more than a decade together, the couple decided to take the plunge and get married. They couldn't think of a better place for the special occasion than Best Friends. They had been exploring the Sanctuary through the website and had a strong attachment to the magical place. When the big day finally came, Brian and Kelly asked folks to make donations to Best Friends in lieu of gifts. They spent their honeymoon volunteering.
Bringing it all back home
Today, Brian and Kelly live in New York, where they continue to celebrate their love of each other, Best Friends and helping animals. They are volunteering for Best Friends–New York, where they help with pet adoption events. "It gives me an opportunity to have a direct impact on specific animals' welfare," says Brian. "At least for that moment, I feel like I am really benefitting and being of service to those animals."
Brian and Kelly had spent so much of their lives helping animals together, but without bringing home any pets since Burrito all those years ago. Recently, however, while volunteering at a Best Friends–New York adoption event, they fell for a beautiful calico cat, and brought her home.
Get involved
Be a part of the magic by becoming a Best Friends member.
Learn more about volunteering at Best Friends.
Photos courtesy of Kelly McGonigal and Brian Kidd