Complexity saved the cat
We need to save more cats to get to no-kill nationwide, but how we make that happen is anything but simple.
By Emily Douglas
In a world driven by talking points, sound bites, tweets, hashtags and punchy slogans, it can be challenging to talk about lifesaving solutions that don't fit neatly into one-liners like these: Adopt your next pet. Spay/neuter saves lives. Foster a homeless pet. Stop puppy mills. End breed discrimination.
The solution for cats? Well, it depends. While many people — both those who love cats and those who prefer life without them — are quick to say things like "Cats aren't safe outdoors" or "If you see a kitten or cat outside, take her to the shelter," most of the time the best and most compassionate solution for a cat is the one that requires us to stop and think rather than worry and react.
Cats are unapologetically varied, complex and remarkably controversial creatures. And as it turns out, so are the most effective ways to save them. Best Friends has been partnering with animal shelters and individual communities to run large-scale community cat programs for more than a decade. These common-sense programs, which use trap-neuter-return (TNR) to manage outdoor cat populations, are animal-friendly, veterinarian-approved and cost-effective. Best of all? They're wildly successful.
In fact, the improvement in overall cat lifesaving at the shelters with which Best Friends has collaborated on cat-related programming is 12 times greater than at shelters without that partnership. (That's right. Twelve times greater!) But the real lifesaving magic of these programs isn't about strict adherence to one type of approach and it's not just about TNR either. What makes community-based cat programs so successful is a commitment to evaluating what's best for individual cats and individual communities based on the context.
[South Texas shelter reaches no-kill with community cat program]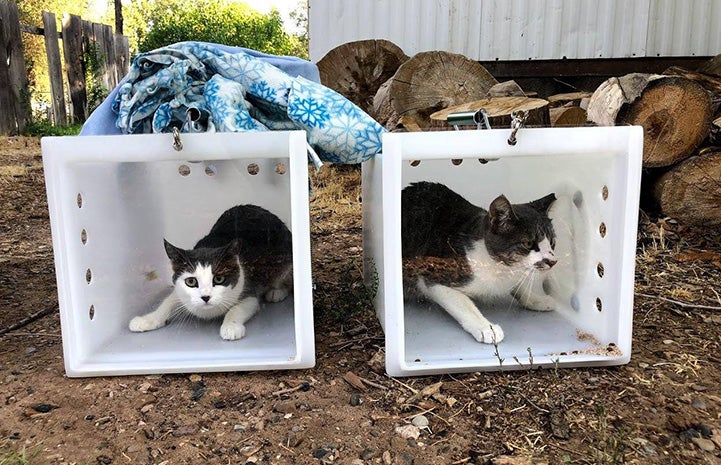 To rescue or not to rescue?
Yes, that really is the question. For those of us who happily call ourselves animal lovers and cat advocates, it can be easy to default to one simple reaction when we find a cat outside: I need to protect this cat and keep her safe. And for many of us, that means getting her to the shelter immediately.
The reality, though, is that on most days, helping cats in need requires us to walk a fine line between providing love, help and support for an individual animal and being overprotective to the point of "rescuing" every cat we see. We do this because we care and because knowing that an animal is, by all appearances, safe and out of harm's way helps us sleep a little better at night. That compassion is a natural human response.
However, the best thing that we can do for the cats in our communities and for our fellow community members is to contextualize that compassion — ironically, to complicate it. That's because our impulse to protect and rescue every cat we find outdoors has the potential to cause more harm than good.
While a lot of cat-loving folks assume that any friendly cat found living outdoors should be taken to a shelter or rescue group and put up for adoption, community cat experts often assume the opposite. Years of experience observing, supporting and saving community cats has shown them that while some of those felines are friendly toward humans (as opposed to feral), it's because someone (or a group of people) in that community loves and cares for those cats.
[Veteran changes his mind about community cats (and TNR) thanks to one ear-tipped cat]
When we default to "rescuing" such a cat, we're often breaking a cherished bond by removing the cat from the place he calls home and taking him away from the people and fellow cats who are his family. Sarah Kowalski, the community cat program manager at Palm Valley Animal Society in Texas, explains: "We return friendly cats and feral cats alike, and there's a good reason for that." In addition to keeping cats out of the stressful shelter environment, returning cats to the places they call home strengthens those community bonds. Sarah says, "When you see friendly cats getting reunited with the people who are the reason they're friendly, you realize that it's in their best interest and it's good for the people, too."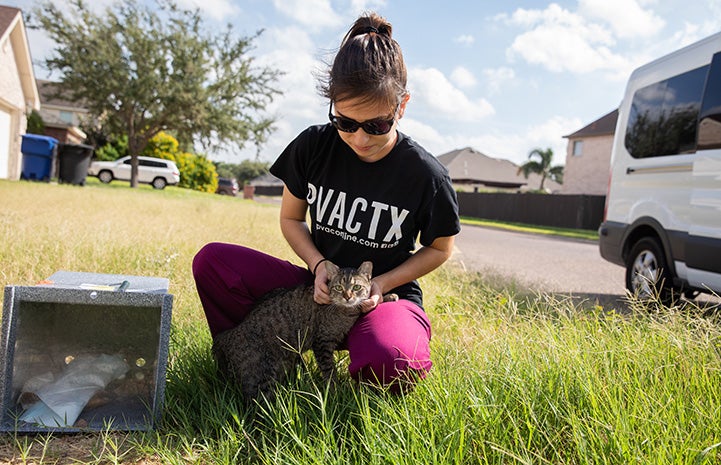 Helping both cats and people thrive
One of the most important things that community cat teams do is engage in conversations with community members to find the best possible outcome for both the cats and the people. When you start a conversation, rather than simply picking up a cat you find outdoors and taking him into your home or to a local shelter, you can have a bigger, more positive impact for that cat and your community.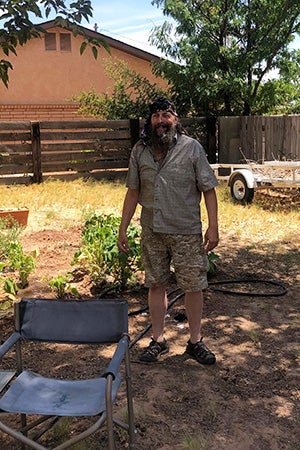 Earlier this year, William, a military veteran living in Fredonia, Arizona, reached out to Best Friends for some help with transport and spay/neuter services for some local cats. But then COVID-19 hit, and many community services were paused to mitigate exposure and ensure public health and safety.
In the meantime, Best Friends staff kept in touch with William, providing any support they could on a remote basis. The staff got to know William rather well, and what started out as an inquiry about helping cats blossomed into a friendship. They learned that William was in the armed forces for years and that he had been diagnosed with an illness and told he would not survive. But William likes to chart his own course and he ended up beating what had been deemed a terminal condition.
[Pilot becomes cat rescuer and TNR advocate]
That second chance at life made William more determined than ever to care for his community's cats, making sure they always had food and a safe place to be. He also started to sit outside with the cats daily, and he became aware that they were giving him a degree of comfort and companionship that he hadn't realized he was missing. Before long, all of his cats were trapped, spayed or neutered, and returned to the safety of his yard.
The bond between William and his cats is a beautiful and important one that should be protected, not broken. And because the community cat team focused on building a relationship that helped both pets and people, they now have a new local cat advocate – William, of course – to turn to as well.
All shapes and sizes of lifesaving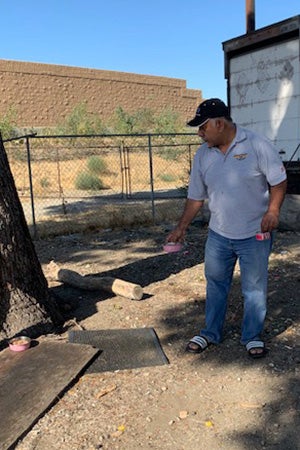 When a transportation company in Southern California discovered a little kingdom of un-altered cats (some of whom had upper respiratory infections) on its property, Riverside County Animal Services was contacted for help. After multiple visits and trapping days, 43 cats were trapped, spayed or neutered, and provided with essential medical care. Malcolm, an employee at the company, even went a step further and offered to foster several of the kittens in his home until they were old enough to be fixed and adopted.
By working together, Malcolm and the Riverside shelter team provided the cats with everything they needed to be safe, healthy and happy while also making sure that no new kittens would be born. The transportation company even built them an adorable California-style condo complex to keep them comfy and away from the trucks. That's 43 felines who are now thriving while living alongside a group of truck-driving cat advocates, rather than facing an uncertain future at an overcrowded shelter.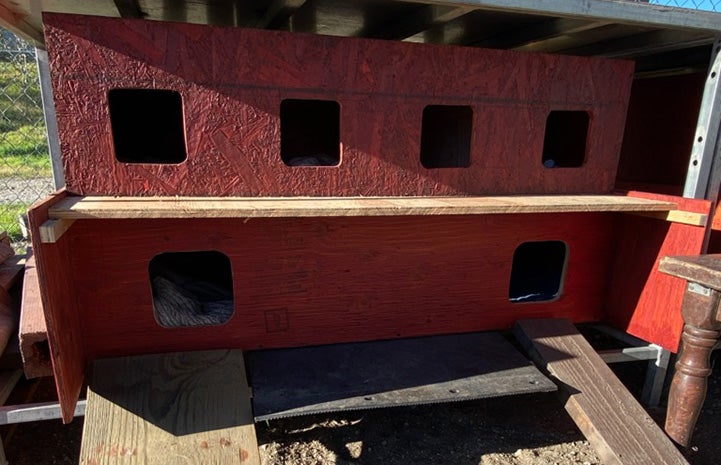 [Jackpot! More than 14,000 stray cats get fixed in Vegas, feline save rates skyrocket]
Lacey, who lives in Riverside, had already been providing TNR support for a small collective of cats in the neighborhood where she lives. So, when Riverside County Animal Services needed a safe landing spot for a few other community cats who had to be relocated, Lacey welcomed them with open arms and fresh food. In turn, the shelter was happy to provide spay/neuter services for a couple of Lacey's cats.
This mutually beneficial relationship also resulted in an unexpected reminder of just how wonderful community cat advocates are. When one of the shelter's cat team members arrived at Lacey's house to release a sweet cat named Papa Shush after his neuter surgery, she found a special bowl of food for Papa accompanied by a giant "Welcome Home" sign.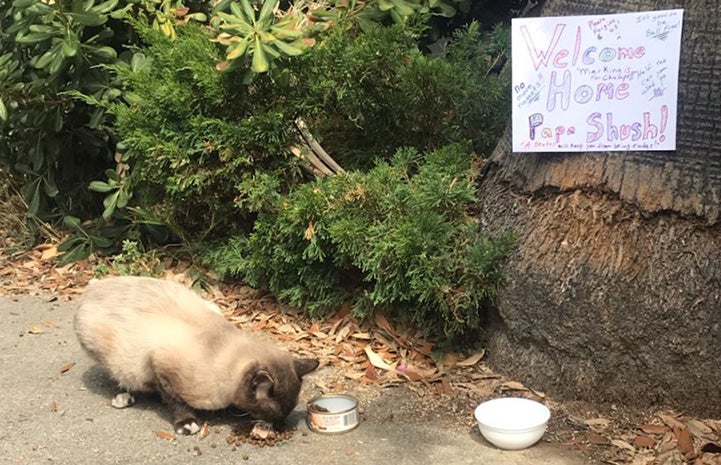 Challenging our assumptions
Most animal-loving people assume that taking a stray cat (who often isn't really a stray) to a shelter will lead to the best possible outcome for her. But that assumption overlooks the kindhearted people in our communities — like William, Malcolm, Lacey and so many others — who care for and love those cats. And it certainly overlooks the needs of the cats themselves.
More than two million cats enter shelters every year and hundreds of thousands of them are not making it out alive. In 2019, around 625,000 dogs and cats were killed in America's shelters, and despite the fact that more dogs entered those shelters, nearly 70% of the pets killed were cats. That's two cats killed for every dog.
If we care about cats, if we really want to keep them safe, we need to be willing to consider that the best possible outcome for many cats is thriving as community pets rather than household pets. It might make solutions for saving them slightly more complex, but that's OK. Evaluating cats' individual needs and supporting community members who love and care for them is a far more effective way to save cats than going into "rescue mode" whenever we see a cat strolling across the street. After all, that cat may very well be living a pretty darn great life. (And it just doesn't get any simpler than that.)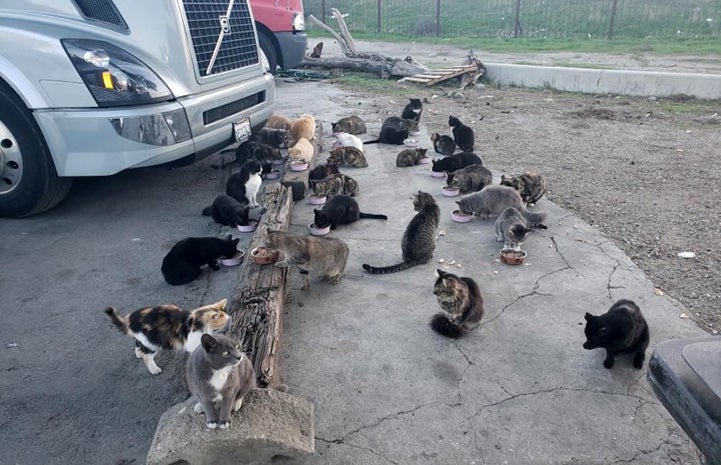 Inspiring and informative stories, delivered to your house
This article originally appeared in Best Friends magazine. You can subscribe to the magazine by becoming a Best Friends member.
Read more:
Here's how to help cats who call the streets home
People come together to help cats on a flooded island
Photos by Sarah Ause Kichas, Best Friends staff and Lacey Meade