Jackpot! More than 14,000 stray cats get fixed in Vegas, feline save rates skyrocket
Partnership between Best Friends and The Animal Foundation results in thousands of cats staying out of shelters due to return-to-field program.
By Kirstie James, Best Friends Community Cat Program Supervisor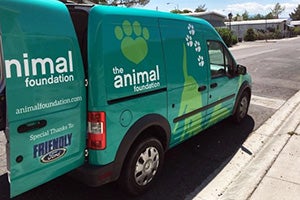 It's official: The Las Vegas Community Cat Program (CCP), a partnership between Best Friends and The Animal Foundation (TAF), has called it a wrap ― and a very successful one at that. After four years of work, which included an initial ramp-up year and 14,606 subsequent spay/neuter surgeries during its three official years, the program ended June 30. Although there were ups and downs, highs and lows, we persevered to save lives. And the statistics don't lie.
TAF, a Best Friends Network partner organization, is one of the largest single site animal shelters in the country. It has contracts with three animal control departments (Clark County, City of Las Vegas and City of North Las Vegas) and takes in 25,000-35,000 animals per year. In 2014, before the Las Vegas Community Cat Program began, TAF took in almost 13,000 cats during a time when the live release rate was only 34.22%. But a lot more lives were about to be saved.
Launching programs to save cats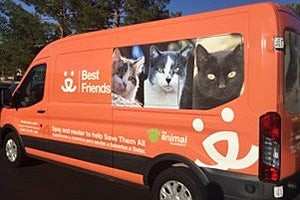 In June of 2015, Best Friends teamed up with TAF to start the Las Vegas Community Cat Pilot Project. The purpose of the pilot was to focus on nine community zip codes from which the highest number of cats entering shelters were coming, and to get those cats out of shelters through a process called return-to-field (RTF). With RTF, neighborhood cats are brought in to be spayed or neutered, vaccinated, ear-tipped and returned to the location where they were discovered.
In the meantime, Best Friends management worked closely with TAF management, city and county officials to change ordinances so that RTF would be accepted throughout the entire Las Vegas area. The effort was successful, with both the City of Las Vegas and Clark County officials voting unanimously for a full-scale community cat program to benefit the Las Vegas community.
Once the ordinances were officially changed, we kicked off the program in July of 2016 with an ambitious goal of 5,000 surgeries per year for three years. That meant we would be fixing, vaccinating, ear-tipping and returning 15,000 cats through the end of the partnership. A team consisting of three full-time staff and one part-timer focused on RTF and trap-neuter-return (TNR), the latter a process where cats are caught in humane cat traps, evaluated, spayed or neutered by a licensed veterinarian, vaccinated against rabies and then returned to their original habitat.
We were lucky to have a high-volume clinic on-site where the bulk (approximately 75%) of surgeries were completed. The rest of the surgeries were completed at a partner clinic, the Spay and Neuter Center of Southern Nevada. The center had two locations where people doing cat trapping and those caring for stray cats or caring for a community cat colony could take cats directly to TNR surgery. This convenience allowed for a great deal of flexibility and helped caregivers save a lot more cats.
Another victory for outdoor cats came in late 2016 when the City of North Las Vegas voted to implement a pilot program. This meant that all community cats coming through the shelter from that area could also be released back to their outdoor homes. Things were on a roll.
On the path to no-kill for cats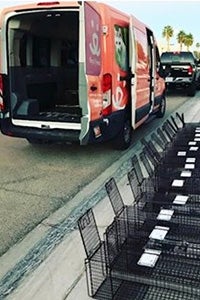 The 14,606 surgeries performed through the program represented 97.4% of the surgery goal. Although behind its goal by 394 surgeries, the program had a huge impact on the shelter's live release rate and on reducing intake.
Since the pilot project began in 2015, live release rates for cats have increased dramatically each year. With a starting live release rate of just 34.22% in 2014 (before the program began), the live release rate increased dramatically to 80.13% in 2018 and 81.95% in 2019 (January to June).
TAF is also working toward its own ambitious lifesaving goal. Alyssa Dazza, feline programs manager for TAF, says, "It is our organization's goal through 'Mission: Possible 2020' to save all healthy and treatable animals coming into our care by the year 2020."
Although TAF is already saving nearly 90% of dogs, it still has some work to do in helping cats. The good news is that due to the success of the CCP, now even stray and unsocialized cats are being saved. TAF has been doing a great job making sure all cats qualifying for the RTF program ― unsocialized or friendly ― are returned to their outdoor homes. They also have a working cat program that provides live outcomes for feral cats who can't be returned to their original location. For example, some of them become barn cats.
A few things still must be done before TAF can reach its no-kill goal for cats. One of them is a switch in focus toward cats at risk because of special needs or difficult medical conditions and neonatal kittens (under four weeks old). Other tasks include building partnerships with full service veterinary clinics in the area and pushing for more transfers to rescue partners so that cats with medical challenges can get the veterinary care needed to make it out of the shelter. TAF is also working on getting its kitten nursery up, running and fully staffed so kittens under four weeks old get the critical care needed for survival. These changes are in the works and are setting TAF on the right path to no-kill for cats.
The 'red flag' model
An increasing number of community cat programs are embracing targeted TNR and canvassing high-intake areas in order to provide maximum assistance to help communities decrease cat reproduction and shelter cat intake. One effective strategy is "the red flag model" for community cats: When a cat enters the shelter through animal control or is brought in by an individual, that cat is a red flag that indicates it is likely that more free-roaming or colony cats are in that neighborhood.
In order to prevent kittens from being born in this area and potentially entering shelters, CCP staff members would be responsible for both canvassing that area during the cat's return and attempting to find out more about that colony. Ideally, they will find out where and from whom the colony gets its food and resources, and how many cats are in the colony. The next step would be to set up an appointment with the colony's caregivers to proactively provide TNR to kittens and cats in the area.
A community solution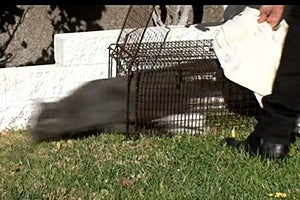 TAF sometimes had 15-20 cats ready for release in one day. Driving around town to return these cats and canvass the areas sometimes took hours, but it had to get done to make the largest impact at the shelter. As expected, the more the program worked within the community, the more information on its success spread through word of mouth. We were receiving 10-15 phone calls from the public each day with requests for trap-neuter-release. Callers ranged from caregivers of community cat colonies wanting help with TNR to people who simply noticed cats in their communities without ear-tips.
Since red-flagged cats and colonies were the main priority, we weren't able to help everyone right away; however, after a few months of asking people to be patient and wait a significant amount of time for our assistance, we decided to empower the community to be part of the solution.
We came up with a system in which people could help trap cats and get them fixed for free without having to wait for CCP staff to come to their neighborhoods. In mid-2016, we implemented office hours: The CCP office would be open for two hours every day for community cat drop-off and trap loans. This not only provided the community with a resource for getting community cats fixed for free (and in a timely manner), but it also tremendously increased surgery numbers.
The value of CCP volunteers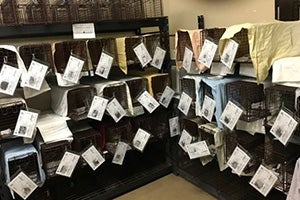 Other successful facets of the Las Vegas CCP were recruiting, training and retention of volunteers. The main roles for these volunteers were picking up cats from the clinic, returning them to their outdoor homes and canvassing neighborhood hotspots to gather colony information.
Returning cats can be extremely time-consuming, especially if the community is widespread or has a lot of traffic. Because the program's volunteers performing RTF and canvassing duties were skilled at returns and comfortable going door-to-door speaking with residents about community cats, they were able to regularly reduce staff time spent in the field by about 50%.
We began the pilot program with 15 regular volunteers. And though most of them stayed with us for the duration of the partnership, we recruited additional people when we needed help. By the end of the program, we had 25 regular volunteers, all of them extremely valuable to the program. We are so glad that most of them will continue their amazing work as TAF volunteers.
On track to Save Them All
Although the Best Friends CCP program in Las Vegas has ended, TAF is forging ahead with the lifesaving. The shelter has a feline program manager and a feline program specialist in place to take over the day-to-day tasks: RTFs, canvassing, phone calls and trapping. And TAF will be hiring a CCP supervisor and assistants to fully manage the department.
Office hours and the loaning of traps have continued to be a very important and successful part of the effort. "We have seen a significant increase in the number of cats brought in by caregivers as trap-neuter-returns since we moved to our renovated facilities and made the hours more accessible to the public," says Alyssa. "This has actually made up for the decrease in trappings for the past few months while we got the new CCP team hired and trained."
With its Mission Possible 2020 goal and its own CCP running at full speed, TAF is truly on track to Save Them All. And that will mean a big jackpot win for cats in Las Vegas.
Photos courtesy of Kirstie James