Shelter pulls out all the stops to find foster homes for a whopping 5,000 dogs and cats
Image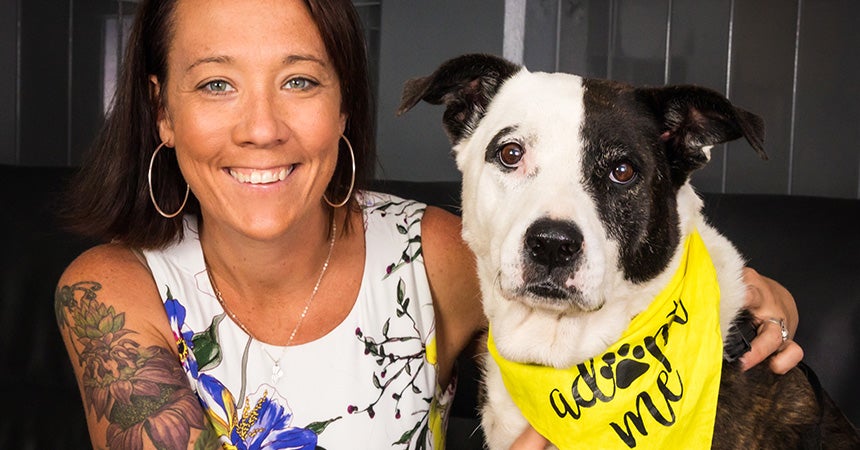 Pima Animal Care Center in Arizona implemented lifesaving foster program that moved 5,000 pets into foster homes and engaged 2,000 foster volunteers.
By Cimeron Morrissey
No matter how much the staff of Arizona's Pima Animal Care Center (PACC) improved conditions and care, they could not stop dogs from spinning nervously in their kennels or prevent anxious cats from refusing to eat and subsequently becoming ill — or even dying.
Like many municipal animal care facilities, PACC struggled to win the battle against behavioral and health decline of pets due to stress and prolonged confinement. It's why the shelter's 86% save rate just wouldn't budge, even though they desperately sought solutions to become no-kill.
One day, while walking beside the full kennels, Kristen Hassen-Auerbach, PACC's director, thought: "If these animals weren't in a shelter, they wouldn't be stressed. If we could get them out of here faster, we can Save Them All."
Then it hit her: Foster programs do get pets out of the shelter, but to make a meaningful difference, they would have to go big.
Perhaps they could put pets in foster homes throughout the county and turn their whole community — all 9,184 square miles of it — into a new kind of lifesaving animal shelter. Kristen thought it might work if she could transform PACC's old-school sheltering model into an innovative foster-focused one, with massive public participation. But was it possible in Pima County, a huge municipality with concentrated areas of intense poverty?
A leap of faith
The challenge is daunting for open-admission shelters like PACC, which are required to accept all animals in need, even if they're at capacity. It's even more difficult for PACC, since their annual intake rate of about 17,000 pets is one of the highest per capita in the country. To achieve a save rate of 90% (the benchmark for no-kill), the shelter would need to find homes for 42 pets per day.
If you've ever tried to arrange an adoption yourself, you'll appreciate just how big that challenge is — that's a lot of adoptions.
PACC has implemented several successful lifesaving programs, which gets them most of the way there. A pet support call center and intake triage service keep animals with their families. Trap-neuter-return and "working cat" initiatives help community cats stay alive by preventing them from entering the shelter. At-risk pets are treated for illnesses instead of being killed. A high-volume volunteer program and open adoption process have also helped PACC get close to achieving no-kill status. But something was missing.
"We were a little stuck, which is what happens at a lot of shelters. We knew we needed to try something dramatically different to improve live outcomes," says Kristen. Experience told her that fostering could be the solution.
Help for "aggressive" dogs
In 2013, while working as the assistant director at Virginia's Fairfax County Animal Shelter, she developed a groundbreaking study involving shelter dogs whose behavior problems had landed them on the "kill list." They were deemed unadoptable because of common issues such as fear-based aggression, lunging, anxious jumping and mouthing.
She wondered if shelter-induced stress was the cause and if foster care might reduce the dogs' undesirable behavior and make some of them adoptable. The results were earthshaking and reverberated throughout the animal welfare world. Once the dogs were out of the shelter and in foster homes, most of their behavior problems disappeared, and 90% of them were adopted.
You read that right. Fostering turned "unadoptable" dogs into treasured pets and saved their lives. According to Kristen, "That was the inspiration for the change at PACC. I realized that if those dogs could benefit so dramatically from fostering and increase the live outcome rate so much, why not expand it to include all animals?" So she created an ambitious goal for PACC: to become the world's largest municipal fostering system.
5,000 pets into foster homes
A grant from Maddie's Fund® gave PACC the resources needed to fundamentally overhaul operations and become foster-centric. Kristen and her team then made nearly every animal eligible for fostering and appealed to the public for help and participation. Diving into uncharted waters, they weren't sure what to expect or if they could pull it off.
To their surprise, in only a single year of concerted effort, PACC put more than 5,000 pets in foster homes, engaged 2,000 foster volunteers and drove up their save rate to 91%. That's not a typo: Five thousand animals got out of the shelter and into foster homes.
"Our results prove that making a shift to become foster-centric can dramatically improve live outcomes and turn things around very quickly," Kristen says, highlighting that it's also a humane, cost-effective and safe alternative to the stress of kennel housing. She also notes that Pima County has more challenging issues than most other locations. Nearly 25% of the animals who end up at PACC have urgent or critical medical needs, and the county has a poverty rate of 18.3%.
Kristen says, "If we can make this change here, it can be done anywhere." And now she wants to tell you how to do it in your own community.
Animal shelter without borders
Whether you just love animals, you volunteer for a rescue group, or you're a staff member at a shelter, you can help make this lifesaving change in your community. As
Kristen and PACC found out, shelters with just one dedicated full-time fostering manager can send hundreds or even thousands of pets to foster care each year. Here's how PACC accomplished it, and how your local shelter can, too.
Make everyone a foster coordinator. PACC's first change was to make every staff person and volunteer responsible for increasing the number of pets sent to foster homes. Everyone on staff became empowered to sign people up as foster volunteers, and all — not just the foster coordinator — assumed responsibility for the success of the program. They quickly learned that a high-volume foster program is truly a team effort.
Remove barriers. At first it was difficult for PACC to find new foster homes. Then they realized why: They had made it too hard. It took up to a month for people interested in fostering to get a pet, and PACC was losing them by having them fill out a lengthy application and making them wait for training and home checks.

Kristen says, "We recognized that people want to take a pet home the same day they sign up, so we made that shift to make it easy for them. And all of a sudden, we didn't have any trouble recruiting new foster volunteers." The process can be further streamlined by conducting online training and automating medical appointments (which can help ensure appropriate care).

As Kristen and her team have learned, becoming a foster volunteer should be as easy and as fast as adopting. If that's not the case when you sign up to foster at your local shelter, let the staff know that a lengthy application process and other restrictions prevent people from saving lives. As a current or potential volunteer, your voice matters. You can encourage your shelter to simplify the process to attract more volunteers.
Empower foster caregivers to be adoption counselors. Appreciating that foster families know and love their foster pets, PACC gives them tools, advice and encouragement to find good homes for the animals themselves. They're taught how to use social media to market their foster pets and how to talk with people about them. Plus, they're offered training opportunities, and they're given leashes and vests emblazoned with the words "Adopt Me." PACC's foster volunteers are full partners in lifesaving. "It's like we're expanding our staff exponentially," says Kristen.

If your shelter doesn't allow foster volunteers to adopt out animals themselves, suggest that the staff take a look at the section on foster programs (Appendix M) in Best Friends' Humane Animal Control manual, which can be viewed and downloaded at bestfriends.org/humaneanimalcontrol.
Recruit volunteers to help manage the foster program. In large foster programs, it's difficult for a single coordinator to manage every foster caregiver and pet. Instead of relying on that one staff person, shelters can build a volunteer group to manage the daily tasks associated with the program and help answer foster caregivers' questions. So, if you're someone who's experienced with fostering and you want to help your shelter make the lifesaving shift to a more robust foster program, you could volunteer to advise or mentor foster caregivers. Sometimes the offer of extra help is all it takes to convince an overwhelmed foster coordinator to expand the shelter's program.
Pet fostering is a game changer
As PACC is proving, turning shelters into foster-centric organizations gets the community actively involved in helping homeless pets find new families. "If you look at the child welfare system a hundred years ago," Kristen says, "fostering changed the game, and it's why we don't have orphanages in every city in the United States anymore. Fostering can do this for animals, too. It's capable of completely transforming the way we care for homeless pets."
You, and the other people in your community, are the key to the success of your shelter's fostering program and lifesaving efforts. It can be scary for shelters to offer pet sleepovers for the first time, expand their fostering efforts or start a new program from scratch. But when people line up to participate, it helps turn the shelter into a lifesaving force.
"Fostering is the most rewarding thing I've ever done," says Haley Clauges, one of PACC's foster volunteers. "Seeing an animal go from a broken shell of a soul in a shelter to a well-adjusted pet in a perfectly suited home is almost magical. I cannot financially afford 20 dogs, but I can help those dogs find their forever home, one at a time." So can all of us, in our own communities.
Foster a pet for a Best Friends Network partner near you
This article originally appeared in Best Friends magazine. You can subscribe to the magazine by becoming a Best Friends member.
Photos by Michael Kloth