12 reasons Joe Gatto is excited to be Strut Your Mutt spokesperson
The Impractical Jokers and Misery Index star talks about his dogs, animal rescue and why he's never had a cat.
By Kelli Harmon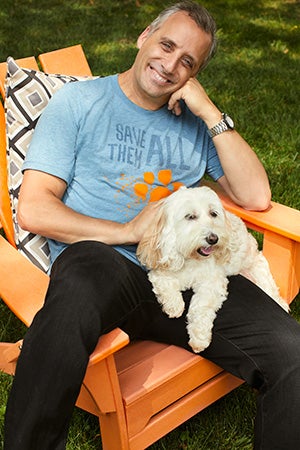 Joe Gatto, star of Impractical Jokers and The Misery Index, not only loves a good laugh, but he really loves dogs (all 12 of them). That's why he's the official Strut Your Mutt spokesperson this year, with help from his rescued pups.
The annual Strut Your Mutt event returns this year October 23 with a virtual fundraiser that allows pet lovers across the country to raise money for their favorite participating shelter, rescue group or animal welfare organization. Last year's event raised more than $1.5 million.
The Gatto Pups Pack, Joe's Strut Your Mutt team was put together in honor of his 12 rescued dogs, all named after Italian desserts. They're also featured in his book The Dogfather because, Joe says, they rule the house.
In the following interview, Joe discusses his dogs, his motivation for participating in Strut Your Mutt and what happened behind the scenes on an episode of Impractical Jokers.
What made you want to be part of Strut Your Mutt this year?
In 2018, I had such a fun time with my family (at Strut Your Mutt in New York City), and I really enjoy Best Friends as an organization. I think it's a really smart and fun way to raise awareness for the dogs and all other animals that need rescuing.
How did you get involved with animal rescue?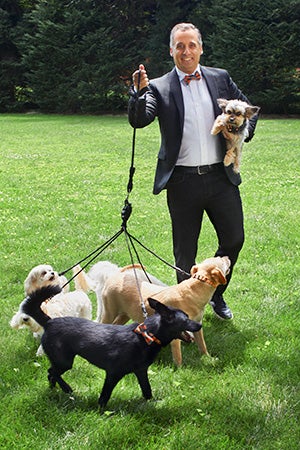 I have to credit my wife Bessy for opening my eyes to the problems with puppy mills. After we got our first dog, Cannoli, and she had a lot of health issues, we did some research and educated ourselves. Once I started rescuing animals and realizing how appreciative they were and how loving they were and how you could make a true difference, it became part of my life.
Tell us about your dogs.
My house is completely a dog house. I'm completely outnumbered. There's 12 of them and only four of us. That's a 3-to-1 ratio of humans to dogs. But I wouldn't have it any other way. I can't imagine my house without the craziness of these dogs. I also name them all after Italian desserts and foods because I love them and I love food.
Where do your rescued pups come from and how have they found their way to you?
There are a group of rescues that I work with in New York, and I've also rescued on the road. They range from the Animal Care Centers on NYC here in New York, where I've rescued a bunch, to Animal Haven and North Shore Animal League. I've also had one rescue on the road with my LovePup Spumoni, who stole my heart while I was doing a show in Las Vegas.
Since the dogs have appeared in Impractical Jokers many times, do you have a favorite story about them being on the show?
I was very proud of my puppies that they were able to handle the celebrity life. The Gatto Pups are stars and I love them for it; although, one may have tried to bite Sal. I won't name names.
Your last name means "cat" in Italian. Have you ever had a cat?
No, I've never had a cat. It's not that I'm anti-cat. It's just that, at this point, I'm too far gone. That poor cat that comes into my house with 12 dogs would be like, "What have you got me into?" I couldn't do it to them.
Anything else you'd like to say?
I love Best Friends, and I'm so happy to be part of Strut Your Mutt this year. And I'm looking forward to coming out to the Sanctuary in 2022 with my family.
Support your favorite animal group with Strut Your Mutt
It's free, fun and easy to sign up for Strut Your Mutt and start fundraising to support the work of your favorite animal organization. Can't take on a fundraising project right now? You can pay it forward and give to someone else's fundraiser.
Photos by Michael Schwartz