5 dogs who changed their adopters' lives
In honor of National Dog Day, read these five stories about dogs who inspired and changed the lives of their adopters forever
By Nicole Hamilton
National Dog Day is August 26, but really you could celebrate man's best friend any day of the week or every day, for that matter. Who else but a dog can make you feel like you're the most awesome person in the world? For all the love we give them, dogs seem to always give us triple the love in return.
This National Dog Day, we're sharing stories about dogs who have changed their people's lives. Luna inspired her adopter to follow her dreams, Bagel is helping a para-athlete race to the finish line, and Brandy motivated her adopter to help other dogs like her. Kash is teaching a young boy that it's good to be different, while Ralph is helping his adopter heal from PTSD.
Pretty remarkable, right? And to think that all of these dogs were once homeless. It makes you realize that today, in shelters across the country, dogs just like the five mentioned here are waiting for people to adopt them and change their lives forever, so they can do the same in return.
1. Puppy is his adopter's compass to fulfilling her dream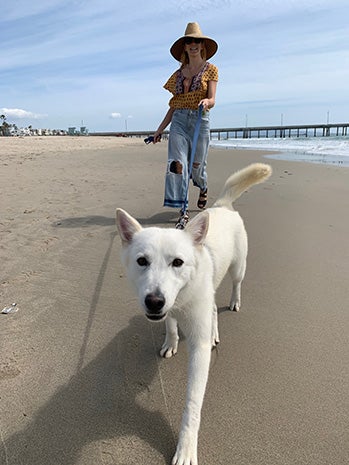 Lexie King had always dreamed of swapping the big city in Los Angeles for life with a dog in the mountains, but as the founder of a busy start-up, she figured she'd have to put that dream on hold. That is, until she signed up to foster Luna, a husky puppy from Hollywood Huskies, an NKLA Coalition partner. Soon after Lexie began fostering little Luna, she knew she'd met a kindred spirit, so she decided to ditch the city life once and for all — with Luna by her side.
After adopting Luna, Lexie found a cabin in the mountains that was perfect for the two of them. Today, she commutes to the city a couple days a week and the rest of her time is spent enjoying the outdoors with Luna, who loves having so much space to explore.
2. This adopter was inspired by a dog she couldn't keep
It's not just the dogs we adopt who inspire us. Sometimes it's the ones we foster or those we meet briefly at a shelter. For Marianna Wedel, it was a dog she couldn't keep, named Brandy, who ended up changing her life.
Marianna met Brandy when she was dropping off donations at the Best Friends Lifesaving Center in Atlanta. After spending a little time with Brandy, she was smitten and decided to adopt her. But things didn't turn out as planned. Brandy had a difficult time adjusting to life at Marianna's apartment complex.
Eventually, Marianna made the very tough decision to bring Brandy back to the center, but with a promise: She'd do everything she could to make sure Brandy got the home she deserved. She even started volunteering so she could see Brandy almost every day. We are happy to report that Brandy is doing great in her new home, and Marianna is still volunteering.
3. Dog with special needs teaches a young boy a valuable lesson
Because of Kash, a dog who lives life on three legs, a young boy named JP now knows that what makes us different is what also makes us special. "Whether it's a person or a pet, everyone is different. Everyone has a special need," says JP's mom, Jennifer, who adopted Kash from the Best Friends Lifesaving Center in New York City after she received glowing reviews from the young dog's foster family and a video of Kash taking a trail by storm. Three legs? No problem.
Today, Kash is helping JP learn some important lessons. By experiencing the world through Kash's eyes, JP is learning that she's so much more than her special needs. She's the dog he has always wanted — his BFF, his partner in fun and his constant companion.
4. Athlete goes the distance with his dog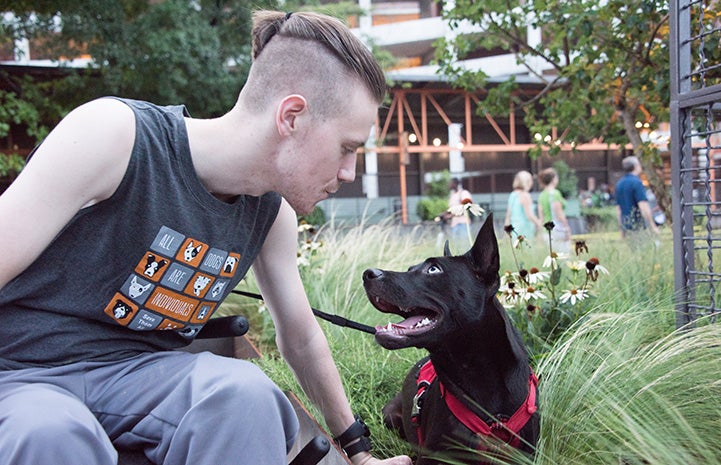 When you're working hard to reach goals, it's important to have someone by your side who encourages you to keep on going, no matter how tough the road ahead looks. These days, Cougar Clifford, a competitive swimmer and triathlete who was paralyzed in a major accident, is getting lots of help from his dog, Bagel. Cougar's mom adopted Bagel from the Best Friends Lifesaving Center in Atlanta. She knew he was just the high-energy, ready-for-anything companion that Cougar needed.
The future for this duo looks pretty exciting. Cougar has plans to make Bagel a certified service dog so he can bring him to school with him and so Bagel can accompany him in races. When Bagel has completed his training, he'll be part of a small group of dogs certified to compete in races with their people.
[Did you miss International Cat Day? Celebrate belatedly with nine amazing cat stories]
5. Dog helps adopter heal from PTSD
He has gentle eyes and a gentlemanly demeanor, yet it took a while for 10-year-old Ralph to find a home. That's because he warms up to people slowly and he has to be someone's one-and-only. Ralph doesn't get along well with other animals, but that was totally fine with Gray Mitchell, who saw his permanent grin in a photo online and knew she had to meet him.
After Gray made the 11-hour drive from Colorado to Best Friends Animal Sanctuary to meet Ralph, the two clicked. Today, Ralph is a source of joy for Gray, a former aid worker in post-conflict countries who had been coping with post-traumatic stress disorder for years.
Now, instead of limiting herself to a few trips outside of the house per week, Gray walks Ralph multiple times every day. And here's more proof that Ralph has changed Gray's life: She recently caved in and bought a smartphone just for taking photos of the dog who has brought her so much joy.
Change a dog's life — and yours, too.
You can make a big difference by volunteering, fostering or adopting a dog.
Read more:
First a dog found confidence, then she found a home 
Big Utah mountains are no match for a dog with a paralyzed leg
Photos courtesy of Christina Lynn, Mariana Belakova, Jennifer Nelson and Gray Mitchell