6 unexpected benefits of fostering a dog during heartworm treatment
From scoring a couch buddy to knowing you've played a huge role in helping them get healthy, fostering dogs with heartworm can be an incredibly rewarding experience.
By Nicole Hamilton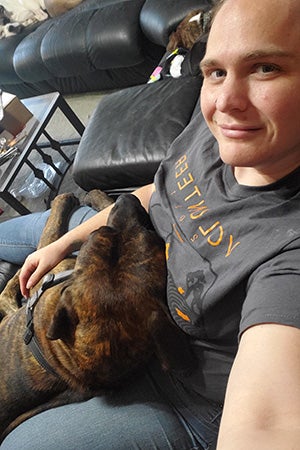 When Megan Lee learned that a 90-pound mastiff mix named Ranger had just come to Best Friends in Houston from a nearby shelter and needed a foster home, she immediately threw her hat into the ring. For Megan, big dogs are at the top of her list of favorite pets to foster (along with neonatal kittens to balance it out).
Size wasn't the only factor influencing her enthusiasm for fostering Ranger. You see, he was also heartworm positive, and would need a foster home where someone could keep a watchful eye on him during his heartworm treatment.
Megan, Best Friends coordinator of shelter partnerships in Houston, wasn't just up to the task. She welcomed it. She'd been down this road before with Xavier, the very first dog she fostered who was heartworm positive. The experience taught her that fostering dogs during heartworm treatment isn't as daunting as it seems. In fact, it can be incredibly rewarding.
Since fostering Xavier and Ranger, Megan has unearthed some unexpected benefits of fostering dogs during heartworm treatment. Here's her top five:
1. They're the ultimate movie buddies.
Dogs are required to take it easy after receiving treatment for heartworm. They can't help you train for a marathon (unless it's a movie marathon); however, what they can do is curl up with you on the couch for cuddles, naps or to binge-watch your favorite shows. In this case, curling up on the couch is just what the veterinarian ordered.
2. No yard, no problem
A short walk to stretch their legs and feel a little sun on their muzzles is all that dogs undergoing treatment for heartworm can handle. So, if your living space is small or if you don't have a backyard for them to play in, that's perfectly fine.
[Saving Atlanta's heartworm positive dogs]
3. They're great work-from-home companions.
When Megan fostered Xavier, she learned that letting him relax in his crate for a few hours didn't just benefit him. It worked out well for her, too. And speaking of dog crates: Megan notes that they're ideal for dogs in foster homes during heartworm treatment. "Not only can the small crate space keep them calm, but it gets them used to being in one if it's needed in their future home."
4. They come in all sizes.
Sure, both Xavier and Nebraska are bigger dogs, but heartworm affects dogs of all sizes, so you can foster smaller dogs if you prefer. "We have heartworm-positive dogs in our program from 30 pounds all the way up to big dogs like Ranger," says Megan.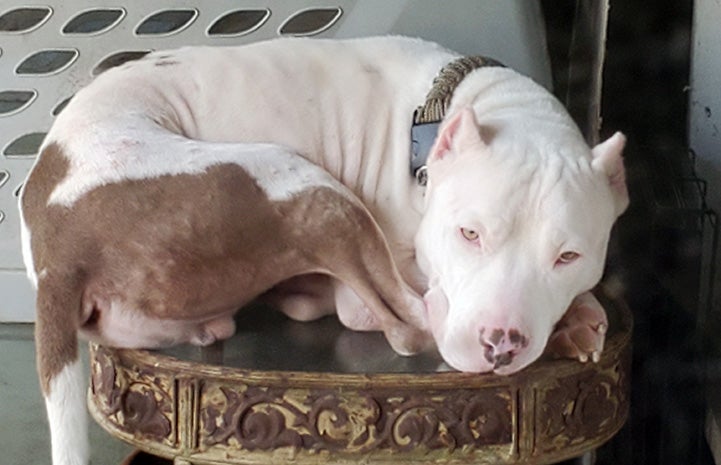 5. You'll get plenty of quality time with them.
While there are exceptions, fostering dogs in heartworm treatment usually involves 30 days of daily medication, two injections of powerful medicine and plenty of rest. You can expect to foster them for about three to four months, which is roughly the time it takes to complete treatment.
[Dog saved from homelessness and heartworm disease]
This extra time comes with many benefits. Not only will you get a chance to learn more about their behavior, likes, dislikes and what motivates them, but you'll have plenty of opportunities to take photos and videos — all valuable information for potential adopters. "For me this is the best part," says Megan. "With Ranger we got to work on crate training, walking well on a leash, basic manners and a few tricks in his first 30 days."
6. You get to be a part of a team.
When you foster a dog undergoing heartworm treatment, you won't have to go it alone. Instead, you'll have a team behind you every step of the way to offer you guidance and support. When Megan fosters these dogs, she knows she can contact the on-call medical staff 24/7 for help.
What's the best thing about fostering dogs with heartworm? That would be knowing you played a huge part in helping them gently kick it to the curb and get adopted.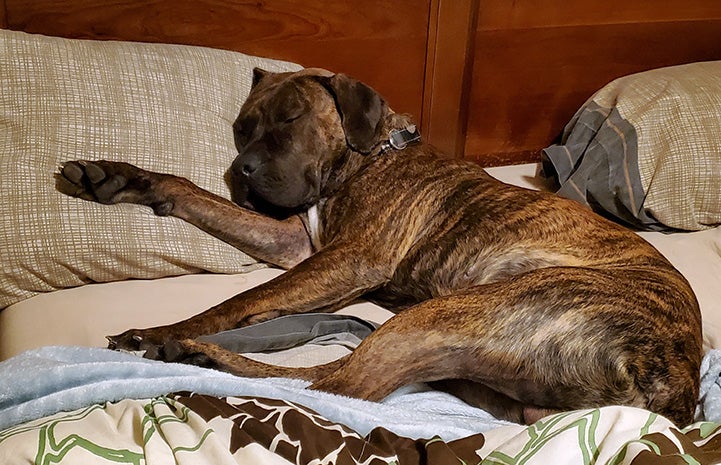 Ready to help a dog with heartworm?
Fostering a dog with heartworm isn't scary. It's not particularly difficult or time-consuming, and you don't need a ton of fostering experience to do it. All you need is the desire to help save a life, and maybe a little extra space on the couch.
Read more
Kitten lends a helping paw to her blind brother
Photos courtesy of Megan Lee