7 big dog myths busted
From needing homes with a lot of space to not enjoying the company of cats and kids, we bust popular big dog myths with help from the big dogs themselves.
By Nicole Hamilton
Fact: How easily dogs adapt to apartment living or being in the company of cats or kids  has little to do with how big they are. And as for the stereotype of big dogs having a lot of energy, that's not always true, either. Many are just as content lounging the day away on the couch (preferably with someone by their side) as they are taking a walk around the block.
A lot of myths are out there about big dogs and what they need to thrive in a home, but pets are individuals with their own unique needs, regardless of size. So today, we're busting seven of the biggest big dog myths with the help of dogs like Penny, a chocolate Labrador retriever who helps foster kittens, and Gary, who isn't in a hurry to go, well, anywhere.
Myth No. 1: Big dogs can't live in apartments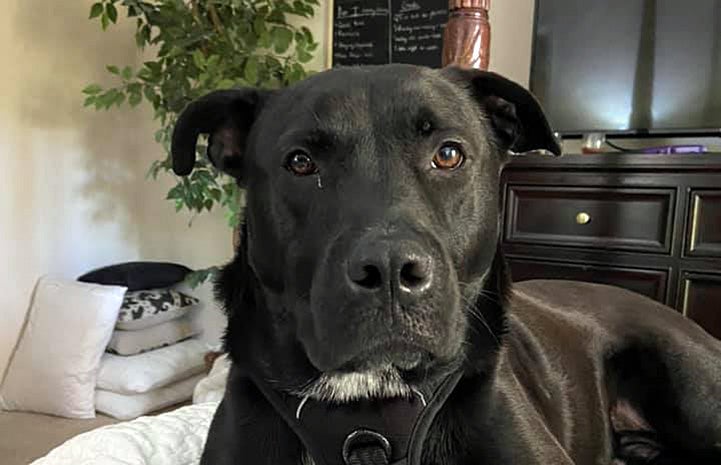 Two-year-old Rocky weighs a healthy 80 pounds, but if you think his size means he'd be uncomfortable living in an apartment, think again. Rocky, who came to Best Friends from a shelter in Atlanta, is being fostered by Samantha Plager, who lives in (you guessed it) an apartment. "His size really is no issue in the home, besides the fact that he takes up more room on the couch," says Samantha.
Myth No. 2: Big dogs shouldn't be around kids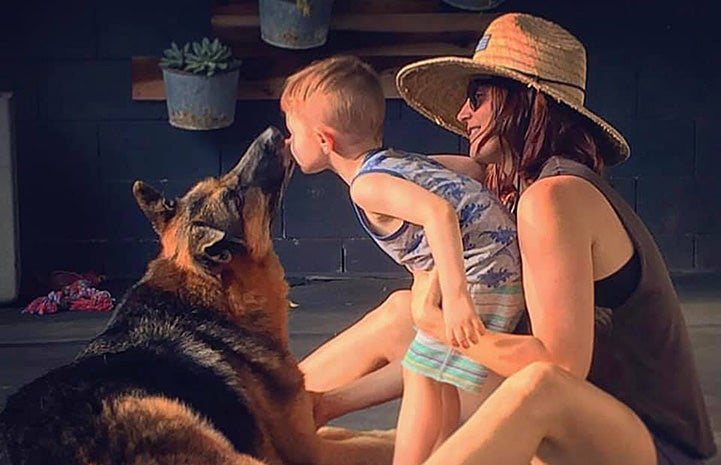 About 14 years ago, Katie Keane adopted a young German shepherd named Georgie (who eventually became the first dog and loyal companion of her son, Huck) from Westside German Shepherd Rescue, an NKLA Coalition partner organization.
If Georgie was cooling off in her unique way by lying down in the shower, Katie would also find Huck there. And if Huck had all his paints and art supplies spread out in the playroom, she'd find Georgie lying down in the middle of all of it.
"When I became a mom and had the privilege to see her interact so lovingly with Huck, all of the things I loved about her multiplied times 1,000," says Katie of Georgie, who died last year. "She was the best mama bear to him."
Myth No. 3: Big dogs don't mix well with little dogs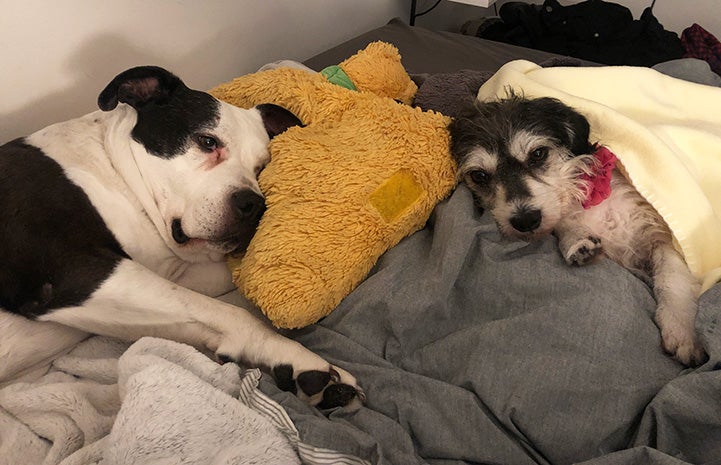 Georgia may be a big dog, but that hasn't stopped her from making friends with those much smaller than her. In fact, she's so gentle and respectful of little dogs that her adopter, Megan Smith, has fostered other dogs of all sizes in her home.
"It's been a really great experience," says Megan. "Georgia has been able to teach them some really great skills and how to play. It's been a really incredible thing to watch my big, 80-pound dog teach a little dog new tricks." (It's the perfect segue to our next myth.)
Myth No 4: You can't teach an (old) big dog new tricks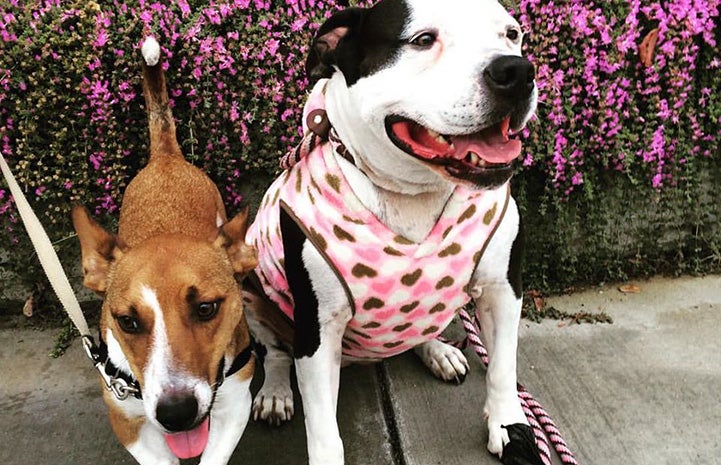 Older dogs sometimes get a bad rap for being stubborn, a reputation they simply don't deserve. Mature dogs, too, are often just as eager as younger pets to learn new things.
Take Georgia, for example. When Megan first adopted her, she was afraid of the vacuum cleaner, so Megan started giving her treats every time she turned it on. The more Georgia got used to hearing the vroom of the vacuum, the more she came to understand that the vacuum isn't a bad thing at all. In fact, to her it's now a treat dispenser.
Myth No. 5: Big dogs shouldn't live with cats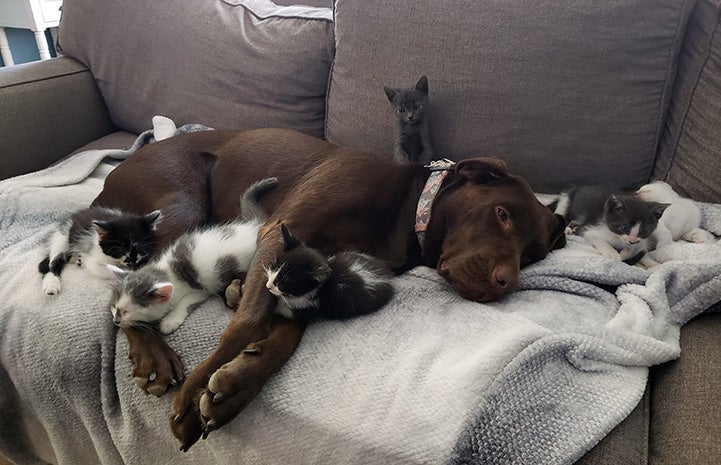 When Veronica Gonzales and her daughter, Valerie, decided to foster kittens from Best Friends in Los Angeles, they didn't expect to get a whole lot of help from their chocolate Lab, Penny. But soon after bringing home their first foster kittens (a litter of six, no less), Penny started caring for them like they were her own babies.
Courtney Bean, lifesaving and care specialist at Best Friends in Los Angeles, says Penny is helping the foster kittens acclimate to living in a world with people and other pets. "Exposing kittens to dogs and kids at such a young age shapes them into super well-rounded, friendly, confident adult cats, which is priceless as well as lifesaving."
[Big dog gets adopted with her cat]
Myth No. 6: Big dogs have a lot of energy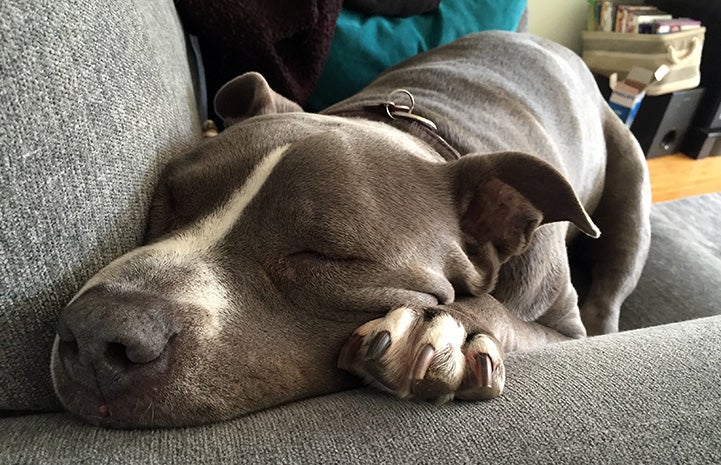 This certainly is a myth, especially in the case of Gary. When he was with Best Friends in Los Angeles, the 72-pound pit bull terrier was never in a hurry to get anywhere (except maybe to his new home). Now that he lives with Dianne Lawson and Donny Kuhn, he still prefers lazy days in the sun over long walks through the neighborhood.
Don't get us wrong. Gary doesn't mind slow hikes with Dianne and Gary (a good thing considering he needs to stay active to help manage his hypothyroidism). He just prefers living life on "Gary time," which is slow and steady.
Myth No. 7: Big dogs can't be lap dogs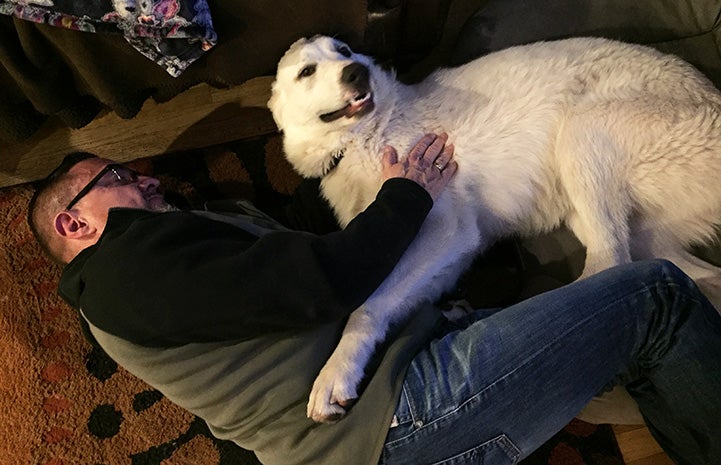 Eddie is a Great Pyrenees who spent his early years in the countryside where dogs of his breed often guard livestock. Before coming to Best Friends in Utah, someone neutered him using rubber bands and docked his tail, requiring medical treatment for both botched jobs. After being treated, he was adopted by the Clarken family, which reports that he's healthy, happy and loves few things more than snuggling with anyone who will let him.
You could say that Eddie is a lap dog, although to be fair he doesn't exactly fit on most laps. But that doesn't stop this giant white bear of a dog from trying.
Got a big dog?
Celebrate him or her by showing off your love on your social channels using #bigdogeffect
Give a big dog a whole lotta love
Are you a big dog person? Adopt a big hunk of love at your local shelter or from Best Friends.
Read more
Fostering a big dog in the big apple equals big fun
143-pound mastiff becomes daddy's girl
High energy dog, high energy adopter
Photos by Sarah Ause Kichas and courtesy of Sam Gimbrone, Katie Amanda Keane, Megan Smith, Best Friends staff, Dianne Larson and Jacqueline Clarken