8 warm and fuzzy pet adoption updates
Check out our favorite recent updates about pets living the good life in their new homes.
By Sarah Thornton
It's a magical moment whenever homeless pets find a new family to love them — whether it's a small fluffy kitten or a senior dog going gray around the muzzle. All pets just want a home to call their very own, and every adoption is a cause for celebration (and maybe a few happy tears).
Among our favorite things here at Best Friends, though, are the updates following the adoptions. The pictures and love-filled words from a pet's new people gushing about how wonderful their new family member is never fails to put a smile on the faces of everyone who sees them. So, today we'd like to pass along to you some of that heartwarming goodness by sharing some of our favorite recent updates.
Poe and Issi's takeover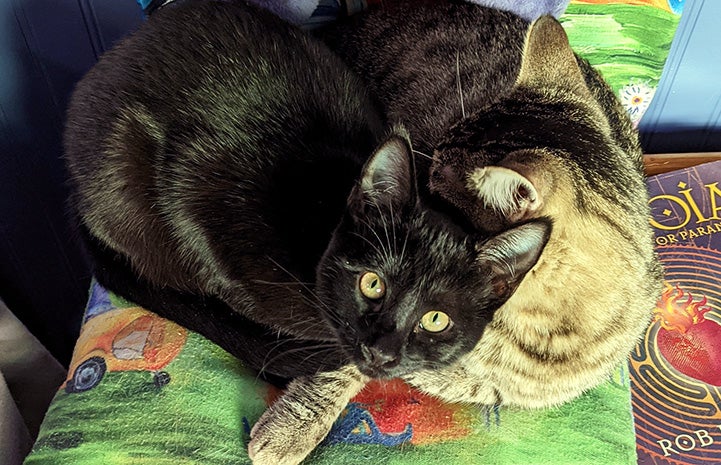 Poe and Issi both arrived at Best Friends Animal Sanctuary as orphaned kittens. They were adopted together and have become the best of snuggle buddies in their new home, where they're absolutely thriving.
From Poe and Issi's new family: "They have totally taken over our home and we are absolutely adoring them. They go to work with me every day and even get in the carrier when I say, 'Time to go to work!'
"While Poe is quite the lady and asks for attention gently, Issi will compete with our dogs, Gordo and Todd, for table scraps and lap time. And he usually wins. They are growing fast and Issi looks like he will be quite the big boy. Issi is more delicate, but assertive and intelligent. I am so grateful to have them in our lives."
Gentle Beulah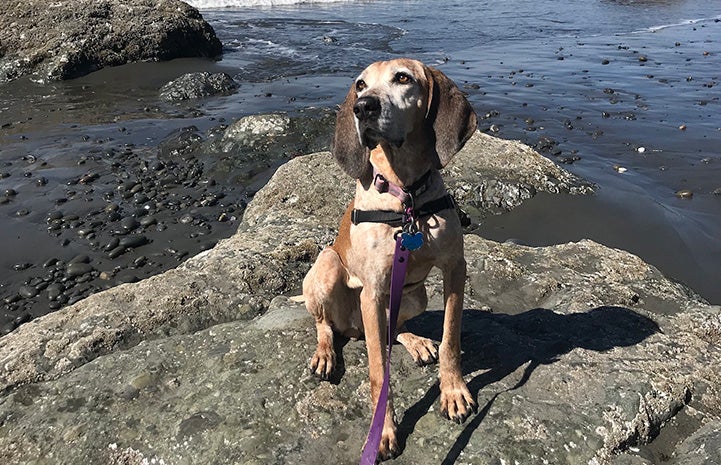 Beulah was found as a stray by animal control in a town near the Sanctuary, and when no one came to claim her, she was welcomed to Best Friends for eventual placement with a new family. And she finally has one.
From Beulah's new family: "Beulah is so sweet and gentle, she's quiet most of the day unless she spots a bunny, squirrel or deer. Then she bays like crazy. It's deafening when she spots a deer from the car and she's baying into your ear! She's great with cats and chickens though.
"The first few weeks were a bit challenging as we figured out her triggers, but (after our first training session together) we also figured out just how food-motivated and responsive she is … She doesn't play with dog toys or chew anything, but she seems to love cat stuff, like mice toys and squeezing into cat beds.
"She's loved all small dogs so far. She's very gentle with them, as well as with cats. We are working with a trainer currently for basic obedience training. We love Beulah and she has fit into our family very well."
Alfred and the crew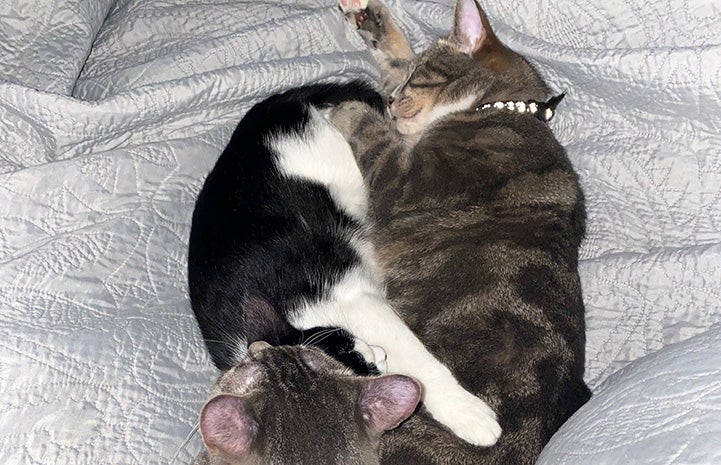 This little kitten came into the Sanctuary with his brother and sister after the orphaned litter was found abandoned in a box. But it didn't take long at all for the black-and-white siblings to get scooped up and swept off to their happily-ever-afters.
From Alfred's new family: "(He) made the 27-hour journey home to Minnesota with us! We slowly introduced him to our two cats, Batman and Robin. We renamed him Alfred, after Batman's butler.
"He has made himself at home amongst our zoo and is doing really well! He's got Batman and Robin up all night playing like kittens again. He's unfazed by our two dogs and not bothered by our boarding dogs. He's even met a couple of the bunnies!
"He's the perfect addition to our family!"
The sweetest Mylo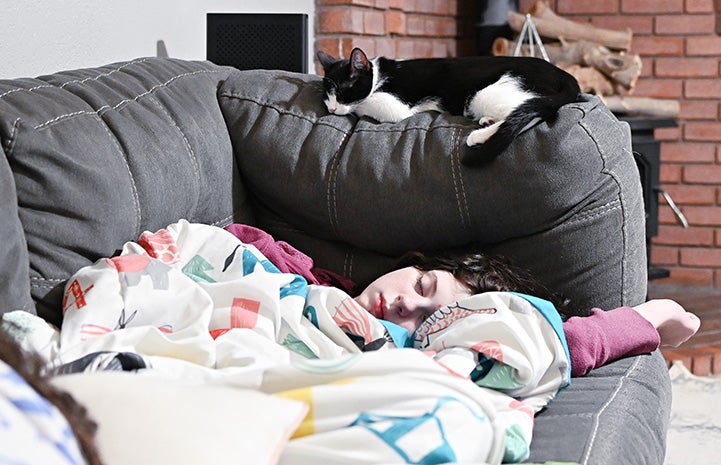 Mylo's new family includes two cats and two dogs, as well as his new people. And he loves every single one of them.
From Mylo's new family: "He is the sweetest and most dramatic cat ever! He loves playing with his younger brother, Onion, and (every day) is getting closer to his puppy brother, Ash … We are about to build a catio, so he can experience the outdoors safely.
"He gets very jealous of Ash and will dramatically lie down next to anyone petting Ash and keep looking at them like, 'What about me?' And then (he'll) jump in their lap as soon as Ash goes to play with something else.
"He's been amazing with Onion and loves playing and snuggling him. Since then, we got Callum, a second puppy, and just brought Tilly, my family's much older cat, home. All are adjusting really well. Mylo is very comfortable with Onion and both puppies, and (he) is pushing the boundary a little more every day to get closer to Tilly. He's now to the point where he can lie a foot from her, and she doesn't run off.
"He snuggles my girls every night. He really is such a lovely cat!"
Alaska, the toddler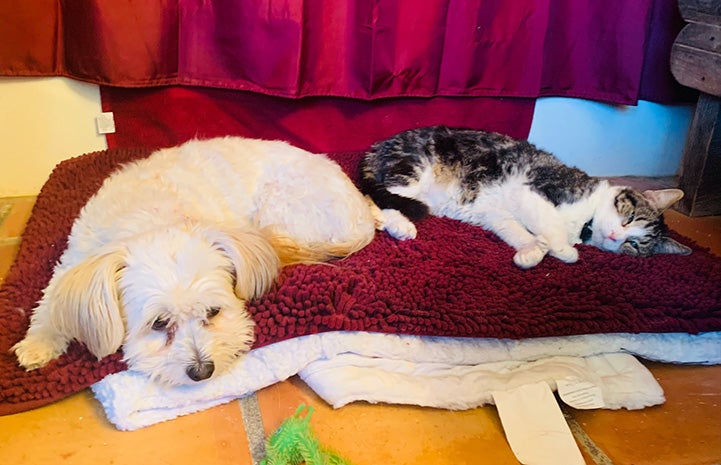 Alaska came to the Sanctuary on a large lifesaving transport carrying many cats struggling with health issues. Alaska himself was in rough shape, but that wasn't going to stop him from getting a wonderful family to love him with all their hearts.
From Alaska's new family: "We are crazy about him. We call him the toddler, because he's either fast asleep or he's going banzai all over the house! He's wonderful.
"He loves to imitate the behaviors of the other animals here, and has made friends with our king cat, Frank, who is the orange one. He has really bonded with our dogs, though, and I sometimes wonder if he thinks he is one. He follows our dogs everywhere and does what they do.
"He also loves to eat hummus! He does many things that I have never seen a cat do, and I've had cats since I was eight. He's hilarious and full of personality. Anyway, we adore him and we are so happy to have him."
Unlimited-energy Heidi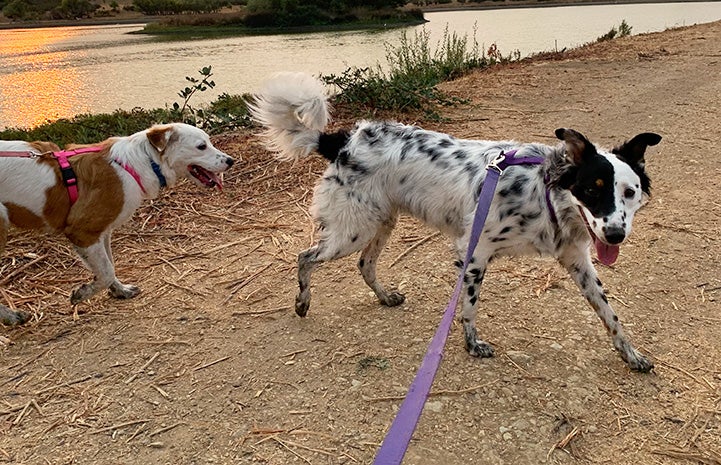 Heidi arrived at the Sanctuary with her mom and six siblings, and within just a couple of weeks of weaning, each and every one of the puppies had gone home. Heidi was soon joined by another Best Friends alum, Maple.
An update from Heidi's new family: "My girl Heidi has been having a blast since we brought her to Vegas. She's definitely more on the serious side, but likes to beg us for belly rubs literally 24/7. She also switches from being one heck of a sleeper to being all about the outdoors with unlimited energy.
"My co-workers who also have dogs (meet up with me) regularly for dog park visits and play dates. Lucy the German shepherd is Heidi's BFF. Then there's Honey, and finally the newest member of 'the girls' is Maple, our six-month-old, who we also adopted from Best Friends.
"She is Heidi's little sister, which I honestly feel annoys the heck out of Heidi, but they keep each other company while I am at school. Maple loves hanging out with her big sister. They both love going outdoors to the park and to hike with us.
"I can't believe how much our pups have grown. I sometimes look at the pictures from the first day we met, and I am shook."
Beloved Reggie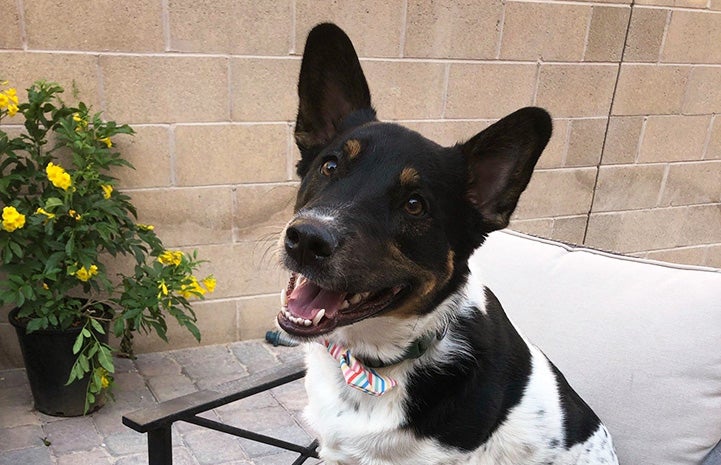 Heidi's brother, Reggie, is also living it up in his new home. He might shed black hair on light clothes and white hair on dark clothes, but when you're this cute, no one can resist the snuggles.
From Reggie's new family: "Reggie is doing well. He is a sweet boy. He loves nothing more than pets and belly rubs.
"His biggest fear is nail trims, but we found a groomer that will work with him often and we're hoping to get him over that fear. We love him so much. He has such a funny personality. His cuteness makes all the dog hair everywhere worth it."
Ripley the lovebug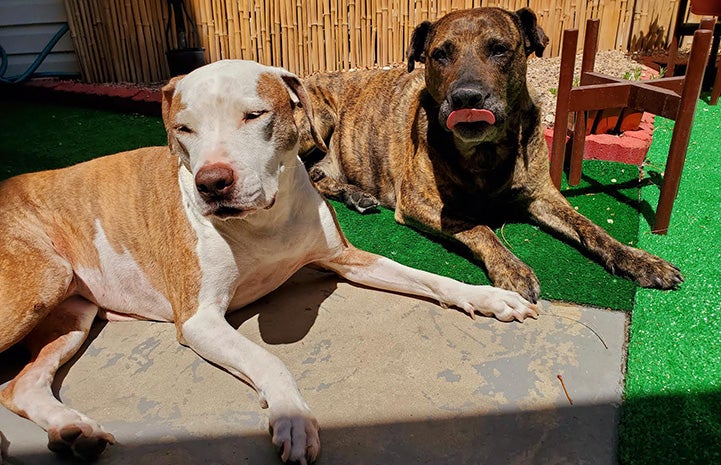 Ripley is a sweet, gentle dog who wants nothing more than to be with his person. He was previously in a home, but lost it when his people moved. Now, he has a new family, and he's settling in and putting down roots.
From Ripley's new family: "(We) consulted with a pet psychic a while back. She said Best Friends is the best place he has ever lived! Aww … but (she) also thinks he had an abusive past. (We) decided to change his name and give him a new start.
 
"I have been just letting him be — sometimes hanging out by the car to let him know it's OK and he isn't going anywhere without Stella and me. We walk the neighborhood a lot and he is learning how to bump Stella over to (be petted by) me when I come home. She doesn't mind.
 
"Thanks again for this big goofy lovebug."
Find your future adoption update
There are so many more homeless pets looking for love and waiting to have their adoption updates written. Maybe you could help them?
Read more:
8 reasons to adopt a senior pet
Pandemic pets: Where are they now?
How a dog and cat rescued after Hurricane Katrina changed their families' lives