9 fun winter activities for pets
Despite shorter days and colder weather, the animals at Best Friends have plenty of suggestions for fun.
By Sarah Thornton
When the sun's shining and the weather's fair, it seems like there's no end to the fun activities available to you and your furred or feathered family members. Birds and squirrels darting by outside the window make perfect pet TV for cats and dogs. Walks can go on for hours. There are pools and sprinklers to splash in and the porch is perfect for winding down.
As the shorter days and colder weather of winter arrive, though, it's easy just to curl up with a soft blanket and a mug of hot cocoa and wait out the winter blues. And while a cuddle on the couch with your pet is great for a quiet afternoon in, you don't want Fluffy or Fido to get too bored.
Well, good news: There are still lots of ways to stimulate their senses and have fun in wintertime. Snow days for your pet can be just as fun as they were for you as a kid when school was called off for the day.
Caregivers at Best Friends Animal Sanctuary are always coming up with new ways to keep the animals happy at their home-between-homes. Here are a few ideas to get you and your pets started.
1. Snowball games with dogs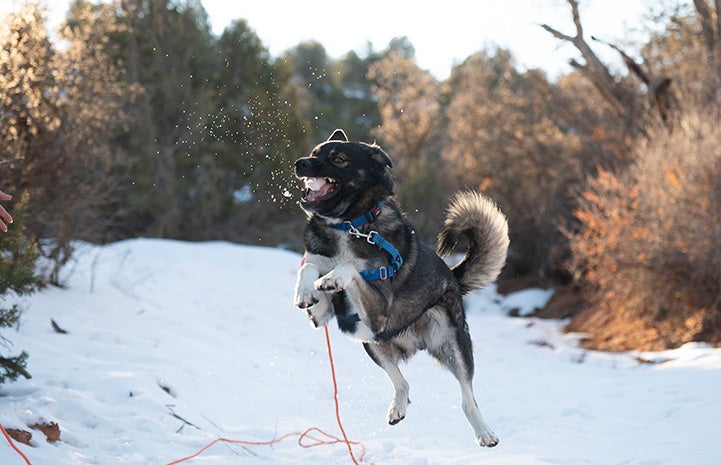 Now, what snow day would be complete without a snowball fight? For some dogs, especially those thick, double-coated "snow dogs," winter is the best time of year. Bounding through deep piles of snow and burying themselves in the fluffy white stuff is all they want to do. So, channel your inner child and have a little fun with them. "Marge loves the snow and she loves fetch," says Best Friends caregiver Tamsin Myers about one of her charges. "So, I combine them by tossing her snowballs to catch and eat."
2. Nose work for dogs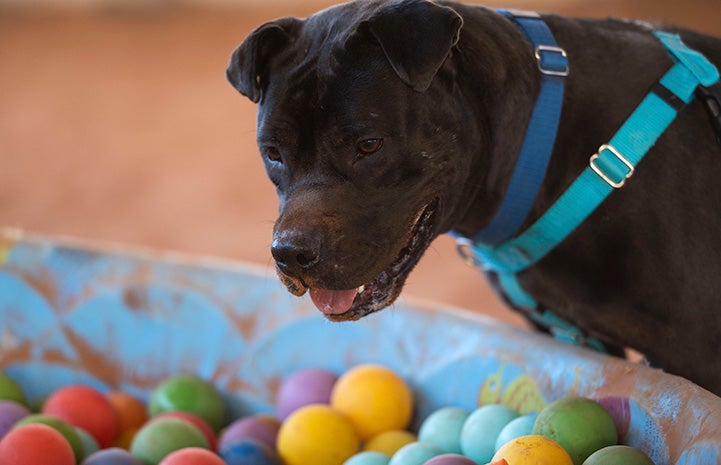 A favorite year-round pastime for dogs at the Sanctuary is nose work and it's extra-perfect for winter, whether your pup wants to romp around outside or stay in where it's warm. Simply grab some tasty treats, hide them around the house or toss them out into the snow and let the powder do the hiding for you. And then release the hound! He'll put his sniffer to the test and track down every last morsel he can find.
3. Winter car rides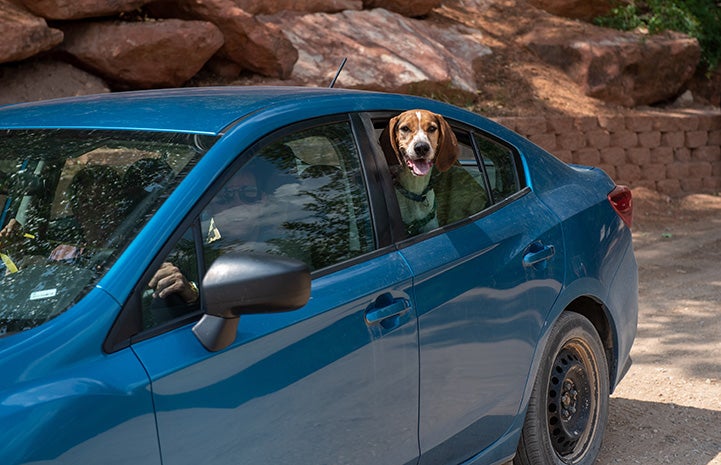 For pups not fond of getting their feet cold in the snow (but still want to see the world flying past them while getting a good whiff of the outdoors), a seemingly simple car ride can be a blast. Roll down the window ― if you can handle it – and take your pooch sightseeing somewhere new. The pups at the Sanctuary love being driven around the winding roads of the canyon.
4. Kiddie pools for cats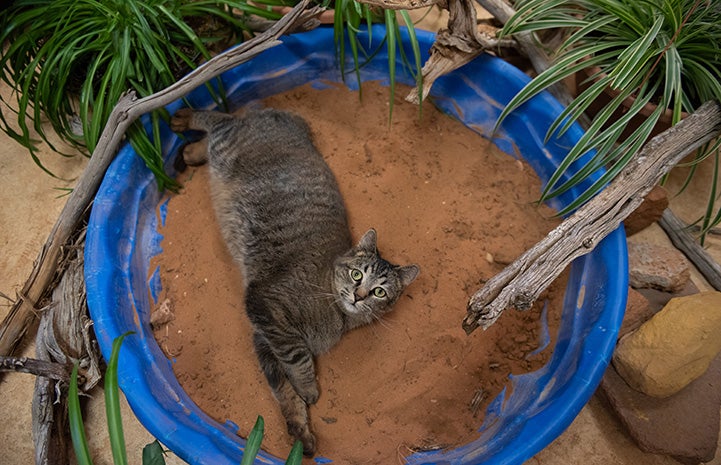 In the warmer months, cats at the Sanctuary take to their catios for sunbathing and bird-watching, and many of them enjoy going out for stroller rides or harness walks. Then, when it gets cold and the sun's not shining as usual, they stick to the heated indoor areas. But caregivers have found a way to bring outdoor fun indoors ― with kiddie pools full of sand, sticks and cat-safe grasses. Cats can roll, dig and chew as happily as they would outside.
5. Cardboard castles for cats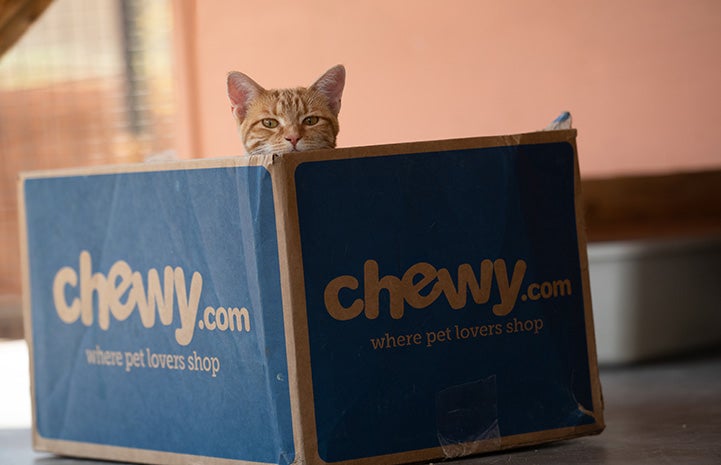 If bringing a bunch of sand into your house isn't appealing, how about looking to an age-old classic: the cardboard box. Cats are notorious for their love of boxes and their if-I-fit-I-sit mentality. Plus, building forts is fun for all ages, so why not combine the two? If you have leftover packaging sitting around (we understand, it's hard to pass up some nice online shopping), along with a bit of tape, you can stack and fit them together into winding castles of never-ending fun for your feline family members.
6. Cat TV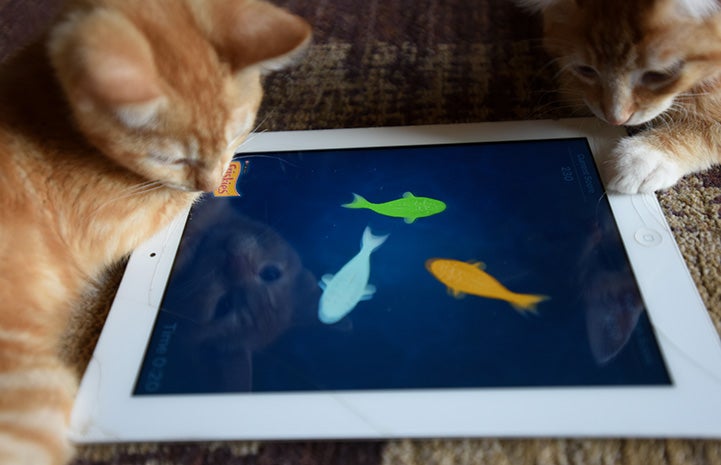 If your cat is missing her favorite critters outside the window because they've all flown off or tucked themselves away somewhere warm for the winter, try a more technological type of cat TV. With thousands of online videos of birds singing and chipmunks scampering around, playing a video can entertain your cat for hours. Occasionally, cats here at the Sanctuary get to watch their shows or play games on iPads.
7. Climbing gym for parrots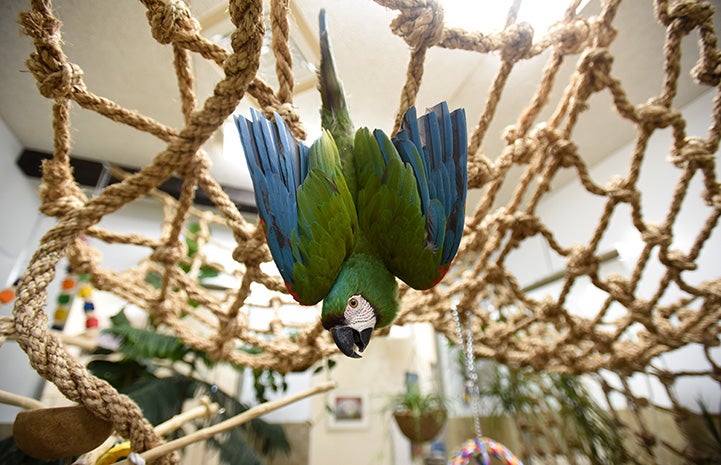 With their incredibly curious minds, parrots need a lot of enrichment all year round. Even when it's too cold to be outdoors, they need a change of scenery. "Every day, we make use of our central aviary," says caregiver Bradley Kay. "It's a shared space where birds can take turns climbing nets and branches, or play with toys scattered across the floor. This year, we have added a lower, more stable climbing structure, safer for birds with mobility issues. So now even our older birds with special needs can enjoy their time."
8. Toys, toys and more toys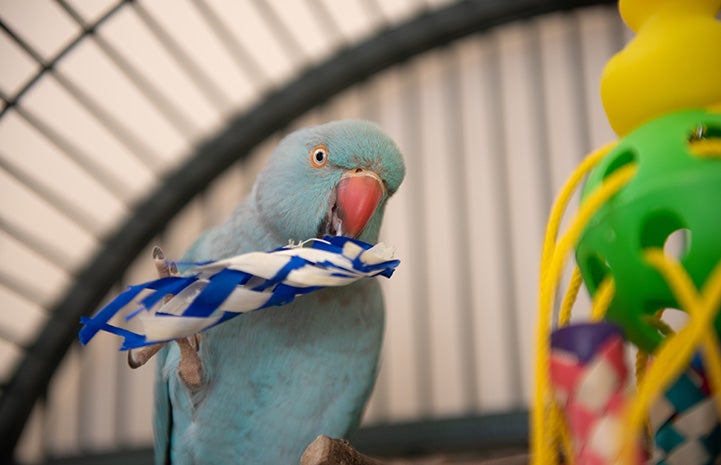 A wide variety of extra toys that are safe for chewing, shredding and rattling are always fun and they are a great way to switch things up for birds. You can even provide extra foraging enrichment by tucking away food and treats in those toys, so they have to search around to find them. Some birds even enjoy diving into a big bowl of snow to dig up buried treasures.
9. Tunes inspire bird singalongs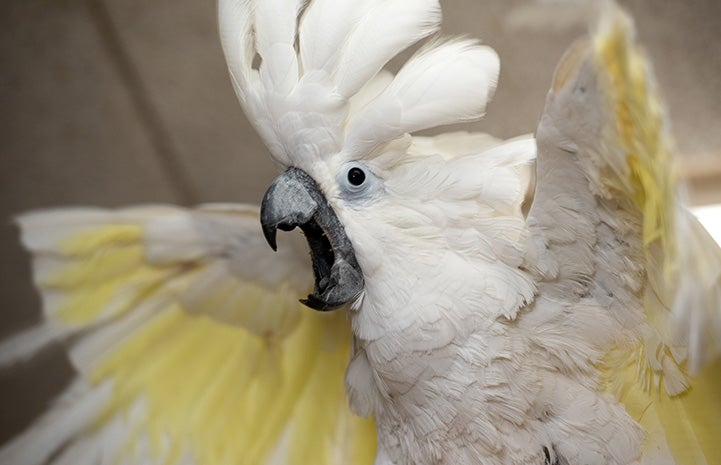 Who could forget the importance of good music? Birds are musical animals by nature, so setting up a speaker and putting your music player on "shuffle" will give your feathery friend something to dance and bob along to all day. You know the birds here at the Sanctuary have found a hit when the squawking and singing starts echoing down the halls.
Bring some fun to a homeless pet
By volunteering, you can help pets have fun while they are  waiting for homes, plus you get some purrs and tail-wags in return.
Read more:
Kindness rules: 5 stories of people helping pets in amazing ways
Pets adopted from Best Friends: Where are they now?
5 pet stories that are 100% guaranteed to make you smile
Photos by Molly Wald