Abused heeler mix survives and thrives
Image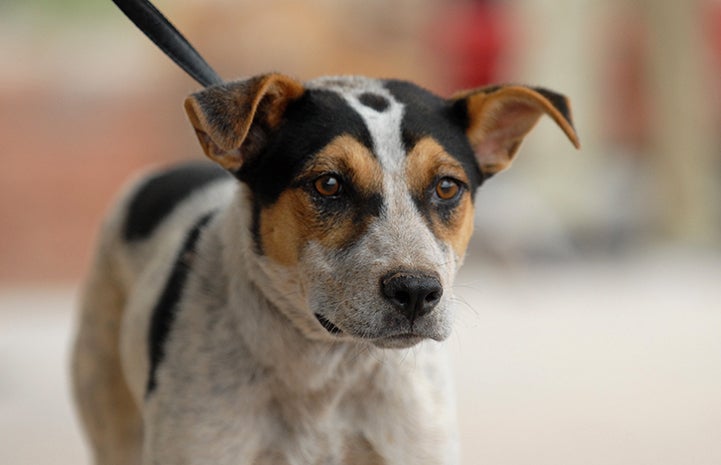 A heeler mix puppy is horrifically abused, but he survives, still loves people, and will soon be adopted into a forever home.
By Lorraine Johnston
Trucker wags his tail with enthusiasm, excited that another one of his friends has come to see him. She holds out her hand which holds his daily medication. There's no need to wrap it in food; he takes it from her gently and swallows. Then it's time for his favorite activity – going for a walk. He soaks up the sun and the attention of people outside. It's hard to believe that just months ago, Trucker almost died.
Horrific animal cruelty case
It was one of the most horrific cases of animal cruelty Dr. Robin Toner had ever seen. She was the vet on duty at the Emergency Veterinary Clinic of Southwest Missouri last March when a Humansville police officer brought in a badly injured eight-month-old puppy. Toner gave him a 50 percent chance of surviving.
According to a witness, the dog was shot with a nail gun and hit with a hammer by his owner John Haynes, who described the heeler mix puppy as "vicious."
One nail was driven into the puppy's skull. Another was hammered into his cheekbone, leaving him blind in one eye and possibly deaf. With his head bloody and his face swollen, Toner performed a risky surgery that saved the dog's life.
Amazingly resilient puppy
And through it all, the pup never growled or snapped, even though by all accounts he should have been fearful of people.
"He's been the best dog. I'm just amazed at his temperament. He should be afraid of us, fearful of people and he's not," said Toner.
The puppy doesn't shy away when people pet him. Because of his amazing spirit and all he's been through, they named him Trucker.
Castaway Animal Rescue Effort
"He just keeps on truckin'," said Melissa Sartin, director of Castaway Animal Rescue Effort (C.A.R.E.), where Trucker has been living and recovering since he was released from the hospital.
Trucker underwent additional surgeries and it was discovered he was blind in his left eye. At first, Trucker's caregivers thought he was also deaf, but in time he started responding to high-pitched noises. He quickly became a local celebrity, which brought a host of supporters to the hearing of John Haynes. Many wore "Trucker t-shirts" which had a photo of Trucker on the front and his story on the back.
On the morning of May 11, Trucker's abuser, plead guilty to misdemeanor animal abuse.
Haynes' six months jail sentence was commuted to 15 days "shock-jail" time, two-years unsupervised probation during which time he cannot own or care for an animal, and about $650 in court costs.
According to Mary Crawford, president of C.A.R.E., while they would have liked to have seen this case be tried as a felony, Missouri is the "armpit of the country" when it comes to animal rights and they are thankful that a guilty verdict was reached.
As the story of Trucker and the trial hit the media, C.A.R.E. was flooded with letters, e-mails and gifts. Before they knew it hundreds of applications were piling up from people who wanted to give this brave dog a loving home.
"We went through all of the applications and narrowed it down to 30," said Crawford. "The applications were very detailed and we conducted two home visits. Now our list has been cut down the three fabulous homes for him."
Preparing for adoption
While awaiting word about his new home, Trucker is continuing to flourish. He is currently learning hand signals so his new family can communicate with him. His tail wags through it all. He continues to receive support from new friends and the community.
Raising money for other abused and neglected animals
"Saint John's Hospital Distribution Center held a fundraiser for him last week – they had a BBQ and sold our Trucker t-shirts," said Crawford. "The money goes into our Trucker's Fund, which helps animals in our care who have been rescued from abuse and neglect. He had a blast and was slipped several hot dogs and hamburgers when we weren't looking! He is very social."
Despite living through a traumatic event, Trucker is still a young dog full of life and it looks like he will have a bright future.
Keep on trucking, Trucker.
Photo by Best Friends staff