After heartworm disease and a severe injury that cost him his leg, this gentle dog finally found the sweet life
Dog came from LifeLine Animal Project to Best Friends in Atlanta to get heartworm treatment and help for his hind leg injury that required amputation.
By Nicole Hamilton
Buddy arrived at LifeLine Animal Project with the odds stacked against him. Not only was the pit bull terrier suffering from a serious leg injury, but he also had heartworm. And to top it all off, he was at one of the largest shelters in Greater Atlanta, surrounded by healthier, younger dogs who also needed new homes.
Despite living with a painful leg that limited his ability to walk, Buddy was a happy, gentle dog who quickly won the hearts of everyone at the shelter. And when he arrived a few weeks later at the Best Friends Lifesaving Center in Atlanta, he quickly won every heart there, too.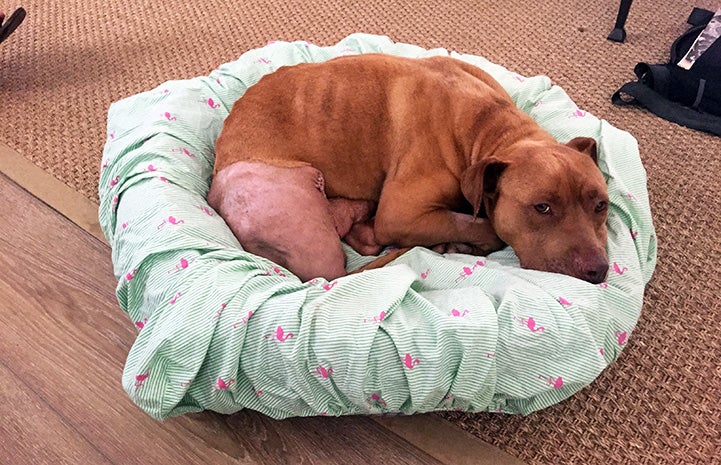 Up and running again after leg amputation
Buddy would make a wonderful companion for just about anyone, but first, he'd need lots of medical help. A vet determined that Buddy's leg was so seriously fractured that it would be best to remove it. Then, after healing from the surgery, he could begin heartworm treatment.
"You could tell he was in a lot of pain," says Jessica Krueger, intake coordinator at the center. "He was so sweet when he first came in, and he was still sweet right after his surgery."
Buddy took it easy the first couple of weeks after his operation and he proved to be a model patient. It didn't take him long at all to figure out that life on three legs is just as good as on four. And soon he was back to his old self — happily playing with his dog and people friends and, of course, winning hearts.
Heartworm treatment for Buddy
Next, it was time to start Buddy on his heartworm treatment. This involves a 30-day course of an antibiotic to weaken the worms, followed by two injections of a different drug that kills them.
Dogs undergoing heartworm treatment must avoid any increase in heart rate while the worms die off and move from the heart and bloodstream. That means no strenuous exercise and staying calm. But that wasn't a problem for Buddy, who's natural inclination is to take it easy. During his treatment, he loved relaxing on the dog bed gifted to him by volunteers. As long as he was able to give (and get) a little love, he was happy.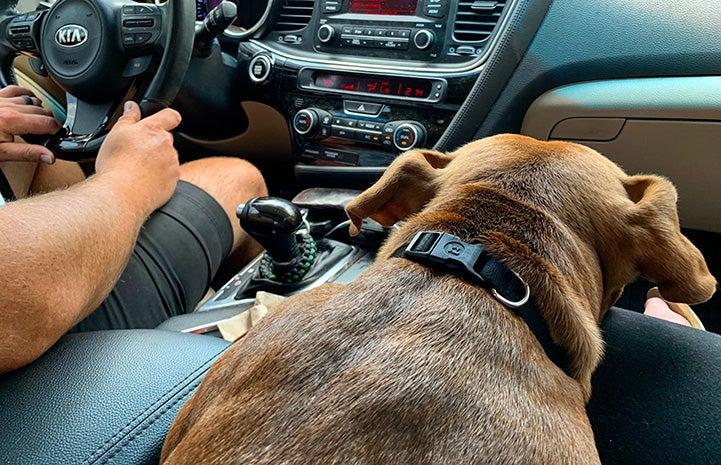 A perfectly patient canine patient
During the treatment, Buddy again proved to be the perfect patient. The only thing left to do was to find this gentle dog a loving home.
While resting one day after his first heartworm treatment injection, Buddy met Lizzie and Brandon Smith, who came to the center looking to adopt a dog. They were meeting another dog when Buddy, on a walk with a volunteer, hopped past them. Lizzie did a double take. "My heart just melted," she says. "I had to meet him."
As they got to know Buddy and learned about his long journey from being injured at a large shelter to a new beginning at Best Friends, Lizzie says there was no question that Buddy would be going home with them that day. He was the dog they wanted to adopt.
New name, new life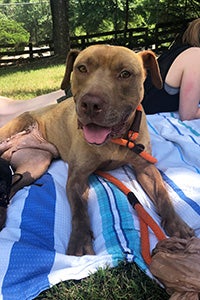 Buddy (who now goes by Murphy) recently returned to the center for his final heartworm treatment injection. Lizzie says he's settling in more every day and that having just three legs doesn't slow him down at all. "Buddy is doing wonderfully. Just a little more bed rest and he'll be good as new."
Lizzie and Brandon built steps to make it easier for Buddy to get on the bed, but after a few days he hopped right up and no longer needed them. And out in the park, Buddy's not holding back, either. No longer burdened by his injured leg, he can run just as fast as the other dogs. And he's even calm and kind around the two orange tabby cats in his new home and gives them plenty of space when they need it.
Lizzie says life has changed drastically since she and Brandon adopted Buddy. "We went into this wanting to spoil a well-deserving dog, and he brings us so much joy," says Lizzie. "He is so sweet and gentle, and we are so happy we found him."
In fact, Lizzie and Brandon are looking forward to getting another dog, so that Buddy can have, well, a buddy!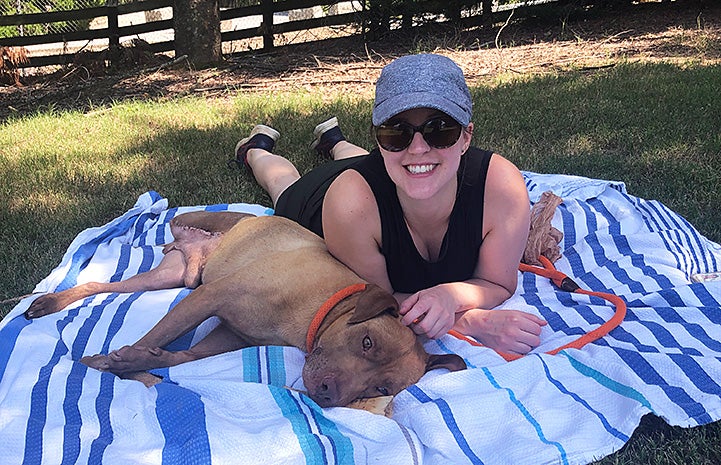 Best Friends in Atlanta works collaboratively with area shelters, animal welfare organizations and individuals to save the lives of pets in shelters in the region. The Best Friends Lifesaving Center is a hub for animals and a base for local programming and coalition-building to help the metro-Atlanta area in its final push to achieve no-kill, while strengthening the movement in the Southeast. Together, we will Save Them All.
Photos by Jamie Serratelli and Lizzie Huckaby