Atlanta shows big love for small shelters during coronavirus outbreak
Image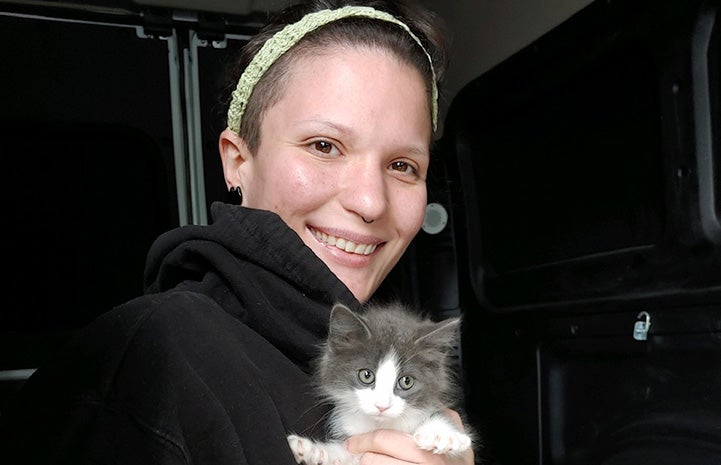 Best Friends in Atlanta takes in pets from rural shelters including the Humane Society in Valdosta during the COVID-19 pandemic.
By Nicole Hamilton
Emily Smith, executive director for the Humane Society of Valdosta/Lowndes County (HSVLC) in Valdosta, Georgia, was more than a little relieved one morning when she opened an email message from Harley Trotter, the new intake coordinator at the Best Friends Lifesaving Center in Atlanta.
Harley wanted to know if HSVLC could use some help. Could it ever.
Just days before on March 13, HSVLC welcomed neonatal kittens — a sure sign that kitten season had started early. On top of that, it was also the week that businesses all across Georgia had begun temporary closures to help stop the spread of the coronavirus.
Shelters all over the country, including those receiving pets on a regular basis from HSVLC, were closing, too. With those regularly scheduled transports cancelled just as the kittens arrived at HSVLC, a fast-developing problem was in need of a solution.
Enter Best Friends in Atlanta — but first, some background.
Kitten season won't stop for coronavirus
Every year, just as the weather heats up and the magnolias are in full bloom, Georgia shelters start filling up with baby kittens. Some arrive at the shelters with their nursing mothers, while others come without their moms and require 24/7 care from shelter staffers and volunteers.
By the time summer arrives, shelters in Georgia and all over the U.S. usually have more newborn kittens than they can possibly care for. Compounding the problem is the fact that shelters are no place for baby kittens, whose immune systems are not yet fully developed. What they need are foster homes where they can be fed, weighed and kept warm around the clock.
While HSVLC was building a foster program back in March, it relied on transporting the kittens, along with adult cats and (occasionally) dogs, to partnering shelters in other areas of the country. That enabled HSVLC to take in more homeless pets from Lowndes County Animal Shelter, a municipal facility supported by HSVLC that provides HSVLC with most of its pets.
"When we got those first bottle babies in mid-March, we knew we would be filled with kittens by May," says Emily. "And we knew then that we needed help."
That's why Harley's email couldn't have come at a better time. When Emily accepted Best Friends' assistance, the team at the center immediately began coordinating the first transport to bring pets from HSVLC to the center or, more specifically, to foster homes secured prior to the first pets leaving HSVLC.
"Every pet we transported from Valdosta was in a foster home within two hours of arriving in Atlanta," says Harley. "Some have even been adopted."
Big support for small shelters
The opportunity to support smaller shelters within the region during the coronavirus pandemic would not have been possible without so many people offering to foster pets as soon as the center put out the call. "We had over 200 foster applications within a day," says Harley. "Everyone was so excited to help out and do whatever they could."
Large municipal shelters receiving regular support from Best Friends in Atlanta, including those in Fulton, Cobb and DeKalb counties, also received an unprecedented number of foster applications. That enabled Best Friends to focus on helping smaller shelters (such as Valdosta) within the region.
For the first transit of pets from HSVLC to the center, Emily drove four hours from Valdosta to Atlanta with 20 cats and kittens in tow, including a nursing mom and her babies. During the second transport of four dogs and 11 cats, Harley and volunteer Leslie Van Hiel met HSVLC staff member Becky Morgan halfway in Macon, Georgia. Leslie is currently fostering Indie (the nursing mama cat) and her three kittens (Scarlett, Violet and Grey), who were all on the first transport.
So far since the beginning of the pandemic, the center has taken in 35 pets from Valdosta, including those that were not likely to easily find homes. "They didn't just take the easy-peasy ones," she says. "Many of the pets we transported had or have special needs, like newborn kittens. That's what makes this all even more special. Best Friends has been just phenomenal."
Out of a difficult time comes a world of good
Today, in the midst of the COVID-19 outbreak, the animal areas at Valdosta Humane are nearly empty. That provides room for pets from the county shelter, especially in the event that staff members get sick and cannot come in to care for pets while the shelter is closed.
"A lot of good is coming out of this," says Emily. "It's helped us form a stronger bond (with Lowndes County Animal Shelter). They know that we are here to help and that we have the means to make things better."
Harley also sees a lot of good coming out of this challenging time, especially because Best Friends has been able to work with smaller, rural shelters like HSVLC. It's a relationship she sees continuing long after the COVID-19 pandemic is a thing of the past.
"This has been a chance to lend a hand to shelters that don't have big foster programs," she says. "It's just nice to give them some love and help them out during this really rough time."
Join Best Friends and help shelters across the country
Best Friends in Atlanta works collaboratively with area shelters, animal welfare organizations and individuals to save the lives of pets in shelters in the region. The Best Friends Lifesaving Center is a hub for animals and a base for local programming and coalition-building to help the metro-Atlanta area in its final push to achieve no-kill, while strengthening the movement in the Southeast. Together, we will Save Them All.
Photos by Emily Smith and Leslie VanHiel