Back in the saddle with adopted Arabian, mustang
When Donna lost her two horses, it felt like it would be a long time before she was ready for another, but now she's back in the saddle.
By Sarah Thornton
It can take time after losing an animal, a beloved member of the family, until you feel ready to bring a new one into your life. When Donna Griffin lost her two horses, it was no different, but with time, when she was ready, she found another pair in need of a loving home.
It was Jasper, a six-year-old mustang and Starlight, an Arabian mare 10 years his senior, who helped Donna get back in the saddle again. And in return, the two horses are enjoying grassy pastures at their new home with Donna.
Getting back in the saddle
One day at work, Donna struck up a conversation about horses with a customer, mentioning that she had lost her two a while ago. The woman handed her a copy of Best Friends, the magazine published by Best Friends Animal Society, and told her about all the animals at the Sanctuary who are looking for homes — including horses.
"So, I got online," Donna says, "and there was a picture of Jasper. That's when it started."
Donna says it took a little while because Jasper was still in training and she was recovering from foot surgery. And though she told herself — as many of us so often do — that she would only take in one at a time, she soon found herself at the Sanctuary preparing to adopt both Jasper and another horse, 16-year-old Starlight.
Born near Gallup, New Mexico, Jasper was taken in by a local rescue group that noticed he was underweight and needed help. From there, he was brought to the Sanctuary, and though he had never really been handled before, some time in a foster home had helped him realize people weren't so scary.
Unlike Jasper, purebred Arabian mare Starlight had been around people her entire life, but had her own anxieties to work through. The Sanctuary staff worked with her every day to help her build confidence and relax.
[Horses get a leg up on training in new covered arena]
"I started crying when I was riding in the arena there," Donna recalls, "because it just hit me how much I had missed having a horse. At first I was even hesitant to get on." But she did get back in the saddle, literally and figuratively. She enjoyed a ride around the Sanctuary on Jasper's back. And was ready to have horses in her life again.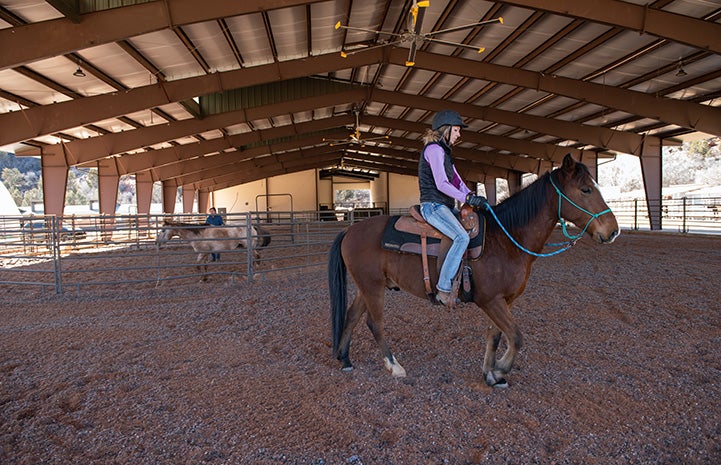 Home sweet home
"I'm over the moon happy to have horses again," Donna says, "and especially to have these two. They're just amazing horses. They are smart, they're kind, they're gentle … they're low to the ground." That last point is particularly helpful when it comes time to ride.
When they arrived at their new home in Rifle, Colorado, Donna introduced them to the big, grassy pasture, but she says they hesitated at first. "They both looked at me like, 'Really?' Then they both just ran and kicked up their heels and were just really happy."
They even have sprinklers to play in, should the mood strike them.
[Surprise horse adoption — a dream come true]
Donna has ordered a special bit and custom saddle pad for Starlight's comfort, and she's making plans for when they arrive. "Soon I'm going to get them in the trailer and take them up a little higher, where it's cooler and nicer, and go for a quiet little mountain ride," says Donna. "There are some beautiful places."
Watching the two race one another from one end of the pasture to the other, planning for the future and enjoying that warm, lovely feeling that comes from all of it, Donna's voice is full of emotion as she talks about Jasper, Starlight and their new life together.
"Beautiful, they are just beautiful," she says. "I'm very, very, very blessed to have these two."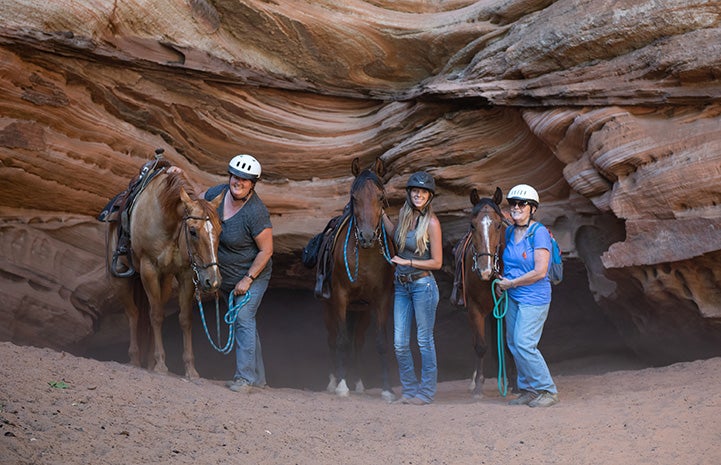 Help make more happy endings possible
From horses to guinea pigs and everything in between, you can help the pets that call Best Friends their home-between-homes.
Read more:
7 questions and answers about horses at Best Friends
From an injured, orphaned foal to happy horse
Do horses like racing? This one sure didn't.
Photos by Molly Wald