Best Friends Network spotlight: BARCS
Image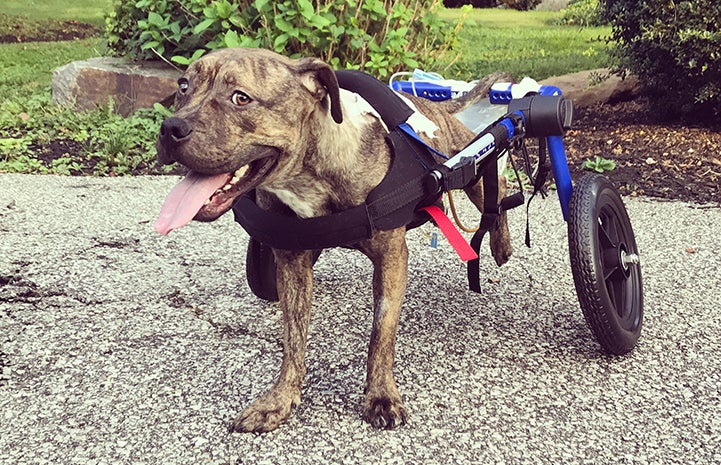 Baltimore Animal Rescue and Care Shelter (BARCS) dog has trouble walking due to a narrowing of her spinal discs. She needed surgery. Read her story.
By Arin Greenwood
Being part of the Best Friends Network gives animal welfare groups across the country the tools they need to save more lives, as well as the chance to work together to Save Them All.
Best Friends has network partners in every single state, and all of them are saving lives daily. We never get tired of hearing their stories, and that's why we want to share them with you, too. So today, we're proud to present one from Baltimore Animal Rescue and Care Shelter (BARCS) in Baltimore, Maryland.
For a long time, Angel's veterinarians and her foster family weren't sure she would ever be able to walk. Then on Thanksgiving weekend, she ran.
Foster mom Melanie Snyder describes Angel's first run: "Still wobbly, and far from perfect, but shockingly fast. It was a very emotional moment."
Last May, Angel came into Baltimore Animal Rescue and Care Shelter (BARCS), Baltimore's city shelter. Nearly eight months old, she was unsteady on her feet in a way that hinted of serious problems. Angel's family surrendered her to BARCS because they were unable to afford what they anticipated would be expensive veterinary care.
Dog spinal problem
BARCS' vets took X-rays and performed other tests. Their diagnosis was a narrowing of Angel's spinal discs, which made it difficult for the pup to walk. She was going to need some serious treatment.
Melanie, the assistant director of lifesaving programs at BARCS, decided to bring Angel home to foster her. The original plan was for Melanie, her husband and their three dogs to keep Angel for the July Fourth weekend (as a little vacation from the shelter). But that plan quickly changed when the family decided to keep Angel until she was ready to go up for adoption.
Surgery for dog who can't walk
Melanie took Angel to visit vet after vet and specialist after specialist — trips that were possible thanks to BARCS' Franky Fund, which covers medical bills for the shelter's pets.
The consensus was that surgery would be necessary. Angel might still not be able to walk, but without surgery her condition would surely worsen. It was possible (even likely) that left untreated, the happy, spunky pup would become permanently paralyzed.
Angel had surgery in September, and during the operation, veterinarians discovered Angel's condition was even worse than they thought. "Angel's spine was not just pinching her spinal cord, but severing it," Melanie wrote in a blog post. "While the surgery was more complicated than both BARCS and the Franky Fund doctors expected, we went forward with the procedure to give Angel the best chance at life,"
During Angel's recuperation from surgery, Melanie came to see her every day. "My hope was to lift her spirits during such a vulnerable and guarded time," she says. "She has been in my home every day since."
There were no guarantees, and Angel still couldn't walk. But a little more than a week after her operation, Melanie rubbed Angel's belly, and the dog twitched her legs. It appeared that she was regaining some feeling, and Melanie felt guardedly hopeful that at some point she might even be able to walk.
"But I think the first time I knew she was going to come back was one morning in October," Melanie says. As Melanie carried Angel out to the yard with her other dogs (just as she did every morning). Angel suddenly stood on her own.
"She took a step and tumbled over. Her feet didn't fold. They stood strong," says Melanie. "It was that moment I knew she had it in her and was determined enough to walk again."
Angel dog is a constant inspiration
Melanie has done a lot to help Angel, taking her for cold laser therapy, strengthening exercises and visits to the pool where Angel seems so happy and strong. Melanie says Angel loves the pool so much that she doesn't even realize it's part of her treatment. She just enjoys herself.
While Angel often still requires a wheelchair to get around, she's progressed so much that one of her vets calls her a "miracle dog."
Angel earned that name for real the Sunday after Thanksgiving when she ran for the first time, bounding through the yard with some teetering, but so much joy.
"All of the feelings I had gone through the last months — the hope, fear, exhaustion, joy and love — just overwhelmed me all at once," says Melanie. "It was a really special moment."
Angel will be staying with Melanie and her family for a while longer. She's got more therapy and more recovering to do before she's ready to go up for adoption. After that, Melanie imagines her with a family that loves her deeply, has another dog to play with, and takes her out to hike, swim and enjoy everything she would have missed out on, had BARCS not been committed to pursuing every available option.
Most important of all, Melanie dreams of her being adopted by people who will appreciate just how special Angel is. That's certainly how Melanie feels about her.
"The best part of having Angel has honestly been Angel herself." Melanie says. "She is a constant inspiration to try harder, and to believe that all things are possible."
More about Best Friends Network Partners
Photos courtesy of Melanie Snyder