Best Friends reaches out to every shelter in Texas to help homeless pets
Best Friends and partners help both people and their pets during unprecedented frigid temperatures in the Lone Star State.
By Best Friends staff
Last week our hearts and thoughts were with the people and pets of Texas.
The moment the weather report was released that a winter storm was headed toward the ordinarily warm, sunny state, our team got to work. Thanks to the hard work (and huge hearts) of multiple organizations within the state, we were able to secure multiple heat lamps for a rural shelter in Marathon, Texas, ahead of last weekend's single-digit temperatures. And for a rural shelter in Groveton, Texas, where animals are typically housed in outdoor runs, we were able to assist with boarding costs, to ensure that the dogs were safe and warm indoors.
"We've been working with shelter partners to meet supply needs like heating lamps, cat litter, food, etc.," says Marc Peralta, Best Friends chief program officer. "That has continued and even amplified throughout this week.
"We also have contacted around 150 shelters in the state, as well as shelters in Arkansas, Oklahoma, Louisiana and Mississippi ― from bigger partners in Houston, Dallas, etc., to a lot of rural shelters in the states. We were able just to take a full shelter list of Texas and start connection to see what needs we can be meeting to help them get through these hard times."
Reaching out to Best Friends staff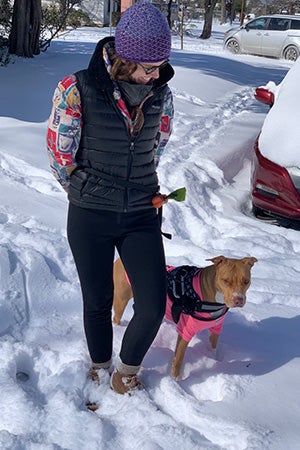 Although the snow and ice may have melted, our team is continuing to check in on the many rescue groups affected by the severe winter weather. In fact, many of our own staff are currently dealing with the fallout from the storm — for example, Caitlin Watkins, her husband Max and their dog Jolene. After being without power for four days and surviving indoor temperatures of 40 degrees with no access to heat, Caitlin smiled and told us, "My pit bull kept me warm." 
Other staff members survived days without heat, power or even access to running water. They all have reported in to let us know they are currently doing OK.
Houston shelters partner for people and their pets
Knowing that community members (both human and pet) would either be out on the street or without power and a warm place to go, two of our Best Friends Network partners, BARC Animal Shelter and Adoptions and Friends For Life Animal Shelter in Houston, teamed up.
By utilizing a convention center as a warming center, the organizations soon welcomed people and their pets, keeping them not only together, but warm and safe. People were provided with crates, beds, blankets, and food. To help keep everyone healthy and prevent the spreading of disease, vaccinations were administered upon arrival at no cost if the pet was not already up to date.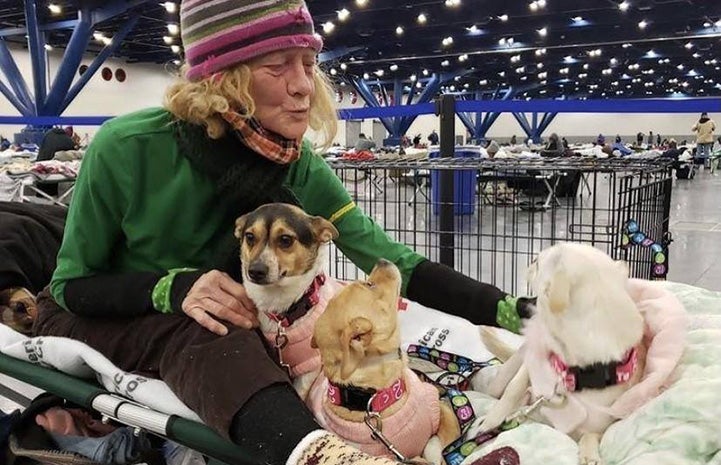 Collaboration is key
Best Friends continues to monitor the needs for shelters and rescue groups in Texas and appreciates the way that people and organizations have stepped up to help.
"A huge thank-you goes out to all our partners who responded to our ask for supplies and emergency transports," says Kayla Sebo, Best Friends manager of network communications. "We're now in the process of connecting partners in need with the available resources. This includes facilitating transports between partners, as well as transporting pets out of Houston."
Whether we are assisting shelters with much needed supplies, transportation or performing wellness checks to see how we can help, our commitment to saving lives in the Lone Star State will not waver.
Follow us on Facebook for the latest news.
Photos courtesy of Catlin Watkins and BARC Animal Shelter and Adoption