Big life for a much-loved-adventure dog
How Stretch went from the Sanctuary to hiking the Appalachian Trail and gaining a new little dog sister
By Sarah Thornton
They say nobody's perfect, but sometimes you can find someone who's perfect for you. And that's certainly what happened when Anna Zimmerman met two-year-old Stretch on a volunteer trip with friends to Best Friends Animal Sanctuary. The snuggly pooch left a strong impression on the entire group, but it was Anna who finally brought Stretch home as a new family member. He turned out to be the perfect pup for her and they've been on all sorts of adventures while their family continues to grow.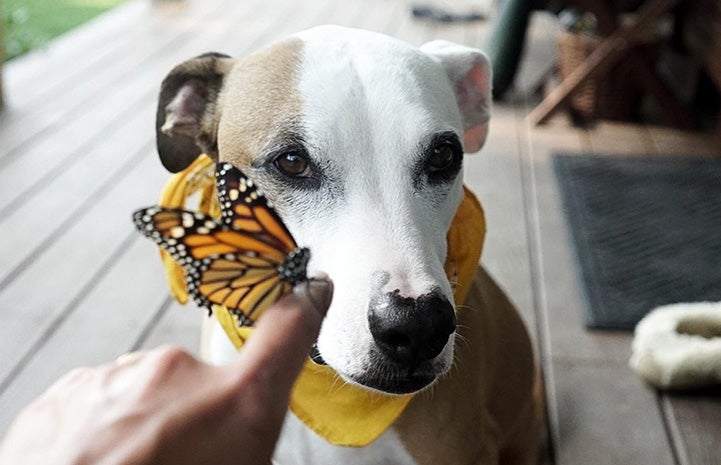 Stretch and Anna meet their match
Stretch came to Best Friends as part of a seven-puppy litter from a nearby shelter. It didn't take long for the adorable pups to be whisked away to new lives with new families. Even Stretch found a new home. But when his family moved and was unable to take him with them, he returned to the Sanctuary.
He wouldn't have to wait long for a second chance, though. While on a trip, one of Anna's friends insisted the group stop by the Sanctuary (after learning about it on social media) to visit and volunteer for a couple of days. "We did the tour the first day and took the bus around," says Anna. "The following day I volunteered with the pigs in the morning, and then we all volunteered with the dogs in the afternoon."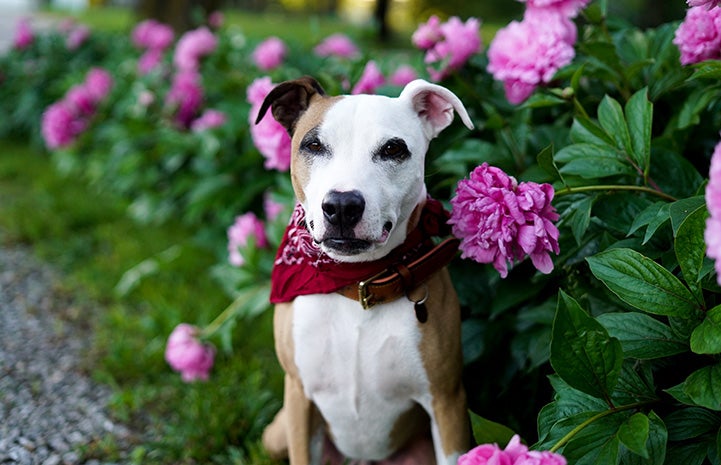 They spent most of the afternoon meeting and walking dogs through the winding trails of the canyon. Then they decided to spend a little more time hanging out with one particularly friendly dog they'd met: Stretch. He was snuggly, welcoming and more than happy to soak up all the attention he could get. "Then we went home," Anna says, "and we talked about Stretch a lot, because he was so sweet and cuddly and fun to be around."
Not long after they returned home, there was another reason to talk about Stretch: an internet post promoting him for adoption. In the photo, he was wearing canine backpacking gear.
[High energy dog, high energy adopter]
Anna, a hiker and backpacker herself, wanted an adventure buddy in her life; however, she just wasn't sure if she was ready. But this was Stretch, the dog she'd already fallen in love with. What better sign could there be?
She contacted Best Friends and within just a few weeks Stretch was on his way to a new life — ready for all of the adventures that awaited. And the rest, Anna says, is history.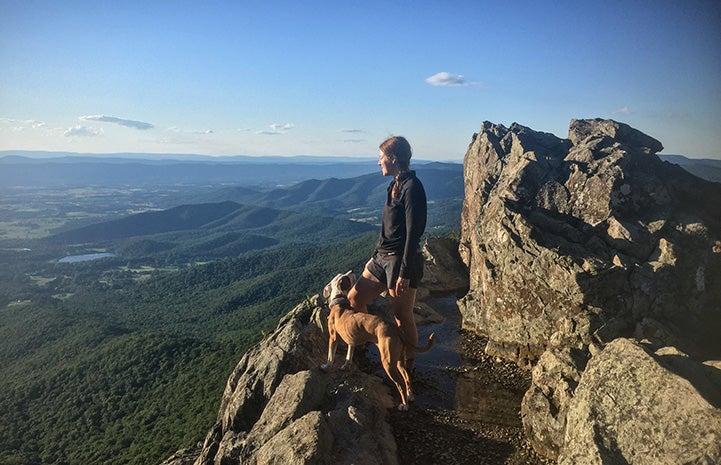 Adventure dog, snuggle buddy
For a time, it was just Stretch and Anna at home. They went on day hikes and backpacking trips all over the place, and Stretch got quite comfortable sleeping in a tent. He also learned the importance of being a little wary of small fluffy things you meet along the trail.
On one of their first backpacking trips, says Anna, Stretch decided to check out a funny-smelling black-and-white critter. "I told him not to, but he did," she bemoans, thinking back to the skunk encounter. "And he got sprayed. And it was awful. There's not much you can do after that, especially when you're out in the wilderness. We were with my friend, and we just had to endure the stank."
Luckily for everyone's nostrils, Stretch got wiser and more wilderness-savvy as the adventures continued.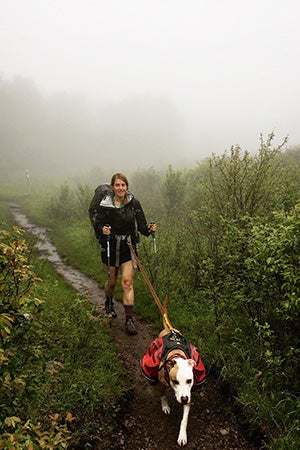 Then it was time for a real big trip. Anna planned to backpack along the Appalachian Trail and wanted Stretch to join her. She started at the southern end and headed north. "There's a spot in the Smoky Mountains where there's no dogs allowed," she says, "so I waited until I was through the Smoky Mountains. Then my boyfriend, Duane, who is my fiancé now, brought Stretch to me in Virginia right when I crossed the border. Stretch stayed with me for 700 miles into Pennsylvania."
[Sad dog smiles as adventure buddy]
A good day for the pair was hiking 13-15 miles, and they snuggled close together every night. At first, Stretch was carrying his own food, but when his pack started to rub uncomfortably on his sides, Anna moved it to her own backpack. They found spectacular spots and overwhelming overlooks, and Anna made sure to document the trip along the way in her photos.
"Ultimately," says Anna with a laugh, "Stretch went home because my body was ready to do more miles, and I could tell that he was just missing out on naps and stuff. I finished without him, but it was awesome to have him for 700 miles. I was so happy that he did that with me."
Their next big adventure would be a little closer to home, when Anna and Duane moved in together and Stretch's family had grown even more.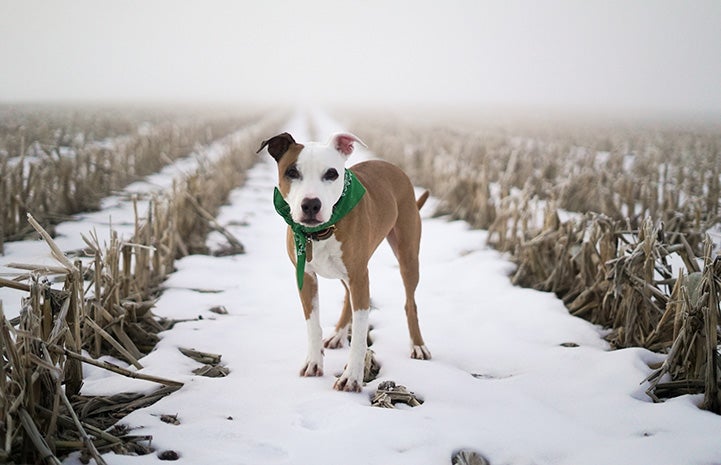 Stretch's big, happy family
When Anna and Stretch moved in with Duane and his son (Cohen) in Indiana, Stretch wasn't quite sure what to make of the situation. "I think he was jealous of Cohen at first," Anna says. "Cohen was six when I moved in with them, so I think Stretch had some adjusting to do. But now he's perfect."
In fact, once he knew that having a kid in the house meant more attention for him (and not less), Stretch was fully on board. He spends all day sleeping on Cohen's bed and when the boy's home, they're snuggling and playing together.
"He's the perfect companion," says Anna, "because he can go, go, go, and hike 13 miles, but then if you want to nap all day, he'll nap with you. He's really sweet."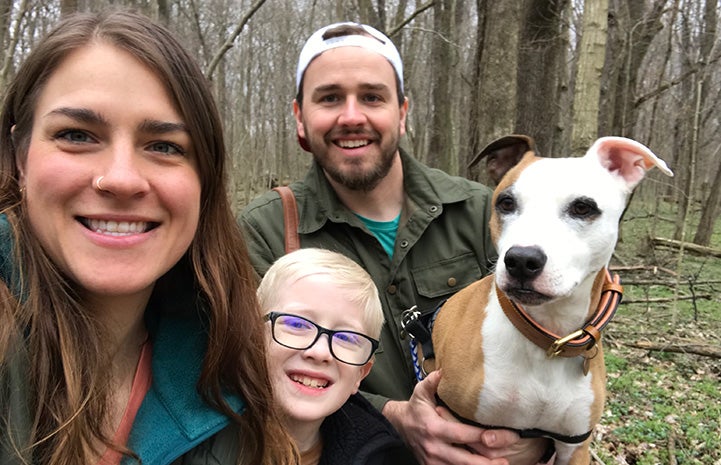 [Dog named Bear is just right for his new home]
Stretch follows a whole daily routine: He sleeps in Cohen's bed all day, jumps onto the couch for some afternoon cuddles when Duane and Anna finish lunch and then, at night, it's time for him to have a little space. "He's very dependent on us, but there's one time he likes his alone time," Anna says. "We'll get ready for bed and he makes sure everyone's in bed. He checks on everyone and then he sprints to the couch, wagging his tail. And that's his alone time."
Then, promptly at five in the morning, Stretch makes his way to Anna's bedside and waits for her to pull up the covers so he can crawl in for snuggles.
More recently, they've added a fifth member to the family (and morning snuggle routine) by adopting a little Jack Russell mix named Peanut. And she looks just like Stretch's mini-me — a tiny mirror image, spots and all.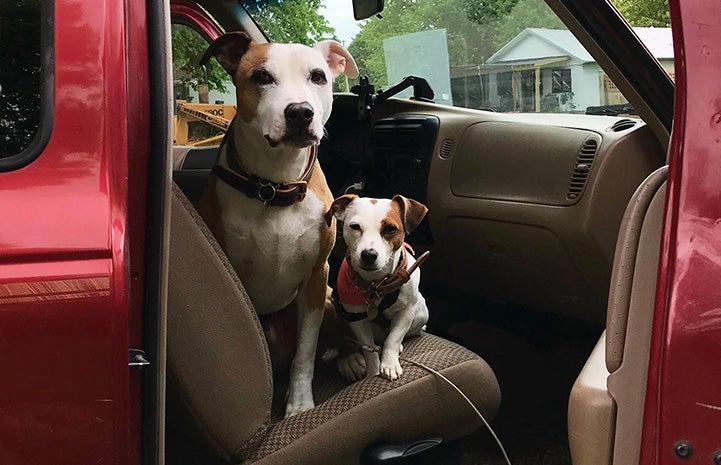 "He's very patient with her," Anna says. "She has a lot of energy. They'll run around the yard every now and then. I kind of have to get them going, though. Stretch can definitely outrun her. His legs are a lot longer than hers, but she can keep up, right behind him."
From day one, Stretch was the perfect dog for Anna. She fell in love, couldn't stop thinking about him and finally brought him home, where he fit in as perfectly as a puzzle piece. The bond within the family is clear the moment you see all their smiling faces together.
"I love him," says Anna. "I'm really hoping I can get Duane and Cohen out to Best Friends … so they can both see where he came from. He's part of their life, too."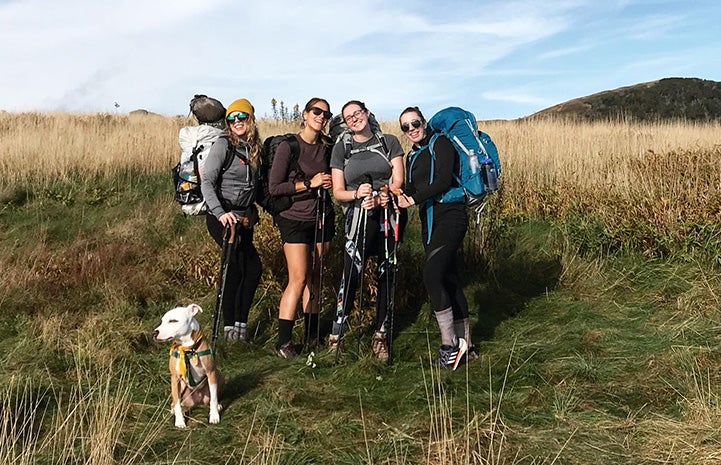 Find the perfect pet for you
Whether you're looking for an adventure buddy or a couch potato, the perfect pet for you could be closer than you think.
Read more:
Stories from the road: A dog and cat's adventures
Meet a dog who loves (as in really loves) car rides
Injured, abandoned dog loses her leg but not her spirit
Photos courtesy of Anna Zimmerman