Caregiver finds second chance for his cherished community cat
After Miss Corona was found injured, she received two lifesaving surgeries and left a lasting impression on both the shelter staff and the caregiver who adopted her.
By Alesha Davidson
When a friendly ear-tipped cat showed up outside David's home in Stanislaus County, California, it was only a matter of time before he grew attached. Having arrived shortly before the start of the COVID-19 pandemic, the free-roaming cat provided David with a source of joy that he sorely needed. He named her Corona (to put a positive spin on such unprecedented circumstances) and cared for her for months until one day she showed up on his doorstep with some serious injuries that required him to rush her to the nearest emergency vet clinic.
David was told that Corona's prognosis was poor due to her extensive injuries and the level of medical care she would need. Devastated but not without hope, he was insistent on doing everything possible to save his feline friend, and his love for her eventually brought them to the Stanislaus Animal Services Agency.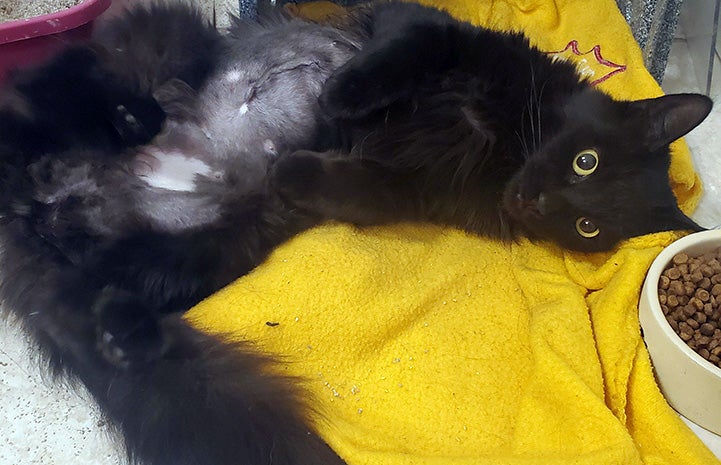 Saving Miss Corona
Since April of 2018, Stanislaus Animal Services Agency and Best Friends have worked in partnership to provide Stanislaus County with a dynamic community cat program (CCP) to care for its stray, free-roaming (community) cats. Focusing on humane trap-neuter-return (TNR), the CCP specializes in spay/neuter, vaccinations and helping cats like Corona receive the care they need.
Amanda Kokaram, Best Friends CCP coordinator, remembers meeting David and Miss Corona at the shelter. "He was so concerned about her and wanted to see her get help," she says. "​We knew that we wanted to do our best to save her."
Corona's injuries included a broken back leg, plus a diaphragmatic hernia that made it difficult for her to breathe. And although the combination made other veterinarians apprehensive about her chances of survival, one look at her big golden eyes made staff members ever more determined to do everything possible to save her.
"She was such a beautiful cat," says Vivian Smith, animal care specialist at Stanislaus Animal Services Agency. "She looked at us knowing her fate was in our hands. I looked at Amanda and I think we had this mutual agreement that we had to get her help."
[Kitten with lymphoma lives life to the fullest]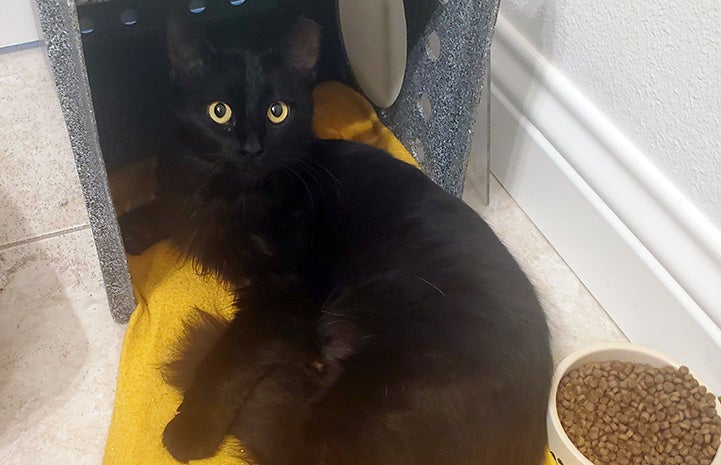 Corona required two surgeries ― one to repair the hernia in order to stabilize her breathing and a second a few days later to amputate her leg. Following that first surgery, Amanda brought Corona home over a long weekend to help her recover.
Following the sweet cat's leg amputation, staff members noticed that while she was healing well, she was a bit lazy about adjusting to life on three legs. So they decided that an indoor placement would best help her move forward instead of reacclimating her to her former outdoor environment.
Remembering how dedicated David was to this staff favorite, the CCP team attempted to contact him to let him know that Corona was recovering well and ready for her forever home. When they didn't receive a return call, they thought perhaps he might have moved on, but memories of David's obvious concern for Corona caused them to go the extra mile by driving out to his home.
David's home also turned out to be his place of business and they were able to speak to the office manager, who knew right away that David would want Corona back. She agreed to speak with him and help make arrangements for Corona's return.
[Cushy retirement for a working cat]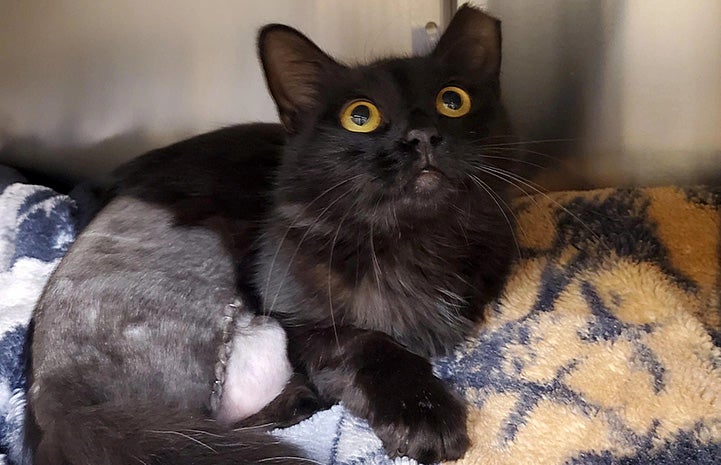 A joyful reunion
The team didn't have to wait long. When David learned that Corona was waiting for him, he rushed out to buy everything she would need. He also showed up at the shelter before they opened for the day, too excited to wait to have her back.
"We all knew that David would be arriving to the shelter at a certain time and we watched for him through the window," says Vivian. As soon as he arrived, staff members greeted him with excitement and hurried to the clinic to collect Corona for her journey home. The reunion was a teary one for all.
When David finally met the team that made it possible to save Miss Corona, he was overwhelmed with gratitude for their dedication. He even tried to pay them, to express how thankful he was. "I proudly refused, telling him we could not accept, but that we were so happy Corona got to go home," Vivian says.
Amanda was also touched by their reunion, saying: "It made us feel so good to see them reunited and for the shelter staff to see how much this community cat had impacted the life of this person. It was very validating."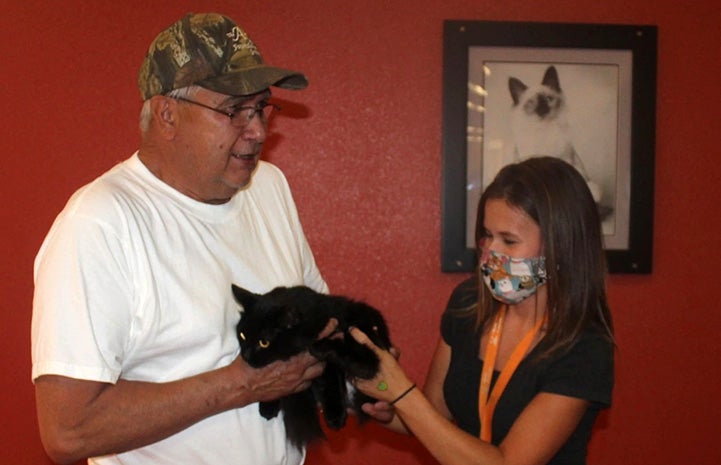 Community cat programs prove that shelters have come a long way
With programs like the CCP, more lifesaving opportunities are available than ever before, and shelters can forge ahead into this new territory with confidence. "I know that the shelter is the last resort for most people and that history has given many animal shelters a bad image," says Vivian. "It's a great challenge to be able to tell someone in David's situation that we would save her if she was treatable. Being able to return her to him was an amazing experience."
And now, like countless other free roaming cats, Miss Corona has left a permanent paw print on many hearts in her community.
Caring for cats and how you can help
Learn how to keep community cats in your neighborhood healthy and happy.
Read More
New hardware helps puppy with broken legs play again
Senior cat comforts adopter during cancer treatment
Photos courtesy of Amanda Kokaram and Stanislaus Animal Services Agency