Cat with Manx syndrome gives the best hugs, gets a home
Ellery had a hard time finding a home because she can't use the litterbox on her own, but it just took hugging the right person.
By Sarah Thornton
With her sleek black fur and big, bright green eyes, Ellery is the very picture of feline elegance. Graceful and affectionate, she won over many hearts during her time at Best Friends Animal Sanctuary with her special brand of kitty hugs. But it took a while to find her a new home because of something completely out of her control. Ellery is incontinent and can't use the litterbox on her own.
Even though Ellery is very clean, she needs medicine and someone to help her go to the bathroom twice a day. It's a lot of responsibility for a potential adopter. When Ellery stretched herself over the shoulder of a volunteer one day, refusing to budge, she left a lasting impression. LuAnn Pierce knew how to take care of cats with Ellery's condition because she had been doing it for years. When LuAnn went home after her visit, the little black cat stayed in her thoughts. Now, Ellery is finally in her home and she's not planning to leave.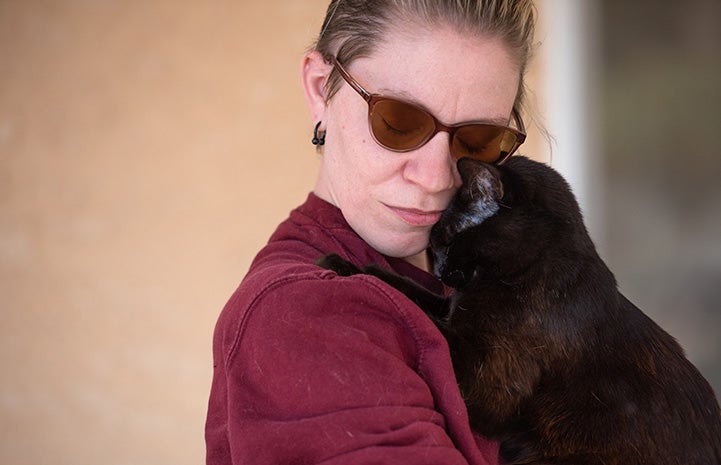 Unforgettable and lifechanging cat hugs
At Cat World, the feline residential section of Best Friends Animal Sanctuary, Ellery lived in an area for cats with incontinence, affectionately referred to as the "incontinental suite." Some are incontinent because of injury while Ellery and others were just born that way.
[Despite his special needs, this kitten was born to be happy.]
Ellery has Manx syndrome, a condition prevalent in tailless cats that gets its name from the Manx breed. The tailless gene causes a shortening of the spine, and when the spine is shortened too much, it can cause many problems: A cat's hind end might not develop fully or nerve damage may be an issue. Ellery and other Sanctuary cats with Manx syndrome suffer from incontinence, but they don't know they're any different, and it certainly doesn't make those cats any less affectionate.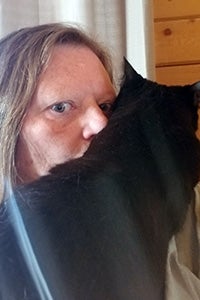 Ellery was known for her unique way of showing love. When she wanted attention, she picked herself up on her hind legs, put a paw on either side of your neck, pushed her head under your chin and didn't let go. Ellery was a master at giving hugs. And she would hold on and purr for as long as she could. It was never Ellery who ended a hug.
LuAnn was visiting the Sanctuary to learn because she has her own sanctuary, Colorado Companion Animal Sanctuary, where she focuses on helping cats with Manx syndrome, as well as other special needs. So, of course, her visit brought her right to the incontinental suite — and to Ellery.
"She jumped up on my shoulder and wouldn't move," LuAnn recalls, thinking back to the first time she met Ellery. "She stayed there the whole time I was there. I almost brought her home with me that day."
Ellery reminded LuAnn of the cat who had started her down the path of creating a sanctuary for cats with special needs. Izzy had introduced herself to LuAnn the same way — by climbing onto her shoulder and staying there.
[Adoption update from the world's cuddliest cat]
Izzy also had Manx syndrome, and was adopted and returned several times because she couldn't control her bladder. LuAnn fell in love and spent a month learning to take care of her so she could bring her home. That caused her to open her doors to more cats denied homes just because they weren't able to use the litterbox. Unable to forget the little black cat and her sweet kitty hug, LuAnn adopted Ellery, too.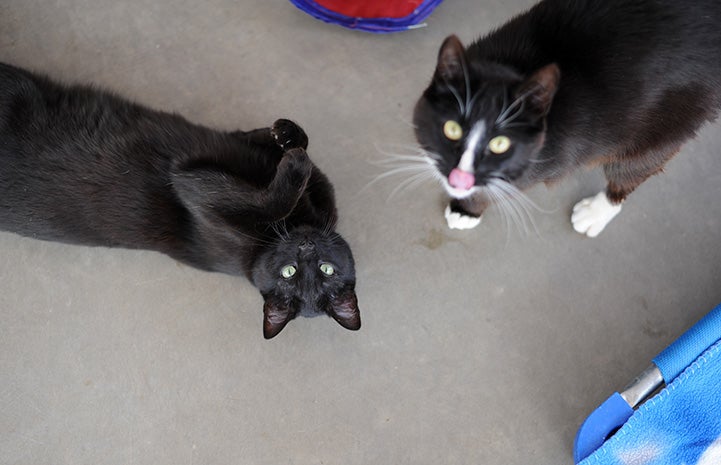 Settling into her new life
It's been a couple of weeks since Ellery has been home, and she's still figuring out how it all works. She spent her first night hopping up and down from furniture and windowsills, taking in the smells and the new experience of seeing a human sleeping in a bed. Everything about home life, it seems, is new and interesting.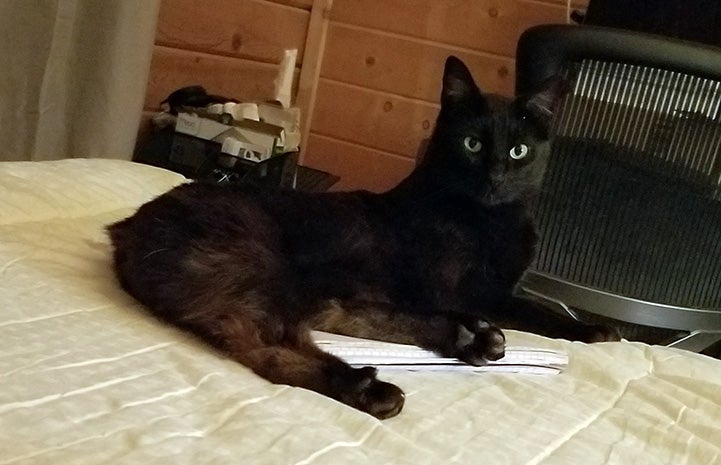 "She doesn't really know about taking a shower," LuAnn says with a laugh, remembering Ellery's confusion at seeing her human come out all wet. "It's really cute to see her learning about being in a home. She's just learning new things."
Ellery is also meeting her new animal family members. The introductions are going well, and she doesn't even seem to notice that she's sharing a house with a giant Great Dane. There was a bit of a rocky start with one of her new brothers, a blind cat who didn't know what to think of the new arrival. But with time they're starting to get a little more comfortable around each other.
[Cat friends: Papa Perry pays it forward.]
Between Ellery and 15-year-old Izzy, snuggling is now a full-time job for LuAnn and her husband. "Thankfully with my husband working at home, we're able to both provide that for Ellery and Izzy," she says. "And if they both want to be on the same person at one time, we'll just have to sort that out, I guess."
From sun-warmed windowsills to endless hugs, Ellery has it all. She has a home — all because she climbed up on a shoulder and wouldn't let go.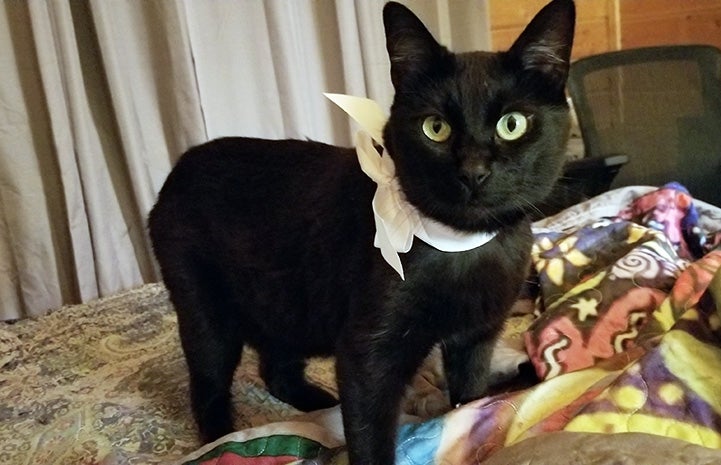 Find a cat you'll never forget
What would you do if you couldn't get a cat out of your thoughts?
Read more:
Fourth grader helps cat with special needs.
Adopting a cat with larger-than-life personality
Photos by Molly Wald and courtesy of LuAnn Pierce