Charismatic Moluccan cockatoo
Image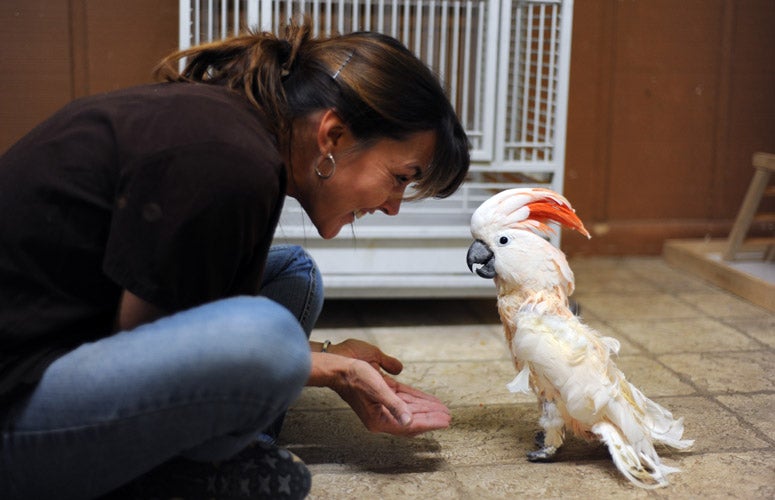 Newest Parrot Garden arrival's natural charisma draws admirers. The Moluccan cockatoo is affectionate, too.
By Jennifer Hayes
Few animals arrive at Best Friends and develop a legion of fans within days. Well, maybe the Vicktory dogs (who were seized from the property of NFL quarterback Michael Vick), but one little bird?
In fact, within one week, Christy the Moluccan cockatoo was compared to one of the Vicktory dogs. "Just like our office dog Layla, when we take her out to meet people, (Christy's) just one of those animals that draw people in," says Jacque Johnson, manager of Parrot Garden.
Perhaps they're both so charismatic because of their traumatic backgrounds — and their ability to triumph over adversity.
A hard start for Moluccan cockatoo
Christy's elderly person suffered from dementia and couldn't properly care for his many parrots. His home was condemned, and a parrot welfare organization took possession of roughly 40 birds. However, the courts allowed the man to keep two birds, Christy and a conure.
After he and his wife passed away, the birds went to a family friend. The conure crossed the Rainbow Bridge, and when the family friend became ill, a new home was needed for Christy.
That would be a lot of change for anyone, but particularly for an intelligent animal with complex emotional and social needs.
However, that was only the tip of the iceberg. Christy lost both her feet from having been exposed to the freezing outdoor elements in Pueblo, Colorado. Plus, she lived on a diet of sunflower seeds her entire 30-year life.
"It's like feeding a human nothing but McDonald's French fries for 30 years — no nutritional value at all," says Jacque. "It's just junk food."
Christy's luck changed when a spot opened up for a cockatoo at Best Friends' Parrot Garden.
Perfect accommodations for a bird
Even Ty Pennington would have a difficult time remodeling a home to accommodate Christy's special needs. However, Jacque was up to the challenge.
They started with a big fluffy blanket in the bottom of Christy's cage to alleviate the pressure on her nubs, which are sore. Then they put bird-safe wire grids on the inside of the cage leading up to a platform covered in an AstroTurf-type material turned upside down, so the ribbed plastic is on top for extra give.
However, the pièce de résistance is Christy's handmade climbing net.
"We knew we needed to make it easy for her to scale the bars of the cage, and I was trying to figure out a way. Necessity is the mother of invention," says Jacque, who spotted a roll of sisal twine sitting on a shelf and inspiration struck. "I had never thought of crocheting sisal — ever!"
It only took about a day for Jacque to make, and while it will make life for Christy much easier, it was pretty tough on Jacque's hands. "I have no fingerprints on one hand," she laughs.
Affectionate bird
Jacque's efforts haven't gone unappreciated. While they were retrofitting the cage, Christy climbed down and started wandering around on the floor. So Jacque sat down on the ground and Christy came right over and put her head in Jacque's lap for a snuggle. Though Christy is still in isolation, all the staff and interns want a cuddle. This bird has really captured everyone's affection.
So it should come as no surprise that Christy immediately won the hearts of fans worldwide as well when her arrival was announced on the Parrot Garden Facebook page.
In fact, within one hour Christy was sent her first donation, a "playpen" — the special-needs bird equivalent of the finest Stearns & Foster mattress. And within 24 hours, a serious adoption inquiry was received. So this is one bird who has generated an immediate outpouring of support.
"She just touches people's hearts — there's something about her," Jacque notes. "She's very sweet. I don't think she's ever had somebody that worked to try and make life better for her."
Christy has hit the birdie bonanza and won't ever have to worry again. She now has an entire team on her side, and their goal is to make her life better.
Season of giving for animals
Make a difference in the lives of the Sanctuary animals. Donate an item or two from our wish list.
Photos by Molly Wald