Collaboration helps Arkansas shelter's save rate soar
When Best Friends and coalition partners came together to support a shelter in Northwest Arkansas the results were nothing short of outstanding
By Kelli Harmon
Since Best Friends began working in Northwest Arkansas, the goal has been to get to know people who run shelters in the area and find out what they need to save more animals.
One of those shelters is Pine Bluff Animal Control. The community that the shelter serves has a high poverty level and few resources for dogs and cats. The shelter's low save rate (below 50%) wasn't for lack of caring or trying — the staff just needed assistance. When the Best Friends team approached Marcus Graydon, the shelter director, to ask how we might be of service, he was open to new ideas.
[Best Friends Pet Resource Center: A community for pets and people]
The best way to start saving more dogs and cats quickly was to move animals out of the shelter and transport them to other organizations. It was the kind of thing the Northwest Arkansas Partnership for Animal Welfare (NWA PAW) coalition was created for. In the first month and a half of working together, Best Friends and our partners coordinated transport of more than 90 pets, most of them puppies and cats, out of the Pine Bluff shelter. On one of those trips to the shelter, when Best Friends staff were expecting to pick up 21 puppies, they did just that, plus one more: Polly Pocket.
[A lifesaving coalition and resource center in Arkansas]
The sweet, petite dog pulled heartstrings the moment the team stepped into the shelter. Polly had been surrendered with a severe case of mange dominating much of her body. In a unanimous decision, the team decided that Best Friends could help her. So, 21 puppies became 22. And since then, Polly's skin has begun to heal and she is looking and clearly feeling much better. Whether it's 20-plus puppies or a single pet at a time, more dogs and cats are leaving the Pine Bluff shelter and going on to new homes.
In January of this year, the shelter staff reported that the save rate had reached 93% for that month. "It gives me goose bumps to talk with Marcus and hear how much better he feels coming to work knowing that he doesn't have to kill animals," says Jackie Roach, Best Friends senior manager in Northwest Arkansas. "He acknowledges that they have a long road ahead, but he is so thrilled that someone wants to help."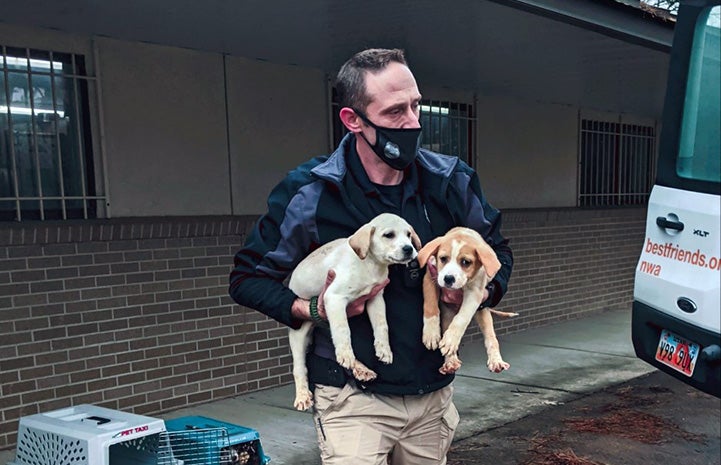 Make a difference for pets
Whether you choose to foster, adopt or volunteer, there are many ways you can step up and help pets at shelters in your community.
Get involved and save pets lives
Read more
97 kittens, an RV, and one lifesaving mission
Collaborating for cats in Lowndes County, Georgia
9 stories about volunteers who are making a difference for pets
Photos by Lauren Clingenpeel