Entrepreneur and volunteer extraordinaire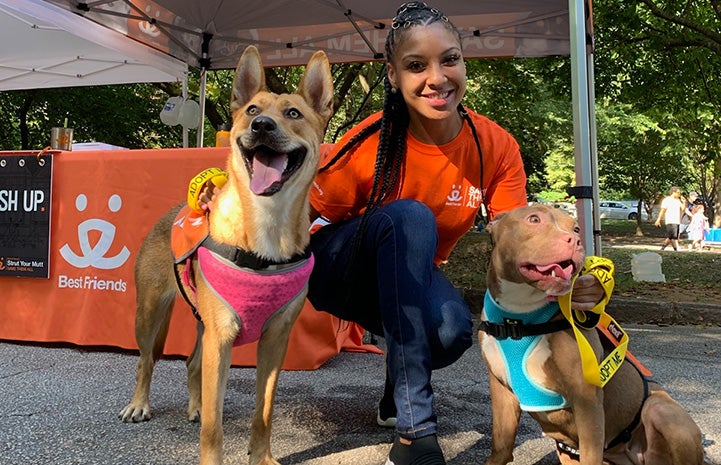 Nisha Gross uses skills as master of ceremonies and business owner to help save Atlanta's homeless pets.
By Nicole Hamilton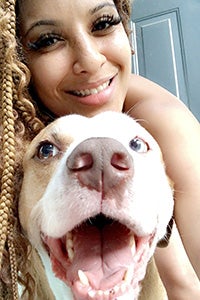 Nisha Gross will never forget the first time she saw a dog go from homeless to homeward bound — a life-changing incident witnessed during her first event as a volunteer with the Best Friends Lifesaving Center in Atlanta. "It was one of my favorite volunteer moments," says Nisha. "I literally shed a tear of joy knowing there was one less fur kid needing to find a forever home."
After that day, Nisha kicked her volunteer efforts into high gear. As a master of ceremonies who serves as voice and host for everything from corporate events and festivals to concerts and weddings, she knows how to get people excited and engaged. Not only does she help with adoption events and other Best Friends off-site activities, she also doesn't mind lending a hand in the office from time to time.
"Nisha is a huge help inside and outside the center," says Brantlee Vickers, volunteer coordinator in Atlanta. "She is constantly looking for a new way to help and always wants to know what our newest need is so that she can promote it on her social media channels. Her positive attitude makes her an amazing person to work alongside, and we are lucky to have her."
Kristen Sugg, communications manager in Atlanta, calls Nisha her "right-hand events person" because she's easy to work with and flexible. "She knows how to roll with the punches," says Kristen, "and she's really good at talking to and engaging with people."
Closer to home, Nisha gets lots of inspiration from her dog, PJ, whom she's had since he was a tiny puppy. PJ, now six and a half years old, was the motivation behind Nisha's decisions to begin volunteering and to launch her own company. Poppin' Collars Ltd. Co sells pet accessories, toys, and homemade organic treats for cats and dogs.
To learn more about Nisha, the entrepreneur and volunteer extraordinaire, check out the following interview.
What inspires you most in your volunteer work?
The thing that inspires me is knowing that what I do actually makes a difference in both furry and human lives.
Being a successful businesswoman who manages two companies and also volunteers, how do you keep everything in focus?
Time management. When you do things you enjoy, you prioritize and conquer. I enjoy working on my businesses and volunteering, so I make time to do the things that I enjoy.
Since becoming a volunteer, what have you learned and has your experience caused you to see anything differently?
Since becoming a volunteer, I have learned more about animal behavior. I am more understanding of our furry friends and their body language, which makes it easier for me to approach them and interact.
What does volunteering mean to you and why do you do it?
To me, volunteering means setting aside time to make a difference and help a cause. I do it because I am genuinely a furry friend lover and I enjoy helping out in many ways.
Tell us something we don't know about you.
I have officially embraced a vegan lifestyle and I feel great about it!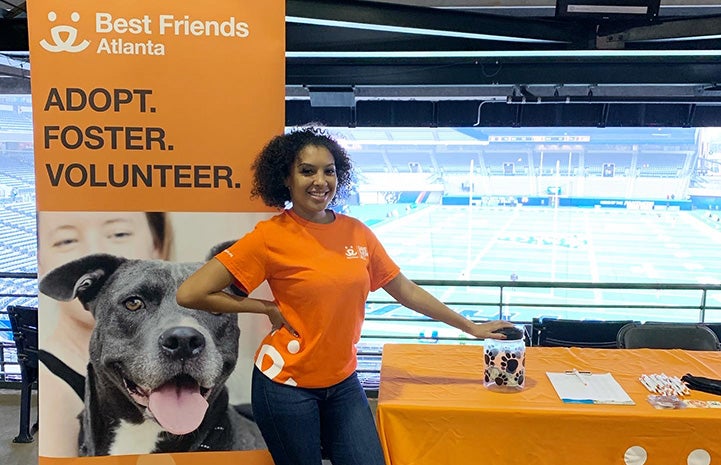 What are you doing when you're not volunteering with animals?
When I'm not volunteering with animals, I'm baking organic, gluten-free doggy treats, reading or listening to music.
Could you tell us more about Poppin' Collars Ltd. Co. — any advice for someone trying to start a pet business?
Pets are my passion, so I chose a market that I would enjoy. To anyone wanting to start a business for pets, I'd say do it with passion and the paycheck will follow. I believe you should only do something if you're going to give 100% ― nothing less.
Tell us more about your dog, PJ.
My love for him is what truly inspired me to volunteer with Best Friends. But he always gives me the third degree sniff whenever I come home from the center, as if he's trying to see who I've been playing with without him. It makes me laugh. I truly love him.
Besides volunteering, how else do you give back to your community?
I participate in community events regarding different causes. I donate often and use my public platform to raise awareness about societal goings-on, as well as our very own Best Friends cause, so we can Save Them All.
Be a volunteer extraordinaire for pets
Photos courtesy of the Best Friends Lifesaving Center in Atlanta and Nisha Gross