Fate and friendship lead to a new start for injured kittens
Harvey and Tres Leches became fast friends at Best Friends in Los Angeles and wound up as brother and sister.
By Diane Barber
Some things are just meant to be. In the case of Harvey and Tres Leches, the wheels of fate started turning in mid-summer of 2020, when these two stray kittens with medical needs landed at Best Friends in Los Angeles within days of each other. Over the next few months with a little help from their caregivers, Harvey and Tres Leches would forge a friendship that forever altered the trajectory of their lives, paving the way to a bright future together as brother and sister.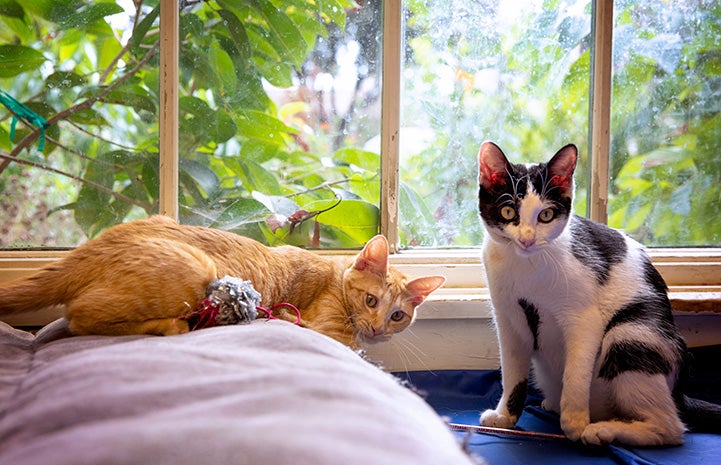 Timing is everything for kittens destined to be friends
Harvey arrived first. The two-month-old kitten was transferred to Best Friends from Los Angeles Animal Services. The poor little one had head trauma that resulted in significant damage to his jaw and palate, and he was missing many of his teeth. He was in rough shape, but with care, he'd be OK.
Ten days later, one-month-old Tres Leches came to Best Friends from Los Angeles Animal Services. She had been found the day before on the 101 freeway with visible wounds and a broken leg. She, too, needed care right away, but her future looked promising once veterinarians helped her.
Both kittens took up residence in the Best Friends clinic where the medical team addressed their specific needs. Vets prescribed Harvey antibiotics to improve the health of his remaining oral tissue, and they performed surgery to repair his palate.
Tres Leches had her wounds dressed and vets administered antibiotics and pain medication to keep her comfortable. They bandaged her broken leg so it could begin to heal. The two kittens then moved to the recovery area of the clinic where they would remain until they were healthy enough for adoption.
A lot of love and a little patience help an injured, scared kitten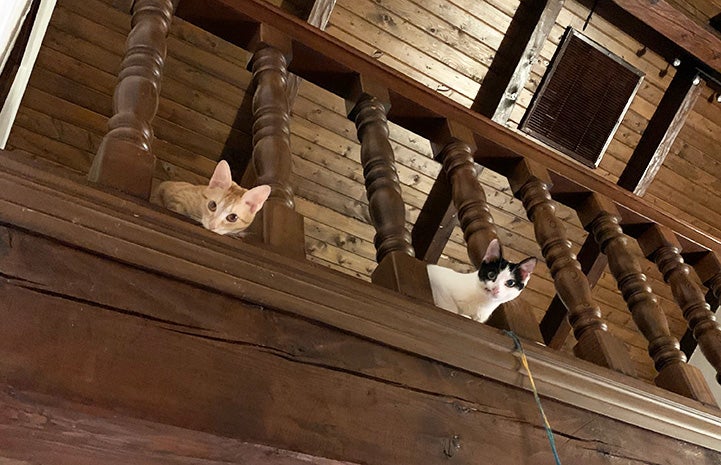 Vet tech makes hospital time fun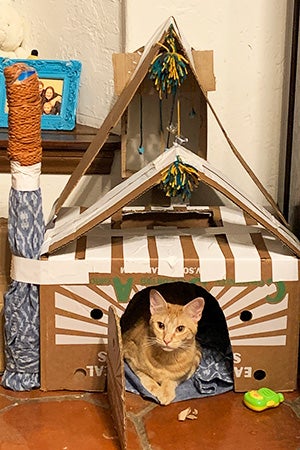 Arlette Keyes, RVT, was one of the medical team members to treat Harvey and Tres Leches while they were in the clinic. In addition to providing expert medical care, Arlette doles out regular doses of fun. A favorite among the recovering animals is what Arlette calls "scamper time," daily opportunities for them to leave their kennels to run around and play.
"I think it is incredibly helpful for the animals and for the medical staff to have some scamper time as long as it's not medically irresponsible," says Arlette.
One day, Arlette was in the process of rewrapping Tres Leches' bandage — a daily ritual — while Harvey was enjoying some scamper time. Ever the polite kitten, Harvey decided to introduce himself to Tres and meows were exchanged. Over subsequent days, the two communicated from their respective kennels, chirping and singing to each other throughout the day.
Once Tres Leches' leg had healed enough to resume regular activity, Arlette made a point to give scamper time to the clinic's two youngest residents simultaneously. "They were just buds from the word go," recalls Arlette. "We had some other adult cats in here but those two always ran around together."
Tres was the boss, chasing Harvey around the room. Arlette says, "They just used to tear this place up." And when it was time for them to go back to their kennels each day, the rambunctious duo made their displeasure known and before long, the team decided to let them start sharing a kennel. Scamper time turned into a 24-hour event.
After a month, both Harvey and Tres had fully recovered from their injuries. By then, it was clear to everyone on staff that this pair was meant to be together, so they were moved from their shared kennel in the clinic to a shared kennel on the adoption floor until a foster home could be arranged.
The foster team was determined to send them off as a pair, and that's just what happened. Soon Harvey and Tres were whisked away for a two-month foster vacation, during which they logged hours of playtime each day.
The magic of social networking helps kittens find homes
In late October, fate intervened again when L.A. resident Lindsay De Biase came across a post on the social networking platform, Nextdoor, about a cat available for adoption. Lindsay and her husband, Andrea, had been considering adding cats to the family after observing how much their seven-year-old son, Michael, enjoyed taking care of their neighbor's cats when they were out of town.
The thread on Nextdoor was Lindsay's first introduction to Best Friends, and positive comments from fellow neighbors prompted her to visit the website to take a look at available animals.
Cat is ready to hop into 2021 on two legs
As Lindsay scrolled through pictures of the adoptable cats on the website, her attention turned to Tres Leches. "She was just so cute," recounts Lindsay. Tres reminded her of a beloved ginger cat she had as a child. The description that accompanied the photos of Tres on the website also mentioned Harvey.
When Lindsay read about how the two kittens befriended one another and saw Harvey's photo with his crooked grin and wide eyes, the wheels of fate continued to turn. She says, "We were already thinking about adopting two cats because someday when the pandemic is over, we'll be returning to work and my son will be returning to in-person school. We thought it would be good idea to get two cats so they could be companions when things return to normal."
In addition, the fact that Harvey had injuries to his face, Lindsay reasoned, might make it tougher for him to find a home as quickly as he would otherwise. "I liked the idea of helping him," she says.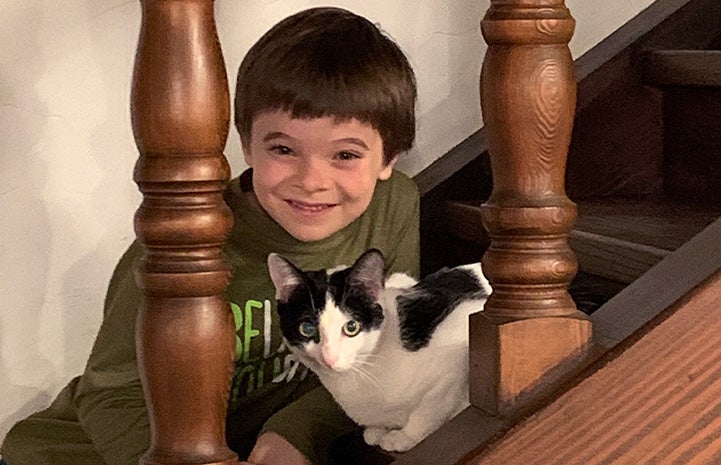 Becoming brother and sister, officially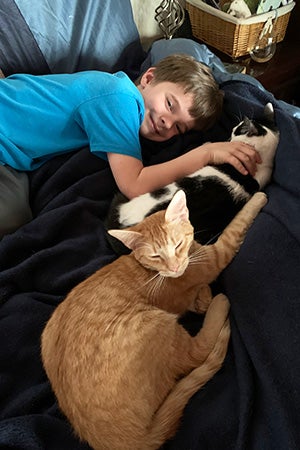 Lindsay promptly contacted Best Friends and scheduled a virtual meet-and-greet where the fortune of the two kitties was sealed. "It was a little bit of a leap of faith," she says. But the family was excited and within days they welcomed Tres Leches and Harvey to their new home as official members of the De Biase family.
Initially, the duo moved into Michael's bedroom, which had a big closet in which Michael set up a little kitty sleeping area so they could feel safe while they got used to their surroundings.
Within a week, Harvey and Tres had fully settled in, self-selecting the garage as one of their favorite places to spend time. "Anytime we would open the door to the garage, they would come running," Lindsay says. The family also decided to give Tres Leches a new name. "We call her Foxy. She's skinny and long and kind of mischievous and just a foxy girl."
Before long, Lindsay, Andrea, and Michael had the idea to make some enhancements to the space with their fun-loving cats in mind. With the help of his tutor, Michael crafted cat beds out of old T-shirts and kitty castles out of cardboard boxes.
In the garage, the family converted a set of shelves into a custom kitty condo with different levels, passageways and cozy places for the cats to sleep. In the house, they added a ramp that leads to the top of Michael's armoire so that Harvey and Foxy could have a secret platform all their own.
"They love it," Lindsay says. They're also well on their way to becoming adventure cats. They've both taken to harnesses and leash walking really well and love to go outside for morning excursions in the neighborhood.
Life lessons from a kitten
When asked whether Harvey and Foxy's prior injuries have had any lasting impact, Lindsay offers an emphatic no. "I know Foxy had a broken femur, but I don't even know which leg it is." Likewise, she doesn't feel Harvey's injury has limited him in any way. "We help him keep his face clean because he's a little messy when he eats, but he is having a fully normal cat life."
Lindsay says Harvey offers some good lessons for her young son. "Here's a kitty who looks a little bit different and has some physical limitations and he still can do all these great kitty things."
Recounting the story of the two kitties who bonded in the clinic, Arlette says, "Look what happens when you give them chances. The thing those two had in common is they just needed time and support. We gave that to them, and it made a difference."
Harvey and Foxy's lives merged by chance, but the friendship they forged in the clinic at Best Friends changed everything. They say the family that plays together stays together. Harvey and Foxy are living proof of that.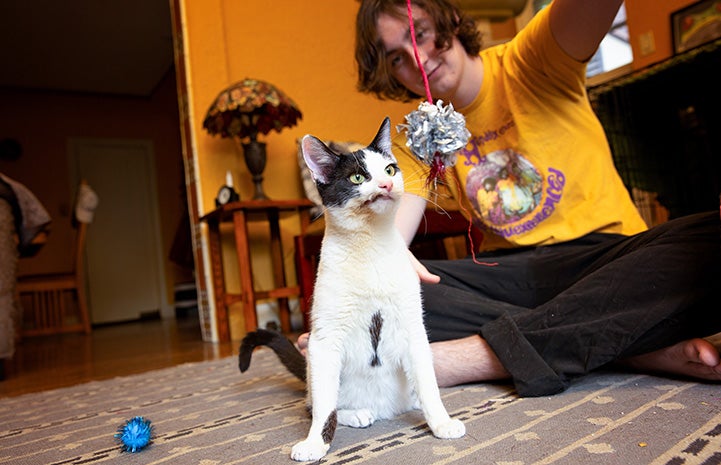 Find a new best friend to love
Eager to make a best friend of your own? Adopt a cat or dog near you.
Read more
Spearmint Sally, a paralyzed puppy, gets back on her paws
Fluffy cat Fern adjusts to life in the great indoors
Sad dog smiles as adventure buddy
Photos by Lori Fusaro and courtesy of Lindsay De Biase