Feline road warriors: Traveling with cats in an RV
Image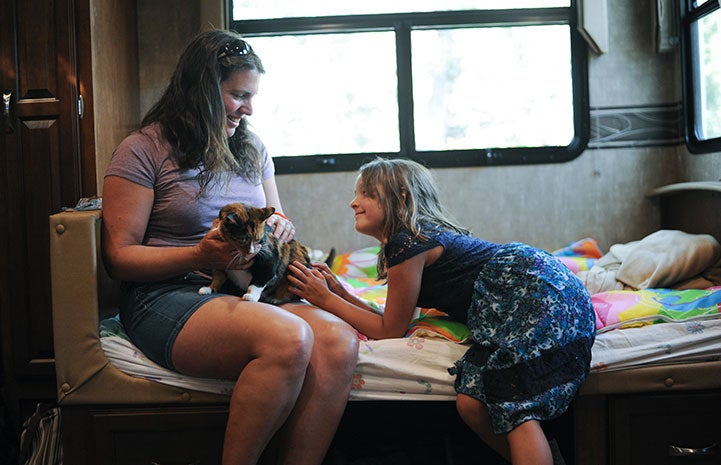 Three adopted cats show that traveling cross country in a motorhome with felines is not only feasible but also a lot of fun!
By Christelle L. Del Prete
While some pets prefer to stay home, many are thrilled to hit the road with their people. And it's not just dogs who are having all the fun. In spite of the stereotype that cats and travel don't mix, these three kitties — all adopted from Best Friends — are living on the road and loving it.
Since being adopted from the Sanctuary, these adventurous felines have rolled along for hundreds, even thousands of miles in their homes on wheels. Not only have these Cat World alumni hit the jackpot with their new people, but they've also become traveling kings and queens in their own right.
Lady Di: Queen of the road
Once abandoned, Dianthus (aka Lady Di) today lives a life of road royalty. In fact, her new family members were already full-time RVers when they met her. Linda Brazil had scheduled a stop at Best Friends in Kanab, Utah, where she was planning to adopt a cat. It was only a matter of choosing just the right kitty suited to a grand adventure from Texas to Alaska. Like the lady she is, Lady Di settled right into the RV life, choosing her favorite spot to curl up as they travel down the road. Linda says, "Sometimes she will stretch out from the back of the couch to the back of my seat. It doesn't look terribly comfortable, but she seems to like it."
Have Coffee, will travel
While Rhonda Brown and her daughter Alli didn't set out to choose a feline travel companion, Coffee (seen in main image) showed them just how fun it could be bring her along on family adventures. Since they adopted her from Best Friends two years ago, the sweet tortoiseshell kitty has turned out to be a great RV traveler. So when Rhonda, her parents and Alli decided to return to Best Friends this past summer for a volunteer vacation, they brought Coffee along. Lodging was no problem since Best Friends has two RV sites.
"Coffee is a great traveler," says Rhonda. "Since we adopted her, she has gone on at least four family trips a year. She is a very sociable cat and would be very unhappy left behind." Rhonda adds that Coffee seems to like shorter trips just as much as long drives, like when the family makes the 13-hour drive to California twice a year. "In addition to staying in our travel trailer, she does great at pet friendly hotels. Coffee is a great cat who settles in quickly. She is a delight to travel with."
On the road? Visit the Sanctuary.
Habibi
While traveling this summer in her RV and volunteering at Best Friends, Barbara Hill asked about adopting a cat. And she knew what she was looking for: Her ideal traveling companion would be an older cat who could walk on a leash. Caregivers introduced her to Habibi, and the two hit it off. "Habibi and I bonded immediately," says Barbara, who decided to adopt him to join her adventures on the road.
Barbara says it took a bit for Habibi to get used to living in a home on wheels, but since he's gotten the hang of it, he's loving his new life. "He is very affectionate and curious, and he has bursts of energy — tearing all over the place and playing with toys and the rugs, and then falling asleep. By using treats, praise and love, he's learned hand, voice and whistle commands. He's talkative and hugs me a lot. Sometimes I wonder if he misses all the visitors, caregivers and activity (at the Sanctuary), but I feel very fortunate to have adopted Habibi and I think he feels the same."
Don't have a cat to travel with? You can adopt your perfect travel companion from Best Friends or from one of our nationwide partners.
Photos by Molly Wald, Linda Brazil and Barbara Hill