Former Michael Vick dogs living happy lives now
The Vicktory dogs rescued in the Michael Vick's dogfighting bust mark five years of freedom. Read about how they are doing now.
By Best Friends staff
Their photos could be from any pet-loving family's album. They show dogs doing what dogs do: helping toddlers learn to stand, flopping out on the couch next to the cat, enjoying time with the family in front of a Christmas tree, running on the beach, stretching out in the grass on a sunny day, and sleeping in their person's bed under the covers. To look at their lives now, it's unimaginable that five years ago these dogs were the topic of national news and debate. Many thought they were dangerous fighting pit bulls that should be put to death for everyone's safety. Others looked at them and saw hope. Luckily for the dogs and the many lives they have touched, hope won.
Pit bull terrier dogs from Michael Vick's Bad Newz Kennels
Since arriving at Best Friends in January of 2008, the 22 dogs from Michael Vick's Bad Newz Kennels (dubbed the Vicktory dogs) have come a long way. It was a massive undertaking for Sanctuary staff to ensure the dogs' happiness and safety, considering the case's national media attention. But also top of mind was what life would look like for the dogs. Could they be turned around? Could they lead normal lives? Could they ever be adopted into homes?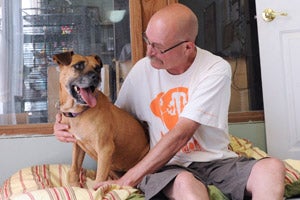 Michelle Besmehn, Dogtown manager at Best Friends, says, "There were people early on who had an idea of what these dogs would be like; some people were nervous or scared. But we've shown that they're just like any other dogs." They crave safety and comfort and companionship; they like playing with toys and going for walks. Many of them get along with other dogs, cats and other animals. "There are always going to be people who are afraid of the idea of 'fighting pit bulls,' or dogs coming from fighting situations," Michelle says. "But these dogs have really opened up the opportunity to show people that, look, they're just individual dogs with individual needs and different personalities."
At different points along the road to home: Hope and healing for abused dogs
Ten of the dogs have gone home; others are working toward that goal. Michelle says that most of the dogs still at the Sanctuary were court-ordered to pass the Canine Good Citizen (CGC) test before they can be adopted. She explains, "That just takes a long time to accomplish with really unsocialized dogs, which so many of these guys were." It means spending time in staff offices, meeting volunteers, interacting with other dogs and learning basic manners. The biggest task for most is to help them understand that no one will ever hurt them again. And that can't be rushed.
But they're getting there. Michelle reports that Mya is great with other dogs - so great that she helps with puppy socialization classes. "She's very appropriate with them," Michelle adds. Layla has been living at Parrot Garden and recently passed her CGC test. Lance has a home waiting for him and is nearly ready for his test, too. They're making progress, and whether new homes are in their future soon or someday, Michelle says, "We're not giving up on them and will keep working until as many as possible are in homes."
Where are the Vicktory dogs now?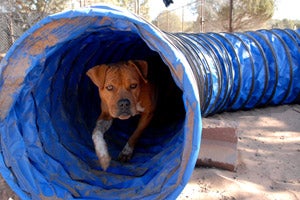 Meryl and Lucas call the Sanctuary their forever home (per court order). While everyone would prefer that they too could go to regular homes, Sanctuary staff is making sure that they live full lives. Michelle says, "Meryl likes agility; she has playdates with other dogs, gets to run at the dog park on site and goes for golf cart rides." And Lucas has become something of a celebrity. He spends time in staff offices and, due to his gentle nature, can interact with visitors and volunteers. Michelle says, "He's had so many visitors wanting to see him that we actually had to limit it because he was getting overwhelmed."
Note from Best Friends: We are sad to announce that Lucas passed away on June 19, three months after this story was written. There is a big void in Best Friends' world without Lucas. Read more here.
And then there are the 10 Vicktory dogs who have gone to forever homes. How to describe the people who have adopted these dogs? Loving, enthusiastic, patient and fiercely dedicated is a start, but it really only scratches the surface.
To read more about these dogs in the words of their new families, click on their photos below: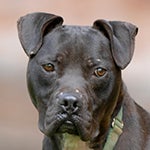 Cherry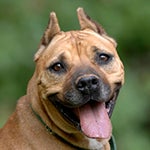 Georgia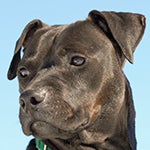 Halle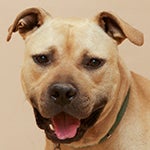 Handsome Dan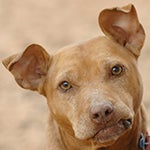 Little Red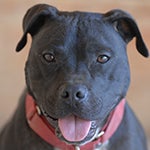 Mel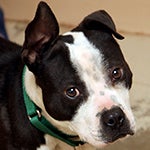 Oliver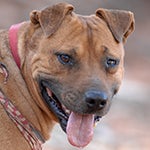 Oscar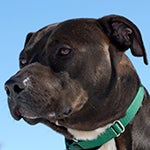 Shadow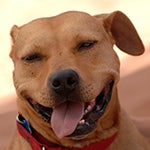 Squeaker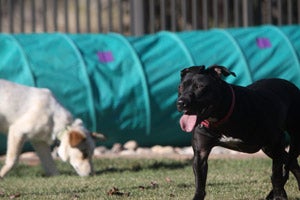 When the dogs were seized from Bad Newz Kennels over five years ago, it began a new chapter not just for them but potentially for other dogs like them. If it could be shown that Vick's pit bulls could be rehabilitated, if they could recover from their former world of violence, then perhaps in the future, other dogs from fighting rings would be given a chance instead of a death sentence.
If nothing else, their stories have shown that in every news story about pit bulls seized from a fighting ring, there could very well be a toddler babysitter, champion cuddler, or devoted companion just waiting for the chance to show his or her true colors, if only given the chance.
Photos by Best Friends staff