Forsyth Humane Society receives $16,000 to help turn the tide for North Carolina's homeless pets
Forsyth Humane Society receives grant from Best Friends to help buy a new transport van to move dogs and cats to shelters where they will be adopted.
By Nicole Hamilton
Back in 2017, Forsyth County Animal Shelter in Winston-Salem, North Carolina, was having difficulty saving all of the pets at the shelter. With its save rate about 36% at the time, Forsyth County and Forsyth Humane Society (FHS) leadership came together to find ways they could collaborate, hoping that they could turn things around for the community's homeless pets.
As a result, FHS became a contracted partner of the Forsyth County Animal Shelter, responsible today for everything from managing cat and dog intake to doing adoptions at the organization's two locations. And now, just two years later, the save rate has climbed to nearly 81%, primarily through robust foster and transport programs. And FHS is just getting started.
Recently, Best Friends awarded the shelter a $16,000 grant, which will go toward the purchase of a new transport van. The new van will enable the shelter to develop its transport program further and get them closer to their next goal on the road to no-kill: a 90% save rate. "We are so grateful for this gift from Best Friends. Our current transport vehicle is on its last legs and it is critical that we continue this lifesaving measure," says Sarah Williamson, FHS's executive director.
About the Best Friends Network

Stepping up to make a change
FHS didn't have to step up and take on the county contract, but in doing so, they've helped make change in their community and have inspired other rescue organizations working toward a no-kill future for the region to do the same.
"They knew that to make an impact, they couldn't rest on their laurels," says Makena Yarbrough, Best Friends director for the Mid-Atlantic and Southeast regions. "And it's this kind of proactivity that's going to take the country to no-kill by 2025."
One of the game-changers for FHS has been the development of its transport program. Currently, FHS partners with nearly 50 rescue organizations and shelters that receive pets from FHS as part of its transport program. Since starting the program, they've transported nearly 1,250 cats and dogs to other shelters.
Not only does the program help pets who go on transports to get adopted, it opens up space at the shelter so FHS can take in more pets. The new transport van that FHS will purchase with funds from the Best Friends grant (combined with funding from the James G. Hanes Foundation) will enable the shelter to do even more transports.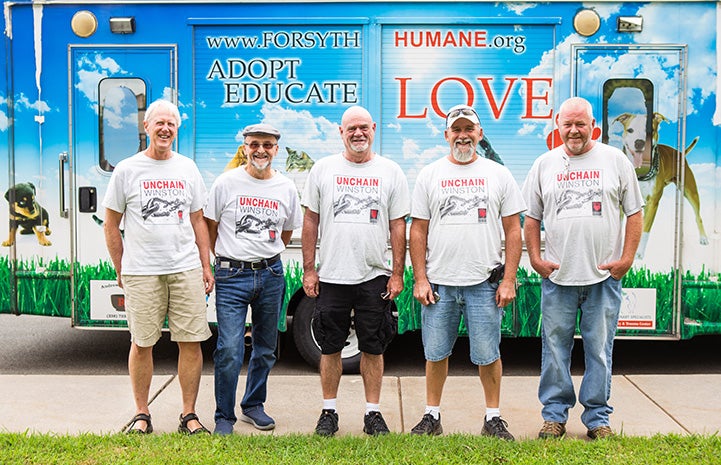 Helping pets and their families
While the transport program has played a huge role in helping Forsyth County's pets, it's just one of the reasons that the shelter's save rate is growing by leaps and bounds. They also have a large group of dedicated foster volunteers.
In fact, since 2018, nearly 4,900 pets from the shelter have gotten help in foster homes. And Sarah says FHS also has about 800 volunteers who show up at the shelter on a regular basis to "walk and play with the dogs, and cuddle and clean up after the kitties."
In addition, FHS offers subsidies so that those in need can afford to pay for spay and neuter surgeries for their pets. Currently, the shelter funds about 200 spay/neuter surgeries every year. Plus, they offer a food pantry, in partnership with five faith-based organizations, which has helped keep pets out of the shelter and where they belong — with their families.
Saving lives in North Carolina
Now, to help the shelter close the gap and reach their goal of a 90% save rate, FHS is focused on getting community members even more committed to spaying and neutering their pets, as well as helping more animals with medical or behavioral issues. Makena says it's a goal that's well within reach.
In fact, FHS is leading by example for the good of the entire state. Makena says, "They wanted to step up to effect change in their community and they've become a part of the bigger footprint in saving lives in North Carolina."
While the success that FHS has managed to achieve is incredibly inspiring, Sarah is quick to point out that when they reach their goal of a 90% save rate, it will have happened because an entire community came together to turn things around for their homeless pets. "We're not the heroes," she says. "We could not perform this mission without amazing community members."
Volunteer to help pets in your community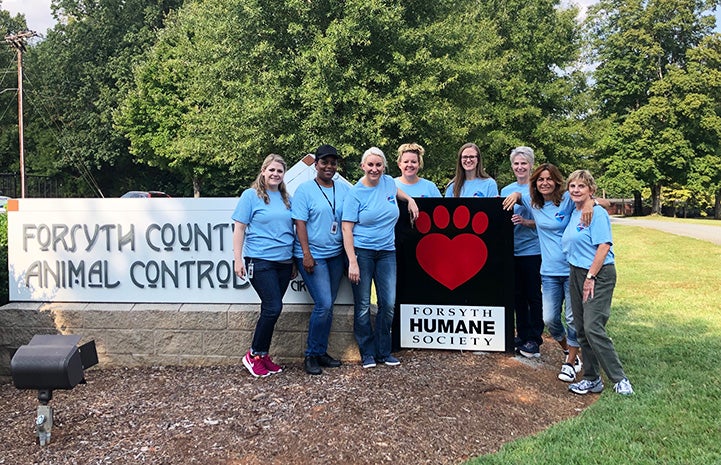 Photos courtesy of the Sarah Williamson