Foster volunteer's dedication helps puppies beat parvovirus and thrive
Four puppies from a shelter in Pine Bluff, Arkansas, survived parvovirus and are living in loving homes, thanks to outstanding medical care and a rock star foster volunteer.
By Nicole Hamilton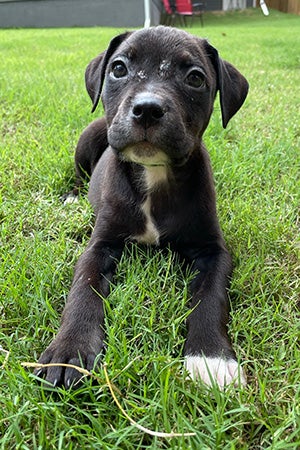 Becca Beyer was excited when the team at Best Friends in Arkansas asked her if she'd be interested in fostering part of a litter of seven pit bull terrier mix puppies from a shelter in Pine Bluff, Arkansas. And since Becca recently had the time of her life fostering two puppies from Best Friends, she was more than ready to foster again, even though this would be a quite different experience.
This time, it wasn't going to be all sloppy kisses and endless playtime — at least not at first. In fact, the beginning was nothing short of heartbreaking when three of the seven puppies (including two that Becca initially brought home) passed away from parvovirus, despite veterinarians doing everything they could to save them.
It broke Becca's heart to say goodbye to the two puppies she had fallen in love with in the 72 hours that she cared for them. But it also made her that much more determined to help the remaining four, including Hickory, who she was already fostering, as well as Macadamia, Pistachio and Pecan. All of them would to be in foster homes once they got the all-clear from the vet.
Foster pro helps puppies with parvo
Becca never thought twice about fostering the four puppies, even with three of her own dogs at home (including Radar, who she adopted from Best Friends Animal Sanctuary). "At that point, 100% of my thinking was OK, how am I going to do this? I just had to take a minute and think it out," she says.
[Dog and cat help each other heal after major surgery]
While the puppies were still getting around-the-clock vet care, Becca set up space for the puppies in her laundry room, where they could remain separated from her three dogs until they tested negative for parvo.
A former vet tech, Becca knew the first week would involve sleepless nights. Even though the puppies were on the mend, when she finally brought them home they were still weak and in need of extra care and attention. That was especially true for Pistachio, who was the smallest in the litter and the first diagnosed with parvo.
"She was the weakest and was slow to drink water, so I hydrated her every night with subcutaneous fluids," says Becca, who also each day administered two medications to each of the four puppies. And with diarrhea a main symptom of parvo, she also spent a lot of time doing laundry. But a little messiness (OK, maybe a lot of messiness) was worth it to see the puppies transform into the happy, loving puppies they were always meant to be. Even Radar, who is deaf and has a neurological condition, became a wonderful foster brother to the puppies.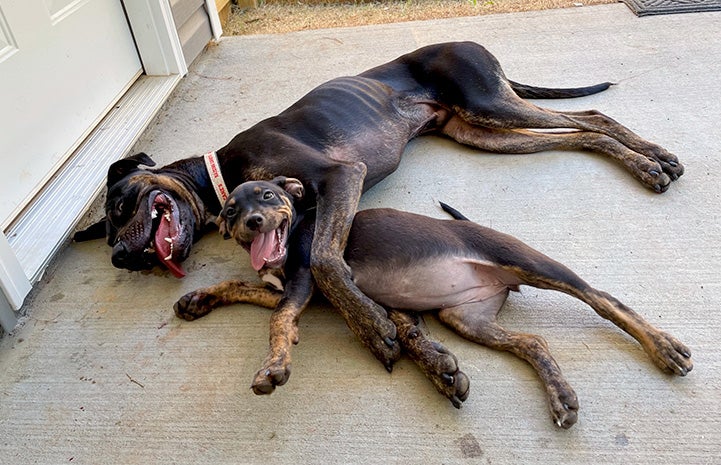 On the mend and ready for adoption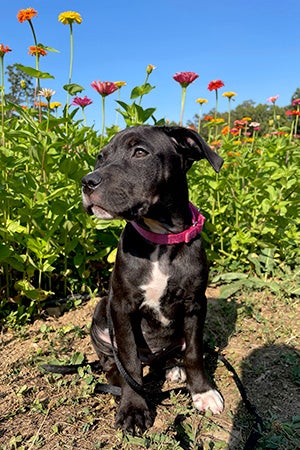 After about a month on the mend at Becca's house, the puppies were ready to be adopted, and it didn't take them long for all four of them to find loving homes. Macadamia's family reports that he is doing amazing and is healthy and smart. Pistachio lives in Oklahoma, where her family says she roams the house like she owns it.
[Unicorns wanted: Foster families change lives of dogs with challenges]
Veronica Weber, supervisor of lifesaving and care for Best Friends in Northwest Arkansas, says that while it was incredibly tough to lose three of the puppies to parvovirus, it's a reminder of what Best Friends is there to do. "If we hadn't had pulled them from the shelter, they may not have made it," she says. "The shelter just doesn't have the resources. This is what we are here for." Of course, it helps to have foster volunteers who are willing and able to do everything necessary to help pets thrive – just like the four puppies with parvo.
As for fostering puppies with special needs again, Becca would do it in a heartbeat. "Looking back at the past month, there were heartbreaking times, but I don't see it as a negative experience," she says. "I was so lucky to be part of the team to rescue these precious babies who otherwise may not have survived, help them thrive and be ready for their forever homes."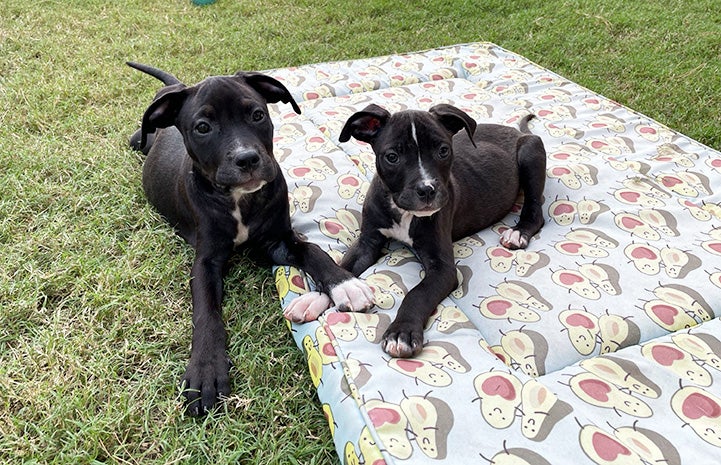 Fostering saves lives
Whether you have a day, a week or a month, you can foster a pet and make a big difference in a life.
Read more
Nevada takes a big step forward for dogs with new law
Blind kitty brings a new rhythm to her adopter's life
Photos courtesy of Becca Beyer