Fostering a big dog in the Big Apple equals big fun
Wentworth may be a big, energetic puppy, but he did just fine in a New York City foster home, thanks to a little planning and a good pair of gym shoes.
By Nicole Hamilton
Navigating life in a new city can be a lot of fun, but doing it by yourself can also be a little lonely, especially in these days of social distancing. Luckily, when Carly Gallagher moved to New York City, she had a game plan.
Since she had always wanted to foster a dog, she decided it was high time she made it happen. So, she contacted the team at Best Friends in New York. A couple of weeks later, she began fostering a puppy named Wentworth, who also was new in town after arriving from a shelter outside of Atlanta.
For the next month, Carly and Wentworth explored their big new city together. Along the way, she learned how rewarding fostering a dog can be. Meanwhile, Wentworth learned how to manage his separation anxiety and that jumping on people really isn't the best way to get their attention, both important lessons that helped lead him to where he is today ― home.
[Texas dog gets a lift to New York and a new life]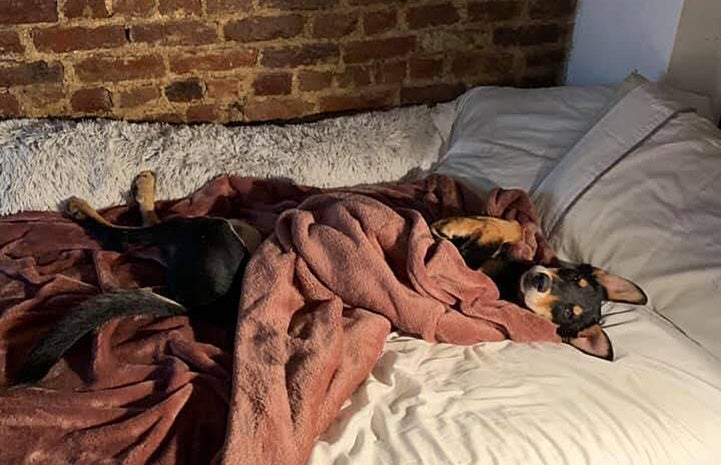 Making it work: How to foster a big dog in a big city
You may think that a big, energetic puppy like Wentworth would have a tough time in New York City with its small apartments and busy sidewalks, but he does just fine. All it took was a little planning (and a good pair of walking shoes).
"You can definitely make (having a dog in the city) work, as long as you're willing to put in the energy," says Carly, who knew before she even started that because she doesn't have a front or backyard, she'd be committed to walking Wentworth multiple times a day. She also made sure that her roommates were on board with sharing the apartment with a foster dog. This was especially important, says Carly, because their living space is small.
Emily DeFelice, foster coordinator for Best Friends in New York, says the foster team looks closely at foster volunteer lifestyles, their daily routines and then it works to match the right person with the right dog. But, she adds, big dogs don't necessarily need big homes.
"With the city as your backyard, there are plenty of opportunities to exercise a foster dog to make sure they are getting enough exercise and stimulation," says Emily. "One thing that's great about NYC is that it is very dog-friendly. When the weather is nice, you can't walk down a street with a restaurant without seeing a dog out to lunch with the family."
That brings up another important point: "Most dogs, regardless of their size, believe that they are lap dogs," she says. "They can certainly make themselves comfortable in any home. Even a small studio apartment is a palace for dogs coming from shelters, where they're used to spending most of the day in kennels."
[Rambunctious pup lands her dream home in NYC]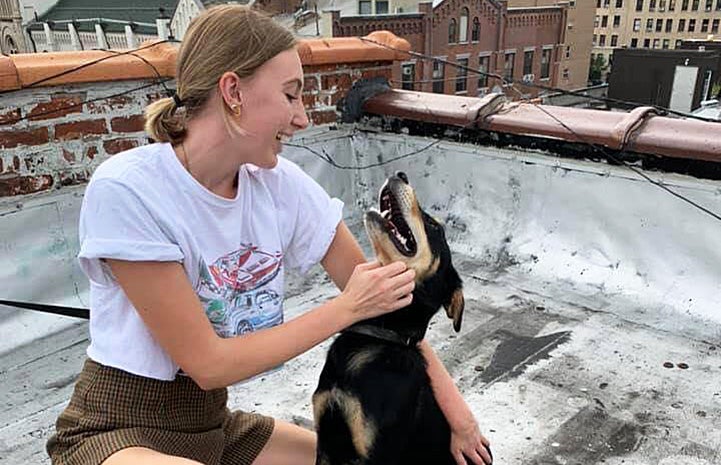 Extrovert dog benefits from life in a busy city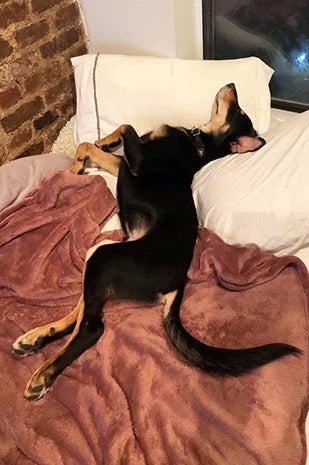 When Carly began fostering Wentworth, he was still a young puppy. Everything was new to him and he loved exploring his surroundings, whether it was the corner park or the kitchen. He also had an abundance of puppy energy, so she started taking him to the dog park at night when no one else was there. That way, he could have plenty of room to run, wouldn't be distracted by other dogs, and she would have the best opportunity to teach him new skills.
On most days, the duo also went on several walks, and Wentworth also accompanied Carly on her errands. That was just fine with him, because it gave him a chance to meet people ― one of his very favorite things to do. Wentworth loves everyone, including children and dogs. But fostering Wentworth wasn't without its challenges.
During his early days at Carly's place, his separation anxiety was quite intense, so she came up with a game plan to help him relax when she wasn't around. "I worked with him by leaving him for small increments of time and slowly building it up," she says. By the time Wentworth was adopted, he had made significant progress.
Carly also helped Wentworth break two bad habits ― begging for food and jumping on people. The jumping was his way of showing that he was more than a little pleased to meet them. She also taught him how to sit, lie down and stay.
Fostering helps puppy find the perfect family
All of her hard work (and Wentworth's, too) paid off. After about a month in his foster home, he was adopted. "He's a special dog and his two amazing parents don't take that for granted," says Carly of the canine companion who helped her adjust to Big Apple living.
"There's a level of responsibility that you need when fostering," she says. "You're accountable for more than yourself, but if you're ready for that, it will be one of the most valuable experiences of your life. I can't wait to foster again."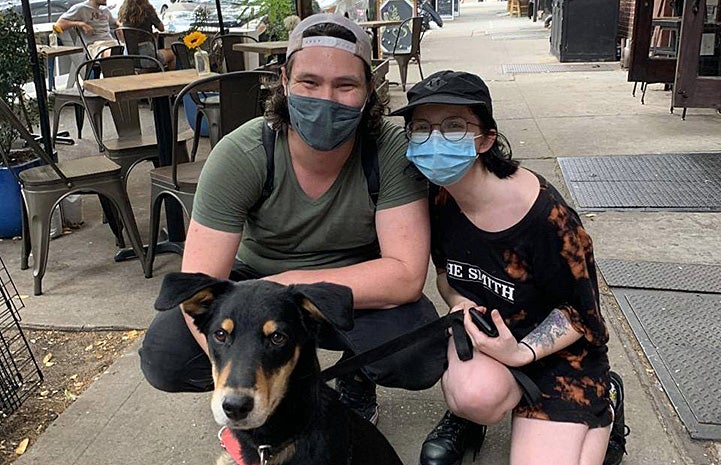 Foster a dog no matter where you live
Whether your home is in a big city or a small town, dogs at your local shelter would love to spend some quality time with you while they wait to be adopted.
Read more
Senior cat comforts adopter during cancer treatments
At 13 years young, senior pittie finds his perfect person
Adopter speaks deaf dog's language
Photos courtesy of Carly Gallagher