Freed from dental pain, senior cat regains vivacious spirit
Senior cat recovers from stomatitis and blossoms into her adventurous self.
By Lindsay Hutton
Akiri, a small, green-eyed tabby with the distinctive "M" stripe pattern on her forehead, responded warmly to greetings from Liz Anderson, Best Friends lifesaving and care supervisor in Los Angeles. But she flinched and withdrew when Liz's hand came anywhere near her mouth.
At nine years old, Akiri (whose name means brightest), had a painful dental condition called stomatitis when she was brought to Best Friends in Los Angeles from a Los Angeles Animal Services shelter. Because of the condition, she already had some of her back teeth pulled a few years before, and now her mouth was so sensitive that she could barely eat or groom herself.
Mouth pain is intimate — literally in your face, says Liz. It's different from pain in the leg or some other part of the body. Because stomatitis is inflammation of all the oral tissue (the tongue, the upper and lower parts of the mouth, the gums and so on), Akiri's entire mouth was in terrible pain.
At first, her mouth was too tender for any procedure, so the medical team worked to get her pain under control with medication. Three days later, she was able to have her remaining teeth extracted. It would take Akiri a little time to heal from the surgery, but finally things were looking brighter.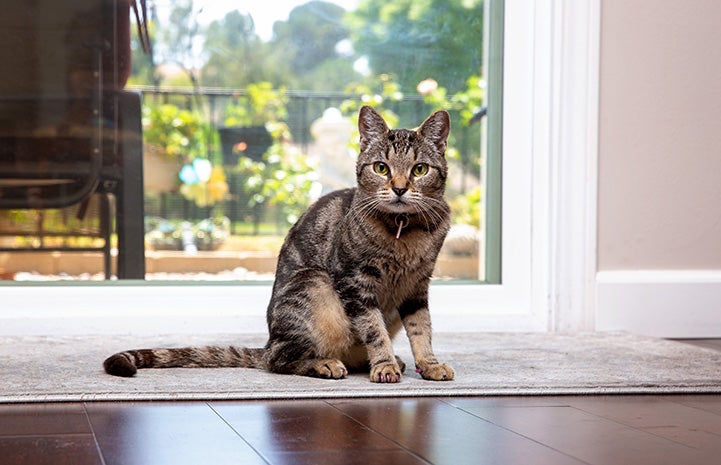 Swift recovery leads to transformation
After the extractions, Akiri was moved into Liz's office for recovery and within a week, finally pain free, she blossomed. Liz has seen senior cats with stomatitis recover well before, but never like Akiri, who suddenly seemed five years younger in appearance and downright kittenish in behavior.
She fearlessly battled her wand toy. She savored her scratch pad. She opened Liz's office drawers and explored them. She climbed inside, took a tour and then took off. She relished a roll in catnip and gloried in grooming herself. She groomed Liz. And she ate. She ate entire twin packs of pate cat food at a go.
[Dog goes from the big city to tranquil waters]
Liz says Akiri was living the life she couldn't lead before and was making up for lost time. Without her stomatitis, she could be fully herself. She was "brightest," indeed — her stripes striking and the white of her whiskers exuberant. Her face said it all: She felt good and she was ready to go home. And more good news: Someone was already looking for her.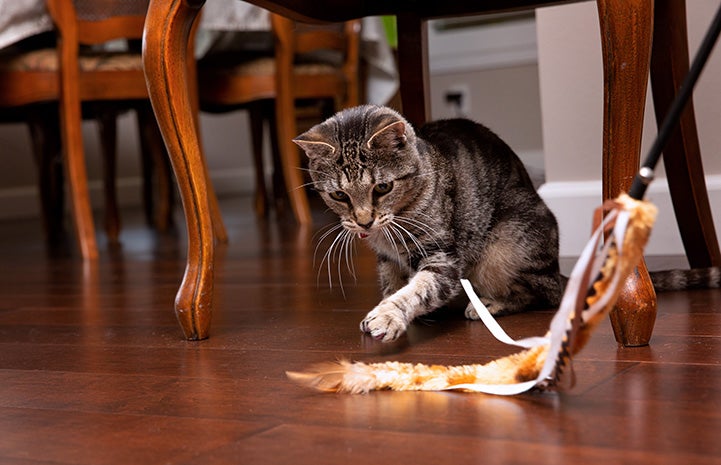 One adopter's rule: senior cats only
Years ago, Agnes Chaney lost Rocky, her cat of 15 years, who had been with her since he was six months old. Always an indoor cat, he somehow escaped and got lost. Agnes searched and searched, put up signs in her neighborhood, called veterinary offices in the area and even consulted a psychic. She never found Rocky. She also never forgot him.
[From two legs to four, a kitten's story]
When Agnes read Akiri's story online, she decided he was the right size and the right age. Agnes wanted to give her a home. It was settled, so she drove to Best Friends and adopted her.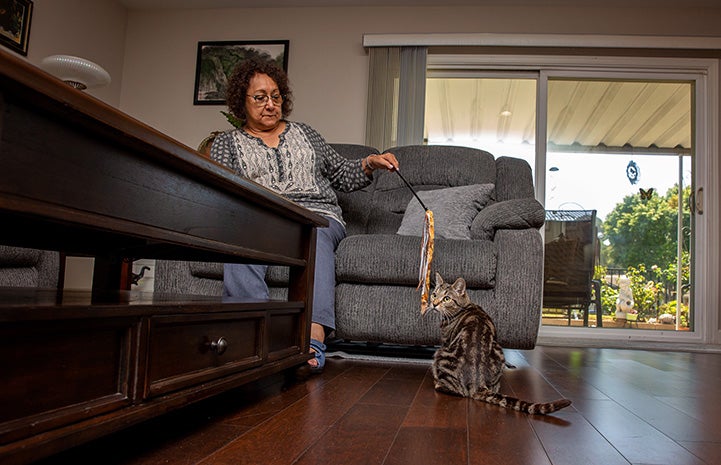 Cat's new home brings delight
Agnes originally thought that while Akiri was adjusting, she would want to stay in one quiet room. Nope. This kitty took all that newfound joy of living with her. On the second day, Akiri opened the door herself and explored the house. The next day, when Agnes had guests over, she was a social butterfly — visiting and letting guests hold and pet her. Akiri wants to be where the action is, Agnes says.
Even when small children were around, Akiri wanted to be in the same room with them (although she did keep her distance just a bit). Her personality continued to blossom as she grew to trust Agnes and her husband.
She makes them laugh by hunting houseflies, batting her plastic and bouncy balls with a bell inside against the wall in the night, knocking plastic bottles to the floor while playing, and knocking other things off counters to get attention. Curious and companionable, Akiri follows Agnes around, investigating drawers that she opens and whatever else she does.
[Best Friends grants help bring vet care to Navajo Nation]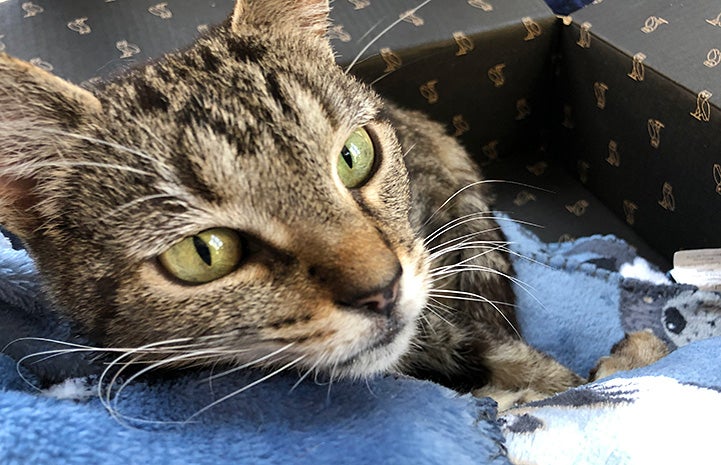 Akiri curls up in her new people's laps when they watch TV. Agnes says that, in addition to bringing some structure to the house (regular feedings of wet food are required), Akiri has been a delight, a joy to pet and be around, and she has brought brightness. Plus, Agnes loves the markings on Akiri's pretty face.
It is so uplifting, Liz says, to see a cat come along who needs help and to be able to give her what she needs to recover, be transformed and find a great home. Today, Akiri's life shines the brightest.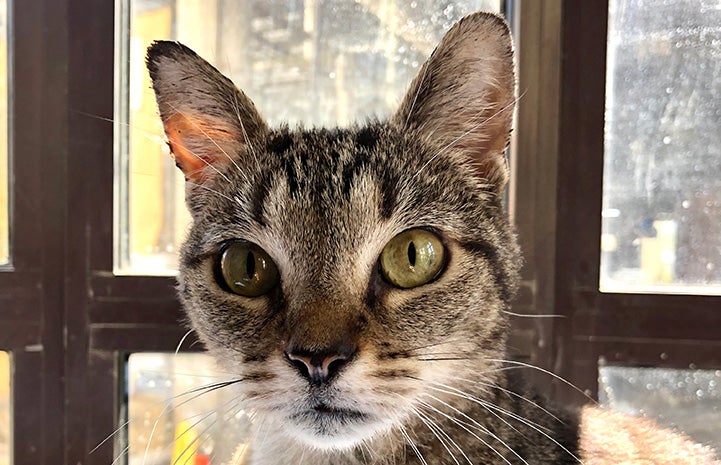 Be a light for senior pets
Mature pets have a deep appreciation for the simple things and come ready-made for your companionship.
Read more
Injured, abandoned dog loses her leg but not her spirit
Prison program, foster home help pit bull terrier put fears aside and thrive
Volunteer finds her calling, just keeps going
Photos by Lori Fusaro and courtesy of Liz Anderson