#Freedom100? More like #Freedom600
Image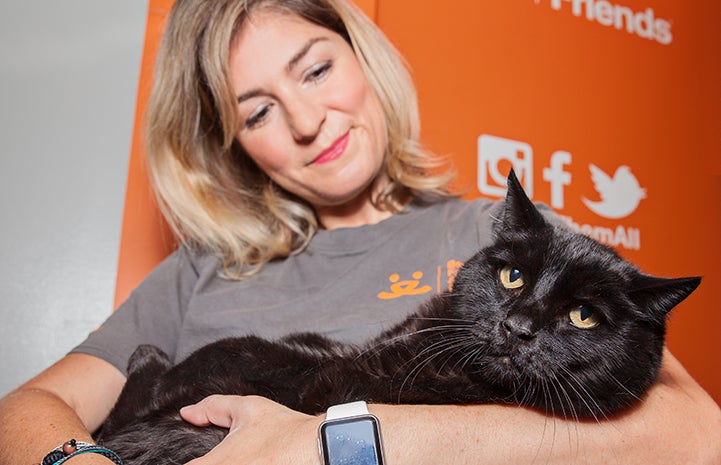 Best Friends subsidized $10 animal adoptions at LAAS shelters as part of #Freedom100 pet adoption promo. More than 600 pets found homes in July.
By Michelle Sathe
For many, the Fourth of July weekend is cause for huge celebration, but not so much for pets, especially in busy cities like Los Angeles. Spooked by loud noises and fireworks, many dogs and cats end up in the Los Angeles Animal Services (LAAS) shelter system.
The number of pets entering LAAS shelters typically peaks in July, and a big reason why is pets getting spooked by Fourth of July fireworks and escaping their yards. Many of those pets never find their way home. This creates a serious lack of space at shelters and sets the stage for a potentially heartbreaking end for dogs and cat residents.
Enter #Freedom100, a Best Friends promotion designed to get pets adopted during this critical period. From July 1-4, #Freedom100 offered $10 adoptions on the first 100 pets at the Best Friends Pet Adoption & Spay/Neuter Center and NKLA Pet Adoption Center, both in Los Angeles. To increase lifesaving even more, Best Friends subsidized $10 adoptions for the first time at all six LAAS shelters.
As the doors to each facility opened on Friday morning, hopes were high. By the time the doors closed on Monday, staff and volunteers were jubilant. #Freedom100 had turned into #Freedom600, with more than 600 pets going to loving homes in four days.
Learn about our No-Kill Los Angeles (NKLA) initiative
Teamwork made the dream work
Since all pets at the Best Friends Pet Adoption and Spay/Neuter Center come from LAAS, it only made sense to partner with the shelters for #Freedom100, according to Marc Peralta, executive director of Best Friends–Los Angeles.
Outside one LAAS city shelter, crowds waited to meet the pets. Susie Smith, a client service specialist at the shelter, helped a woman bond with Stuart, an adorable cairn terrier with some behavioral issues.
"She had the intention of helping a dog that was truly in need and Stuart had been overlooked for almost two months," Susie says. "It was definitely a happy moment all around when she took Stuart home."
At LAAS' North Central Shelter, volunteers and staff hit the ground running to showcase animals in front of eager visitors. The increased traffic was especially helpful to the large dogs in residence.
Dude, a handsome white pit bull terrier mix, went home with a new dad. Dude had been waiting at the shelter since August of last year.
"What a weekend it was," says Erin Olsen, lead shelter outreach coordinator at Best Friends–L.A., who works out of the North Central shelter. "These happy endings had both staff and volunteers exchanging hugs. Everyone was celebrating with big smiles on their faces."
Adopter goes ape for King Kong
Meanwhile, at the Best Friends Pet Adoption & Spay/Neuter Center, one long-term feline resident's luck was about to change.
King Kong, a massive black senior cat with a very sensitive stomach, had spent close to a year with Best Friends before recently being fostered by volunteer Heather Ramsey.
During #Freedom100, a woman came in looking specifically for King Kong after seeing him on the Best Friends website, so Heather was contacted to bring him to the center.
While waiting, the potential adopter was told that King Kong would require more veterinary care than the average cat, plus a special diet. Even though they hadn't met yet, she responded by going to purchase a case of King Kong's food to show just how serious she was about providing him with the best possible care.
When the two finally did meet, King Kong instantly melted into her arms and purred.
"She knew it was the right match. We all did. There were lots of happy tears shed," says Samantha Bell, cat behavior and enrichment lead. "She has already sent us updates and photos of Mr. Kong, happy in his new home."
Batman finds his superheroes
Social media played a key role in landing Batman the perfect adopters. The eight-year-old Australian and kelpie mix at NKLA Pet Adoption Center was featured in a Snapchat community story about #Freedom100, which inspired Molly Savage and her husband to come to the NKLA Pet Adoption Center.
"We began to panic that Batman would be adopted before we could get there. Luckily, my husband was able to leave work a bit early," Molly says. "Batman has the sweetest disposition. The three of us bonded immediately and we knew it was meant to be."
Batman had been at NKLA for six months before meeting the Savages, who were inspired to adopt a senior pet by a friend who had successfully done so.
"When we first brought him home Batman was, understandably, a bit anxious and spent a lot of time sniffing around and getting acquainted," Molly says. "To our surprise, the next morning we woke up to one very happy dog with a furiously wagging tail and his adorable "bat ears" standing at attention beside our bed."
He now enjoys life in Marina Del Rey, a seaside community in Los Angeles. Every day, a little more of Batman's personality emerges.
"He loves long walks and hikes, enjoys watching the boats sailing in and out of the harbor, and just can't help but 'herd' his humans into one room where we can spend some quality time together," Molly says. "Dogs and pets in general can be amazing companions. We're incredibly thankful that Best Friends connected us with Batman."
Any event that achieves its goal is worth celebrating. But when an event is six times more successful than expected, and when each success is one shelter pet going to a new home, well, there's a lot to cheer for after this year's #Freedom 100 event.
Marc says, "Whether pets got adopted from us or LAAS, it all amounts to lives being saved, which is always the goal. Collaboration is key to helping L.A. become No-Kill Los Angeles by 2017, and this promotion proved just how well we can work together to save them all."
Give more pets cause to celebrate by joining Best Friends today