German shepherd receives training for reactivity
German shepherd has reactivity to people issues. Best Friends trainer helps Mid-Atlantic German Shepherd Rescue with training for him.
By Cathy Scott
When it comes to finding adopters for animals with issues, it's not always easy. And a dog named Elmo was no different.
But Best Friends No More Homeless Pets Network team, with specialist Linda Gage at the helm of the case, did not let Elmo's behavioral issues get in the way of landing him that special match.
German shepherd mix with reactivity issues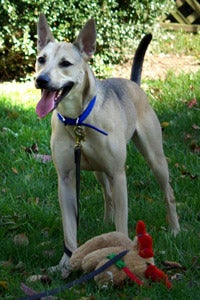 Elmo
First, though, he needed some training. Elmo, a German shepherd mix, was reactive toward people, which posed a problem for Mid-Atlantic German Shepherd Rescue that saved him when his time was up at a shelter. They had difficulty keeping him in a foster home, let alone adopting him out. Two foster homes later, they sought help from the Best Friends Network.
"Cases like Elmo's are more difficult than most," says Linda. "Here's a dog who came from an abusive, neglectful past — who hasn't had the opportunity to know love and kindness. The only history he has is negative, making him fearful and very reactive to people."
Training plan for reactive dog
Linda, in turn, reached out to Sam Wike, a trainer Best Friends has worked with in the past. Sam collaborated with Elmo's volunteer foster dad, also named Sam, to develop a training plan for Elmo.
The foster dad was patient and followed the trainer's advice. Plus, it didn't hurt that Elmo was a quick study and worked as hard as his foster parent. Then, the day came when an adopter in Virginia Beach, Virginia, applied to take Elmo home.
"The great news is that the advice and training techniques paid off, and the rescue has been able to find an adoptive home where he'll thrive," says Linda.
Now at home in Virginia Beach, Elmo's adoptive family has been referred to a trainer in that area so they can continue working with Elmo.
Happy endings for dogs in need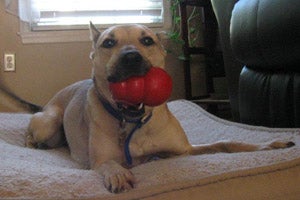 Happy at home
Positive endings for dogs like Elmo are the icing on the cake for the people who work hard to place them in forever homes. "It does give me hope," Linda says. "Dogs like Elmo need to be given a chance — patience, understanding, guidance and love. Fortunately, groups like Mid-Atlantic German Shepherd Rescue are able and willing to provide dogs with the help they need.
Consider making a gift to help other dogs in need.