Good news in Texas and California for shelter pets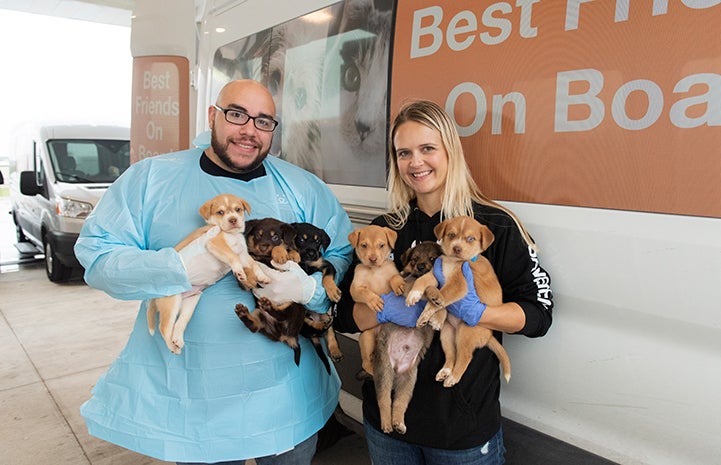 Texas & California make up about 25 percent of the shelter animal killing happening in the US. Best Friends helps implement strategies to change this.
By Sarah Knight
This article appeared in Best Friends magazine. You can subscribe to the magazine by becoming a Best Friends member.
It might seem like the states killing the most animals are the biggest obstacles on our way to ending the killing in shelters nationwide by 2025. But we don't see it that way. Rather, we view these states as giant steppingstones on the path to achieving our 2025 goal.
California and Texas, the two largest states by human population, are also the states that have the dubious distinction of killing the most shelter animals. When we talk with Texans, they are generally not surprised to learn that their state kills more pets in shelters than any other. Many Californians, though, do seem surprised that the Golden State is number two — and that most of the animal shelter deaths in the state are happening in Southern California.
We see the Texas and California communities with the biggest problems as opportunities to solve major pieces of the national no-kill puzzle in large regional chunks. After analyzing the data for these states, we realized that what at first glance seem to be big, intimidating numbers (Texas and California combined are responsible for nearly a quarter of the killing nationwide) actually lend themselves to targeted strategies, specific to each state.
See where your state stands when it comes to no-kill
Saving pets' lives in Texas
Among the states, Texas may have the biggest lifesaving gap (the difference between where things stand today and achieving the no-kill threshold of a 90 percent save rate), but it is also generating some of the most encouraging news in the no-kill movement today. The following are highlights from some of the movers and shakers in Texas.
Palm Valley Animal Center in Edinburg
The town of Edinburg had an extremely challenging situation at its municipal shelter, Palm Valley Animal Center (PVAC). The leaders of PVAC knew they needed help, so they introduced themselves to Brent Toellner, Best Friends senior director of national programs, in April 2017. At that time, they were saving only 24 percent of the animals coming into the shelter. "They were getting 27,000 animals a year and had a budget of $2 million — less than a quarter of what they needed," Brent says. "Everything was set up for them to fail."
At the request of PVAC leaders, Brent met with their board of directors, who consequently voted to pursue a no-kill goal. The board also reviewed certain policies, including internal prohibitions on instituting community cat programs and adopting out pit bulls, and changed those policies to reflect their new goal.
To help carry out these and many other changes to come, Best Friends hired two people to work full-time at PVAC in pivotal roles. Today, Mike Bricker is the director of lifesaving operations and Jay Garrett is the shelter manager. Both are Best Friends employees working alongside PVAC staff every day.
"For January to July of 2018, their save rate was over 60 percent and they are on track to get even higher by year's end," Brent says. "That's about 12,000 more lives saved, thanks to the willingness of the entire PVAC staff, the board of directors and the community to change and embrace new ideas and approaches. They have been welcoming and dedicated to turning things around and making this a no-kill community."
Harris County Animal Shelter in Houston
In 2012, Harris County Animal Shelter (HCAS) in Houston had a save rate of just 18.6 percent. Best Friends became involved with HCAS in 2016 by working with HCAS's director, Dr. Michael White, and his team as part of our national campaign to Save Them All. Dr. White invited Best Friends to advise HCAS on how to increase adoptions and improve operations. Brent says, "They did not have enough resources to meet the incredible challenges they were facing. It was all they could do to keep up."
Best Friends' relationship with HCAS deepened after Hurricane Harvey hit, and Dr. White's propensity for being open to input is now reaping huge gains. Today, two Best Friends staff are operating a community cat pilot program there, and other Best Friends staff are "embedded" at the shelter, working side-by-side with HCAS staff in the trenches.
"Two years ago," Brent says, "HCAS had a 25 percent save rate for cats. Now they are on the cusp of no-kill, with a save rate of almost 90 percent. That amounts to about 4,300 fewer cats killed from October 2017 to September 2018 compared to October 2016 to September 2017. It's incredible to see what has happened in such a short amount of time."
In a beautiful turn of events, the office the community cat program staffers work out of was, until recently, the room where cats were killed. Now it's being used to save cats instead.
Dallas Animal Services
Not long ago, someone forwarded Brent a social media post dating back five years. It raved about the great 34 percent live release rate at Dallas Animal Services (DAS) in July 2013. The truly great news, however, is that today, thanks to the leadership of DAS director Ed Jamison, the shelter recently announced a save rate above 80 percent. "That's literally tens of thousands of lives that have been saved in this area," Brent says. "It's truly inspiring and exciting."
Best Friends is currently supplying a grant to Best Friends Network partner Rockwall Pets, one of DAS's partners, and supporting the purchase of a larger vehicle to increase the number of animals who can be transported to other organizations for adoption. Brent says, "Having our network partners change from working alone to beginning to support each other and collaborate is key to achieving our 2025 goal." And he's right.
Best Friends in Houston
Because Texas is a key state for reaching no-kill by 2025, Best Friends will soon have a physical location there. Julie Castle, CEO of Best Friends, recently announced the purchase of land in Houston, upon which will be built the Best Friends Lifesaving Center.
"The new Best Friends Lifesaving Center will allow us to support not only the spay/neuter needs for the Best Friends community cat program that's already operating in Houston, but will allow us to offer free and low-cost services to communities in need," Julie says. "The center will also serve as a high-volume adoption and foster center, as well as a transportation hub to service south and west Texas. This base of operations will enable us to help our partners throughout the region."
California closer to no-kill
As mentioned, California is the state with the second highest number of animals killed per year. Because of the size of the state and the large number of municipal shelters (approximately 200), the problem seemed overwhelming at first. Current data shows, however, that just 30 of those shelters account for 85 percent of the animals killed, and nearly 70 percent of those killed are cats.
Best Friends staffers José Ocaño, Pacific regional director, and Taylor Sharp, Pacific regional specialist, used the information to plan a road trip to assess the situation firsthand.
"Sitting down with folks in these communities with an open mind and heart in an effort to really understand their realities and community has been powerful," José says. "My role is to listen and understand them, and then connect the dots as to where we can be of service. That might be connecting them to financial resources, introducing them to programs that would help their at-risk animals or helping to unite the local players to work toward a common goal."
Taylor agrees, saying, "Having an honest conversation and showing the shelters that we all want the same thing — to save more lives through fact-based methods — can go a long way toward encouraging collaboration."
Below are descriptions of some of the organizations that are helping save the lives of California's homeless pets.
Riverside County Animal Services
Riverside County Department of Animal Services (RCDAS) has undergone a dramatic change in its view of no-kill. For years, the shelter operated under the belief that cats don't belong outside, so there was no option to spay or neuter and vaccinate healthy free-roaming cats and then put them back where they had been found.
That was then. Today, the shelter is home to one of Best Friends' community cat programs and is saving thousands of cats each year. The director of RCAS, Frank Corvino, says: "I've made a 180 (degree change) in my views, and I want us to reach no-kill by 2023."
"Frank is a really incredible leader because he is dealing with so much, overseeing four shelters and 40,000 animals," José notes. "When you come across folks like Frank who are saying, 'Let's have the biggest community cat program in the country and let's change California and let's influence the whole country,' that's really inspiring because so many people said it would never happen. And it's happening."
Kern County Animal Services and Orange County Animal Care
In the past, Kern County Animal Services in Bakersfield and Orange County Animal Care both faced multiple challenges in their efforts to save animals — and received less than stellar national press. Today, José and Taylor consider them two great examples of shelters that are fast becoming lifesaving bright spots.
"Just a few years ago, we had a very low save rate and we were struggling to save even those animals," says Nick Cullen, director of Kern County Animal Services. "Over the past few years, things have turned around dramatically."
Nick has directed the path to no-kill by focusing on the areas where help was needed most. A foster program, a kitten nursery and a trap-neuter-return (TNR) program were implemented and the number of public adoption events was increased. The outcome has been a huge jump in the save rate.
"We are currently at an 80 percent save rate for 2018, and we are more encouraged than ever that we can reach 90 percent," Nick says. "We are so excited about the success of these programs, and we are actively pursuing even more innovative and new ideas to help close the gap — from our new barn cat program to microchipping to reducing ownership fees."
Orange County Animal Care has also made a strong commitment to change, with the hiring of Mike Kaviani from Austin Pets Alive in the role of director. "Under Mike's guidance, Orange County Animal Care has the potential to become one of the most progressive shelters in the state," José says.
How Best Friends is helping L.A. become no-kill

Guiding the way to 2025
"The key to solving the most difficult problems in Texas and California is to be laser-focused on the shelters with the most challenges and connect them with the tools and resources they need to succeed," Brent says. "Most of the folks in these shelters want to do better, but have barriers they're not able to work through. We need to help them get access to resources, work around their barriers, build efficiencies in their processes, and connect them with others in the movement so they can continue to improve as they build upon their success."
Texas and California are evidence that the spirit of togetherness can save so many more lives, even when the challenges seem insurmountable. It's not a matter of if we achieve our collective goal. It's simply a matter of when — and that when is by the year 2025.
Donate and help Save Them All by 2025
Photos by Sonya Sellers and Lori Fusaro