The Grey Muzzle Organization steps up for senior pets
Senior dogs in need of homes benefit from programs to increase adoptions, lifespans.
By Liz Finch
As a child helping her veterinarian father with his patients, Julie Dudley naturally comes by her passion for animals. While she ended up pursuing a corporate career, she never gave up on her love of dogs, and she spent several years volunteering as a foster parent for Old Dog Haven in Seattle, Washington.
After witnessing the many challenges faced by senior dogs (including the rate at which they were being abandoned or relinquished to shelters and rescue groups), Julie made the decision to hang up her corporate suit for good.
In 2008, she founded The Grey Muzzle Organization, which funds programs around the country to meet the special needs of senior dogs. A partner in the Best Friends Network, Grey Muzzle has since granted $2.5 million to support hospice programs for senior dogs with life-limiting conditions, medical and dental care for old dogs at shelters and rescue groups, and senior-for-senior adoption programs to help senior citizens adopt older dogs.
One grant recipient (also a Best Friends Network partner) is Davis, California-based NorCal Boxer Rescue (NCBR), which prioritizes the most vulnerable dogs from shelters. NCBR received its third Grey Muzzle grant this year.
"About a third of our rescues are seniors," says NCBR volunteer Rebecca Genauer. "We try not to take the highly adoptable ones because shelters don't need us to." That includes dogs like Helen, a spry and affectionate 10-year-old boxer who was recently adopted by a man Rebecca calls "one of our serial senior fosters."
Because people tend not to adopt seniors because of the anticipated costs, Rebecca says NCBR provides up to $1,000 in reimbursement for vet care in the first year. "So far, we've given out half of our $10,000 in funding."
[Senior cat's meme helps him find a home]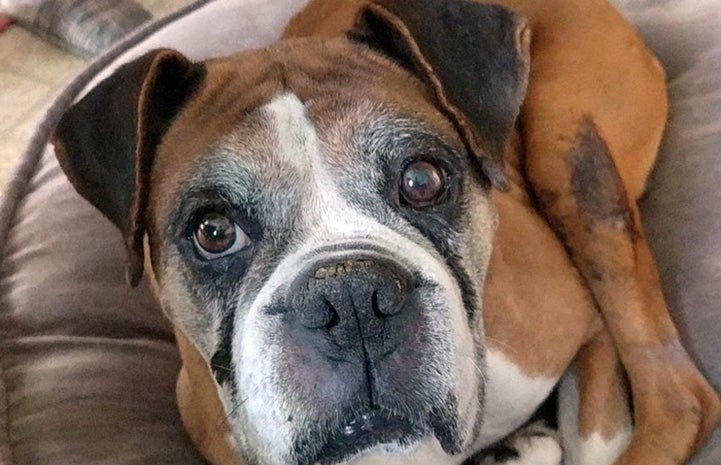 Study results help refine grant focus
Grey Muzzle executive director Lisa Lunghofer says that while Helen's story is common among grantees, the organization doesn't just pass money along to help individual dogs. "Our purpose is to build capacity among animal welfare organizations to help more senior dogs as part of their day-to-day work," she says. "We want to make sure they are positioned to help seniors after our funding ends."
Because Grey Muzzle wants to make sure its funding is being used in the best possible way to support the needs of senior dogs, this year the organization undertook a qualitative study funded by Maddie's Fund®. Results of the study, "Saving Seniors: A Study of Strategies to Increase the Adoption of Senior Dogs," were released in September.
"We did the Maddie's study to address an important gap," Lisa says. "We know far too little about the state of efforts nationally to promote the well-being of senior dogs beyond simply assessing live release rates at shelters. The study sought not just to understand whether senior dogs' lives were being saved, but also how and why, and to identify potentially lifesaving approaches."
In terms of findings, Lisa says it was no surprise to discover that the kinds of dogs available for adoption are changing on a national scale. With the national impact of spay/neuter, study participants said they were seeing older dogs and more dogs with health issues coming into shelters. To Grey Muzzle that indicates the need to expand efforts and work on messaging to the public about the value of senior dogs.
[6 Super Seniors for Adopt a Senior Month]
Showing that senior dogs are worth the investment
"We are working on developing new resources to address what we found in the study that will focus on the joys of adopting an older dog," Lisa says. "We're also exploring ways to work with groups on what we need to do collectively to keep those dogs in homes and not in shelters."
Lisa says greater public awareness about the needs of dogs as they age will help prepare people to care for them at all stages of life. "Then they will be less likely to surrender their pets because all along they've been taking steps to prevent things that could become costly and unmanageable as their dogs get older."
It's not just important to help people manage the increased needs of pets as they age, but it's just as important to get out the message that senior dogs often have a lot of life left in them.
"People typically assume a dog is a senior at seven years of age, but that varies according to breed," says Lisa. "Making an investment in what that dog needs has an unexpected payoff in his longevity, with many dogs living to 14 or 15 years old."
Not surprisingly, Rebecca wholeheartedly seconds that position. "People worry that if a dog isn't young, she won't bond with new people, but that's not the case. They deserve loving homes as much as any dog, and they do surprise you. In fact, they may outlive your expectations."
Experience the joys of adopting an older pet
Got room in your household for a canine companion? Odds are there are at least a few seniors at your local shelter just waiting to be taken home.
Read more
7 reasons to be thankful for pets
Purrspectives on pigs from a 22-year-old cat
Senior dog finds home for her "100th" birthday
Photos by Rebecca Genauer and courtesy of NorCal Boxer Rescue