Happy holidays for New York pets
Image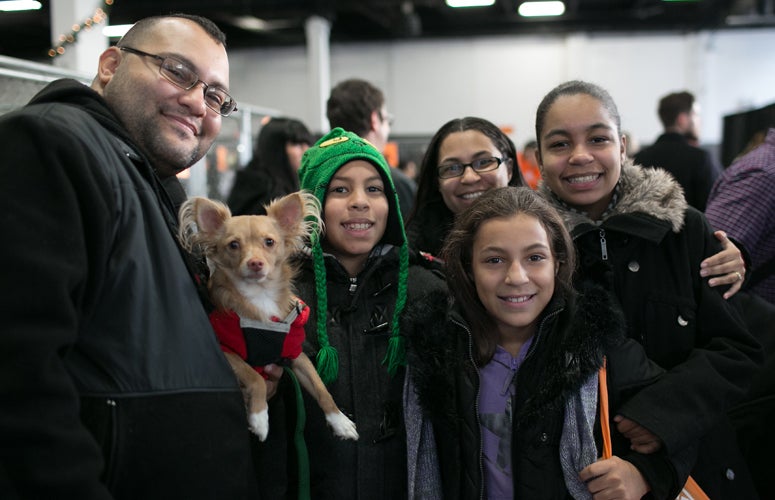 Held at the Brooklyn Expo Center, Best Friends holiday pet super adoption event helps dogs and cats find forever homes. Read their stories.
By Denise LeBeau
Some arrived clutching letters to Santa. Some people were just walking by, and one woman was sent by an angel, but they all came to the Best Friends holiday pet super adoption to find the perfect pet. The event, held December 13–15 at the Brooklyn Expo Center, was the first Best Friends holiday adoption event in New York City. Nearly 260 dogs and cats, from 23 animal welfare organizations, are now snug in their new homes because of it.
A letter to Santa asking for a dog
Armando Hernandez wanted to fulfill his son's only holiday wish: a dog of his own. Armando Jr. was so desperate he wrote Santa a letter pleading for a dog. The family hasn't had a dog since they left El Salvador 10 years ago. "I've wanted a dog for a long time. I don't have brothers or sisters, my parents work a lot, and I'm lonely," says Armando Jr. They didn't have to travel to the North Pole to meet Gaston, a cute, fluffy white dog who was transferred from Animal Care & Control of New York City (AC&C of NYC) to Best Friends–New York.
All Best Friends–New York pets are transferred from AC&C of NYC, and this year, staff from AC&C of NYC attended the event as well, in hopes of finding homes for as many pets from the shelter as possible. Gaston took one look at Armando Jr. and jumped happily into his lap. "Gaston was alone, and I was alone, but now we're together for the best Christmas ever," says Armando Jr.
Finding homes for precious cats
Queen Sheba, a beautiful Siamese mix cat, was picked up by animal control in New Jersey with a shattered pelvis. The injured cat would need weeks of recovery time, so a TLC Cat Rescue volunteer named Joan opened her home and offered to foster Queen Sheba.
Once Queen Sheba's injuries started to heal, her personality began to emerge. "She's the sweetest cat," says Joan. "TLC (Cat Rescue) brought her to this holiday adoption event hoping to find the right family."
Liz Tomazic and Nathan Rosenquist, a young couple, were immediately attracted to Queen Sheba. Liz says, "We've both wanted a cat for a while. We haven't had any pets since we've been in New York City, so we came to the event to just look." They met Queen Sheba, and the search was over. "We're looking forward to spoiling our new companion," Liz says. "And we're going to get a Christmas tree this year; cats love trees." Queen Sheba will be doted on for many years to come.
TLC Cat Rescue also found a home for another special cat, Mauricio, who has feline immunodeficiency virus (FIV). "FIV cats are misunderstood," Joan says, "and it can take much longer to find homes. We're thrilled to be part of this event that has helped so many at-risk cats find forever families."
Adopting a Chihuahua and dachshund mix
Jillian Russell was working the late shift at a restaurant when she met a fellow pet lover, actress Amanda Seyfried. They got to talking about dogs and how Jillian missed having one, so Amanda mentioned the Best Friends holiday pet super adoption. Jillian couldn't wait to get there, and it took only a New York minute once she arrived for her to find her new best friend. Chewy, a 10-year-old Chihuahua and dachshund mix, just stood out. "Animals are my kids, and Chewy is my perfect match. He doesn't act like an older dog," Jillian says. "I love being able to give this wonderful dog a home."
By the end of the event, AC&C of NYC found homes for nearly all the pets they brought to the event, and Best Friends–New York took in those who weren't adopted. Hundreds of New Yorkers (both the two-legged and four-legged kinds) are enjoying a much brighter holiday season — together.
Help bring more events like these to the animals by becoming a Best Friends member.
Learn more about Best Friends–New York.
Photos by Lisa Prince Fishler