Having a ball with treibball for dogs
Dianna Stearns, professional dog trainer and president and co-founder of the American Treibball Association, volunteers with Sanctuary dogs.
By Christelle L. Del Prete
Take a Sanctuary tour on any given day and you'll see volunteers hard at work in every animal area. You'll find them raking horse pastures, walking dogs, chopping up fresh veggies for pigs, parrots or guinea pigs, taking cats for stroller rides, tidying up trails or folding laundry. Around 8,000 volunteers come to Best Friends each year, and every single one of them helps to improve the lives of the Sanctuary animals in some way.
Most volunteers working at the Sanctuary are doing something completely different from the jobs they do back home. But there are exceptions to this rule, and Dianna Stearns is one of them. She's a certified professional dog trainer who runs her own dog training business and has been working with animals professionally for 15 years. She's also the president and co-founder of the American Treibball Association (ATA).
Dianna loves the treibball dog sport, and she's not alone. In fact for some time now, Dogtown staff have been teaching Sanctuary dogs how to play the game, because it helps smart dogs stay happy and healthy. And so, when Dianna expressed interest in holding a special training at Dogtown, it was an opportunity too good to pass up.
A year of treibball training
Treibball (pronounced "try-ball") has been steadily gaining popularity in the U.S., and Dogtown caregivers and trainers have been training Sanctuary dogs to play treibball for more than a year now. The fun herding sport relies on teamwork and communication between dog and handler, which really improves their relationship. It's also a great way for a dog to get both mental and physical exercise.
In the past year, Dogtown trainers and caregivers have made remarkable strides with smart active dogs like Levi. Levi's the kind of dog who needs a job to do; otherwise he gets himself in trouble. He once lost a home because he started guarding his family, which understandably scared guests and visitors. Levi's treibball training at the Sanctuary gave him a much more constructive "project" to work on and helped bring out his best behavior. Best of all, playing the game makes the striking shepherd mix smile.
Now in addition to nose work and agility, treibball is on the list of fun dog sports that caregivers teach Dogtown residents craving something new and challenging to learn. The games tap into dogs' amazing physical and mental abilities in ways that keep them happy during their time at the Sanctuary until they go on to homes of their own.
Check out some of the many fun things you can do with your dog
Turning the game up a notch
On the surface, treibball seems fairly simple: A dog pushes up to eight large exercise balls into a goal box. Of course, there's a set of official rules set out by the ATA, and highly competitive treibball often includes timed competitions. Most Sanctuary dogs will be adopted before becoming skilled enough to take their game to a higher level.
But that doesn't mean that Dogtown caregivers and trainers aren't looking for ways to help dogs turn their game up a notch. After all, by learning more tricks about treibball, caregivers and trainers can teach more to dogs like Levi and the more fun those dogs will have playing the game. That's the kind of thing Dianna loves to hear because is eager to give teachers and their canine students new insights on the game.
Teaching the treibball dog sport
Dianna's visit to Best Friends lasted two days. But that turned out to be just enough time to introduce it to those who hadn't yet tried it, as well as help those already practicing it to improve their skills.
Dianna was happy to share her knowledge and love of the sport in both presentations and hands-on training. For example, pushing that big, red yoga ball around Dogtown's indoor training arena helped Sherman, a dog who has overcome obesity, stay fit.
Some Dogtown caregivers and dogs who were already learning treibball got one-on-one sessions as well. One caregiver dog team was Rebecca Woodruff and Tahiti. Like Levi, Tahiti is the kind of dog who needs a job to keep her focused. She's an Australian shepherd and border collie mix (both herding breeds), so for her, few things are as exciting as a game where she's rewarded for herding — even if she's herding a big ball instead of a sheep or cow.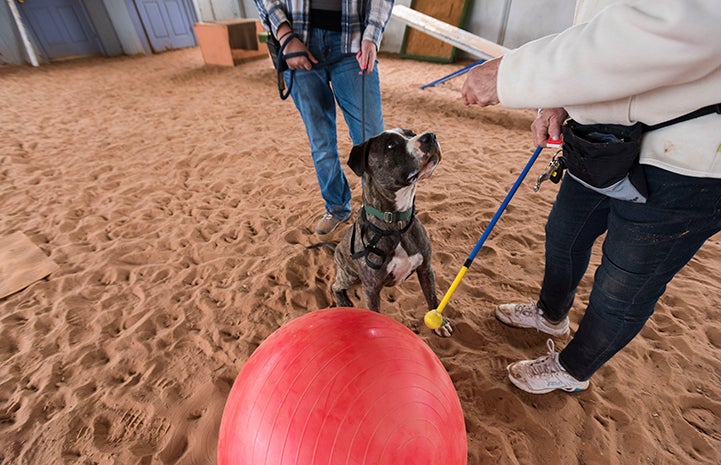 Winning at both treibball and volunteering
As Dianna coached Rebecca and Tahiti, she helped them fine-tune their game. Most important of all, though, Diana reminded them of the real goals of treibball: building on the dog-human bond and having fun.
"Tahiti loves to practice treibball, so it is a great relationship-building exercise," Rebecca says. "The lesson we learned from Dianna is to just go for it and not be so concerned with perfection. It's all about having fun."
For Rebecca, Tahiti and the other treibball teams at the Sanctuary, Dianna's visit drove home an important message: With Treibball, the goal doesn't always have to be to win.
As one of the creators of American treibball, Dianna used her knowledge and skill to teach dogs and their caregivers how to play a more effective, physical, mentally challenging game — one that helps to cement the human-canine bond in a creative way. And as a volunteer, she did what thousands of volunteers do each year — help animals to have even more fun and live even happier lives during their time at the Sanctuary.
Have a special talent to share? Volunteer!
Photos by Kurt Budde