Helping cats after Hurricane Harvey
Image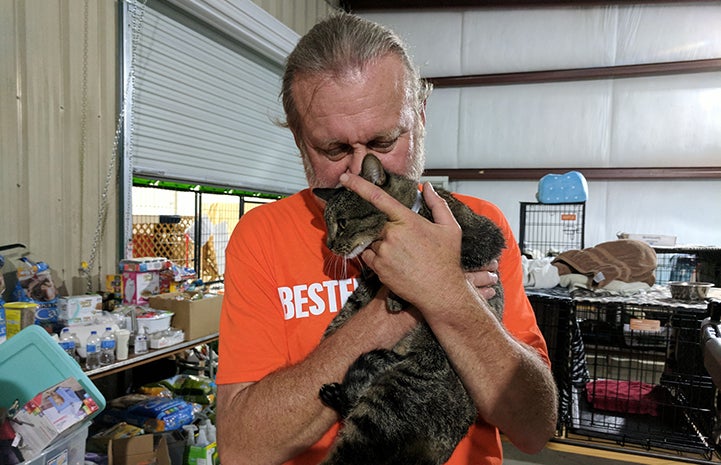 After Hurricane Harvey, Best Friends is helping cats and kittens rescued from flooded areas and surrendered by flood-displaced families.
By Nicole Hamilton
You can't miss the dogs when you arrive at the Rescue and Reunite Center in Conroe, Texas. Even before you open the doors, you'll hear a symphony of barking. But beyond the dog area is a room as Zen-like as a yoga studio. This is the temporary home of more than 100 cats and kittens since Hurricane Harvey separated them from their families. Here, they receive medical care and can rest until they can be reunited with their families.
Learn how Best Friends is helping in Texas
Peace and quiet for scared cats
Cats have been arriving at the rescue center, a partnership between the Montgomery County Animal Shelter and Best Friends, ever since Hurricane Harvey devastated a large area of Texas. They were brought from flooded shelters, surrendered by flood-displaced families, or found fending for themselves, often hungry and scared. But that changes quickly.
Volunteer veterinarians perform medical exams and vaccinate every cat and kitten coming through the doors. If there's a chance of an upper respiratory infection or other contagious condition, they are placed in an area where they can be treated away from the other cats.
"It's important that we make the room as peaceful as possible," says Heather Henley, Best Friends cat caregiver who, along with Mike Bzdewka, oversees the cat room. Heather and Mike are caregivers at Best Friends Animal Sanctuary in Kanab, Utah.
Working day and night, Heather and Mike lead a volunteer team that provides daily care for the cats — everything from cleaning litter boxes to putting out food and water.
They also spend time petting and playing, which are more important than it may seem. Being separated from the family is stressful for any animal, and it's even worse in a disaster situation. And for cats, too much anxiety can be life-threatening. Heather says that cats under extreme stress will often stop eating, which can cause them to develop fatty liver disease, a serious medical condition.
Coming together for felines
Making sure that cats stay healthy is the number one priority, and the veterinarians and cat team have treated all sorts of medical conditions. Cats with kidney disease are getting the subcutaneous fluids and the special diet they need, and kittens are getting the care they need to stay healthy.
"It is amazing how veterinarians from all over the country have come in to help the cats," says Heather.
In fact, Dr. Jordan Gentry, a Montgomery County Animal Services veterinarian, recently pulled Heather aside and presented her with a box. In it were bottles of Feliway, a calming spray donated to help the center's scared and stressed cats.
Life after Hurricane Harvey
The cat room has also doubled as a delivery room for a young cat who recently gave birth to a litter of kittens. She's resting in her own space, where she's nursing and cleaning her babies. Perhaps it's a reminder that although the hurricane brought devastation and heartache to so many in Texas and surrounding states, there's life after Harvey.
Help Hurricane Harvey's animals
Photos by Melissa Lipani, Molly Wald and Barb Davis