High fives all around for Virginia's at-risk pets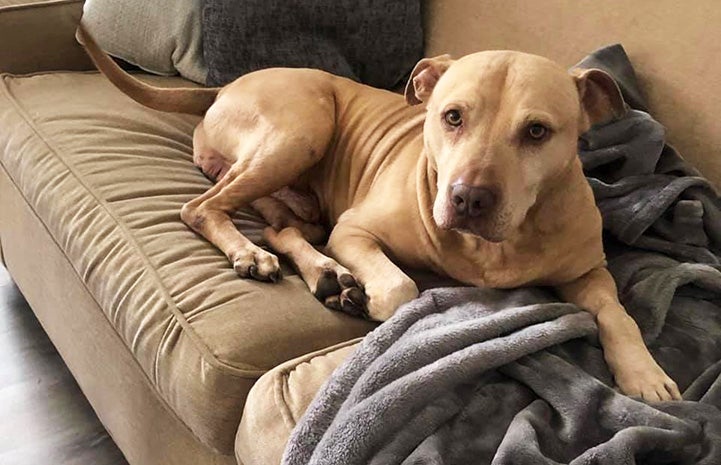 High Five Virginia taps into the power of transfer programs to move at-risk pets into new homes.
By Liz Finch
Tabasco's chances of being adopted from a shelter were not the greatest because he was an eight-year-old dog with a one-time bite history. This was especially heartbreaking for the staff at Chesapeake Animal Services Unit (CASU) in Virginia, which had found Tabasco to be a very sweet, mellow boy without any aggressive behavior. In fact, he quickly became a staff and volunteer favorite who even went out in public to promote the organization's Snout and About field trip fostering program.
"When he saw other dogs, he was nothing but tail-wags and excitement," read Tabasco's Facebook adoption plea, describing how he was on the field trips. "Everyone he saw was a potential new friend. He has even shared kisses with female dogs through the play yard fences here at the shelter."
CASU didn't find a foster or adoptive home for Tabasco, but it had a secret weapon: the High Five Virginia program, run by Virginia Federation of Humane Societies (VFHS) since 2015.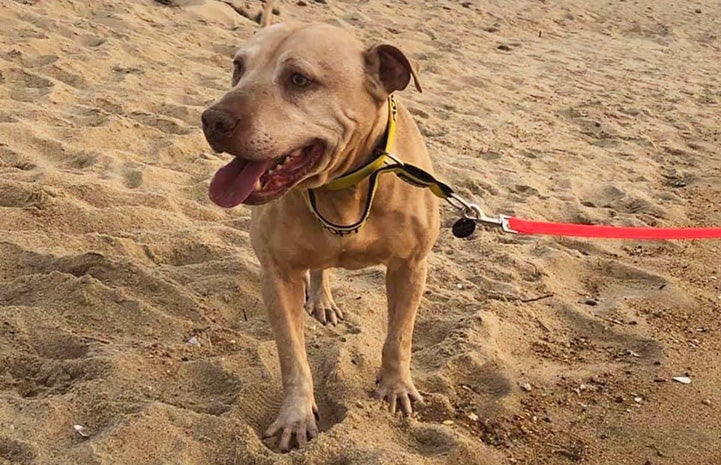 Tapping into social media to connect shelters
The High Five VA program is dedicated to decreasing the euthanasia of healthy and treatable animals in Virginia by facilitating transfers from rural, under-resourced shelters to more well-resourced, urban communities in need of adoptable pets.
Shelters from both inside and outside of the state can promote their most in-need animals on the program's Facebook page, and receiving organizations in other areas are welcome to respond and arrange for transfer. If there are barriers to a transfer (such as the need for short-term boarding, fuel costs or vaccinations), the VFHS can help defray those costs. The program has been successful largely because it tapped into a system already being used by rescue organizations, shelters and individuals.
"At first, we thought we would do our own website where sending and receiving shelters could connect, but that was an extra step for people who are already crazy busy," says Debra Griggs, VFHS treasurer. "So, our brilliant website idea didn't work."
"Most Virginia groups were already using Facebook to network and making transport arrangements, so we shifted our model to tie into that," says Alice O'Connor, program manager and a VAHS board member. "VFHS' role is to do whatever an organization needs to transfer animals. That includes posting or networking animals for the groups or helping with some costs."
Today there are volunteer transport runs happening at least every week, and Alice estimates that the program facilitates transfers of nearly 5,000 animals per year. High Five VA caught the attention of Best Friends Animal Society, which is always looking to identify organizations that, with fewer resources, use innovation to save lives. This year, Best Friends awarded a grant to High Five.
"The program helps market the neediest of animals in the neediest of areas, and as a result they are making a huge difference in Virginia," says Makena Yarbrough, senior director of national programs. "The work is targeted, strategic and organized in a way that makes it one of the most efficient and impactful programs that I've seen in terms of lifesaving."
[Big orange tabby cat from Los Angeles charms adopter in Texas, road trips home.]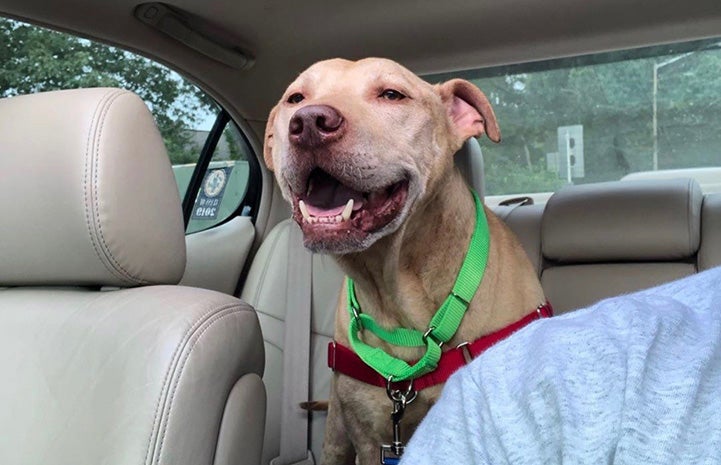 Program helps one family say yes to joy
For rescue groups and shelters in the state, the program has been a literal lifesaver, too. "I cannot tell you what a huge help the High Five program has been to Wise County Animal Rescue Coalition (WCARC) and the Wise County Animal Shelter (WCAS)," says Tammy Vanover Dotson, WCAS's volunteer rescue coordinator and president of WCARC. "We regularly transport our animals to Homeward Trails Animal Rescue (HTAR) in Fairfax Station. Without the financial help, there is no way we could afford to transport (animals) once or twice a week to a meeting point in Staunton, which is 524 miles, round trip."
The program enabled a speckly mixed-breed girl puppy named Sunny to make 2020 just a little bit brighter for one family.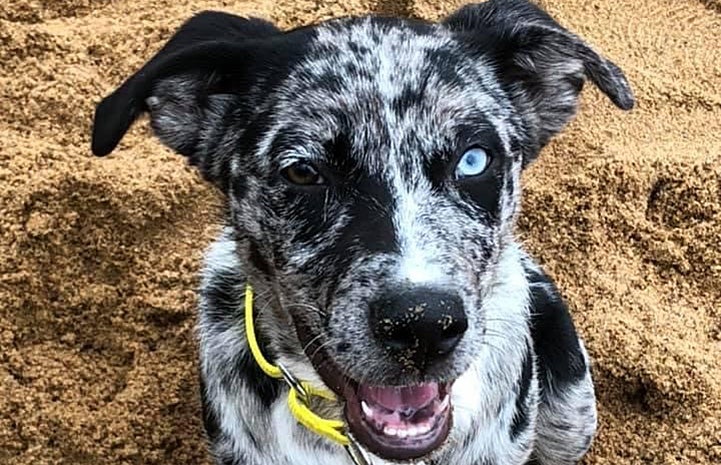 "She was one in a litter of puppies found in the road, who we transported from WCAS and put into foster homes," says Lauren Tavar, senior adoption coordinator for HTAR. "Before long, they were adopted into their new homes, and the adopters all still keep in touch with us." That includes the adopters of lucky Sunny, who when they first met so overwhelmed the daughter of her new family that the moment was memorialized in this sweet video.
According to Lauren, a communication with the Caldwell family said the following: "This special pup has filled our hearts with the warm and fuzzies only a pet can do. Saying yes to Sunny joining our family was saying yes to joy."
[Once overlooked and out of time, senior pit bull terrier is now happy at home.]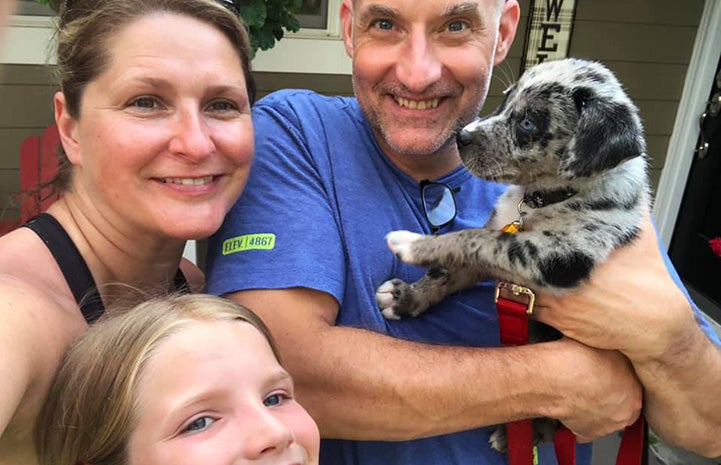 Virginia is for (pet) lovers
The program turned out to be a lifeline for Tabasco, too.
"We have transferred in any number of animals from much farther off places, but this pupper came from a couple of miles away at CAS," says Michelle Dosson, bureau manager for Norfolk Animal Care and Adoption Center (NACAC). "We brought him into a foster home in June, where he learned how to be the best boy. By August, Tabasco had found a loving home. Since we responded to them on the High Five page, we have continued to help them locally," she adds. "That's just not something that happened with our shelter much before."
It is such collaboration that makes Alice most proud.
"We have really seen a community develop on the Facebook page of these fabulous, generous human beings who already were doing this work but with little support," she says. "Now different organizations and individuals look to that page as a resource — not just for transfers, but to find out where to get food, how to find resources for deaf dogs and so on. And the community responds and gives resources. It's been hugely gratifying to see so many people pull together to save more lives in Virginia."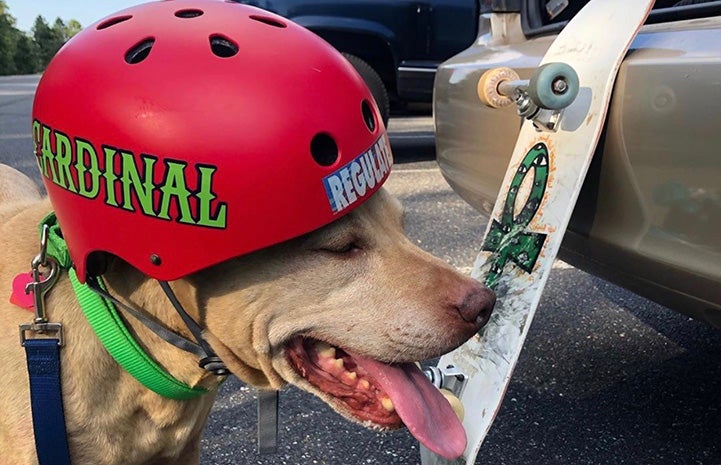 Move the needle forward for homeless pets
Foster, volunteer or adopt a pet from your local shelter and save a life.
Read more
Will the real Dennis Quaid please stand up?
Rambunctious pup lands her dream home in NYC.
Great Dane can finally stretch his long, long legs.
Photos courtesy of Norfolk Animal Care and Adoption Center, Chesapeake Animal Services Unit and Homeward Trails Animal Rescue