Hitting the road to raise funds for animals
Riding their bikes thousands of miles cross-country, Floyd Lampart and Kevin McCall raise money for and awareness about pets in need.
By Nicole Hamilton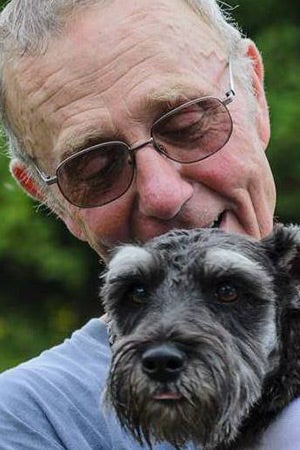 For the past several weeks, Floyd Lampart has been waking early to load up his bike for a day of logging miles across America's heartland, motivated by one goal ― to help Save Them All from the seat of his bike. And Floyd isn't alone. As he pedals for Best Friends and its goal to end killing in America's animal shelters by 2025, fellow cyclist Kevin McCall is out there on the open road doing the same by raising funds and awareness for Best Friends, one mile at a time.
Lampart goes the distance for Best Friends ― again
Floyd and his wife Martha have been volunteering for Best Friends ever since their first visit to the Sanctuary about 15 years ago. Since then, they've made visits and volunteering at the Sanctuary a yearly priority, and over the years they've adopted five older dogs from Best Friends.
In 2013, Floyd decided to combine his passion for cycling with his dedication to helping homeless pets through a bike tour that he named "Pedal for Paws." That ride took him 14,000 miles around the perimeter of the country. With Martha handling the logistics on the homefront, together they raised $55,745 for Best Friends.
Then last year at the Best Friends National Conference, it was announced that Best Friends would work to end killing in America's animal shelters by 2025. Everyone rose to their feet to cheer. And Floyd, who volunteers at the conference every year with Martha, began making plans for another fundraising bike ride to support Best Friends' work. This one, he decided, would cover the eight states he didn't travel through on the previous ride, and conclude at the 2017 Best Friends National Conference in Atlantic City.
More about the Best Friends National Conference July 13-15
Floyd kicked off "Pedal for Paws: The Heartland Ride for Best Friends 2025" in early June with the goal of raising $10,000. The 4,000-mile ride is dedicated to the memory of his son, Christopher, a fellow animal lover who died in a car accident in 2014.
On most days, Floyd rides around 60 miles, and so far he's seen his fair share of sun, rain and heavy winds. But when the ride becomes daunting, he stays motivated by remembering the reason he's out there in the first place. "No animals deserve to die because they don't have a home of their own," says Floyd. "That's what I think about every day while I ride, and it's the message I share with others."
Floyd documents his journey on his Facebook page, where he often shares stories of kindness from the road ― especially from kindred spirits who know that by helping Floyd out, they're also helping save the lives of animals in shelters.
Recently, when Floyd stopped at an airport after his bike broke down in Trenton, Missouri, he met an airport manager who helped him locate the part he needed for his bike, opened up an airport building where Floyd could shower, showed him where to camp, and even gave him keys to a vehicle so Floyd could get dinner.
However, one of the best moments of the journey, says Floyd, is the minute he turns around and starts heading home ― and not just because he's ready to see his family again. "It means I'm closer to my goal for Best Friends," says Floyd. "Every mile I ride is for the animals."
McCall: Cycling for his life and the lives of pets in shelters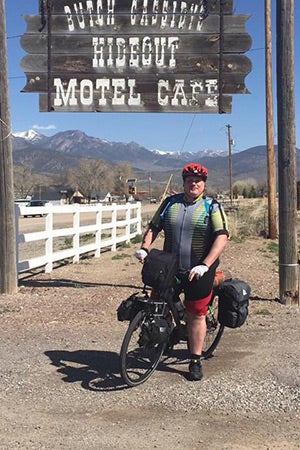 Kevin began his ride in quite a different way. This is his first cross-country bike tour, and he's riding for two reasons. An engineering consultant living in Salt Lake City, Kevin had been struggling with his weight for years, when he finally decided it was time to get healthy. He's also decided to use his life-changing journey to help save pets' lives. He visited the Sanctuary years ago and has remained a supporter ever since. As his plan took shape, he knew the exact purpose for which he wanted to raise funds and awareness.
Weighing more than 360 pounds at the time, Kevin dusted off his bike and went for a ride ― a 6,000-mile ride to be exact. He quit his job, sold his condo and set out to ride from Salt Lake City to the Florida panhandle (and back) on his "Pounds for Puppies Tour" to raise money for Best Friends. The plan was to save his own life, while also helping save the lives of the pets in danger of dying in shelters simply because shelters lack the resources and space to help them find homes.
Donate to Kevin's Pounds for Puppies ride
"Achieving no-kill is more than possible," says Kevin. "But it's going to require action, and this is something good I felt I could do, while also changing my own lifestyle before it was too late."
Like Floyd, Kevin says the wind, rain and sun has been brutal at times, but the kindness of strangers has given him the fuel to keep pushing forward. So far, he's had a few home cooked meals, got a 50-mile lift to get a new bike tire, and even met a World War II fighter pilot who wanted a picture with Kevin after learning why he's riding.
He's not only doing something great for himself and the animals, but he's also learning just how many people care about animals as much as he does. "When you turn of the TV and connect with people, you find you have more in common than you realize," says Kevin. "People want to get involved. They care about our animals. Learning this has been an amazing part of the ride."
Get involved. Become a member of Best Friends.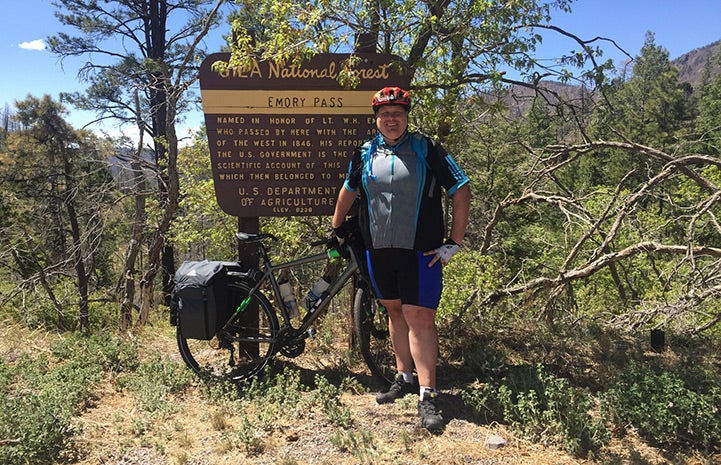 Photos courtesy of Floyd Lampart and Kevin McCall